Preview of Need for Speed: The Run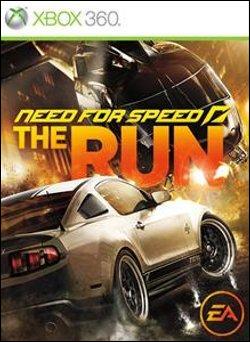 Need for Speed: The Run
by Adam Dileva

November 4, 2011

It's a hectic gaming season and we're now in the busiest release month that I can remember in recent memory. To be honest, with all the huge games coming out in these next few weeks, Need For Speed: The Run almost completely dropped off my radar. Luckily Xboxaddict was invited to a preview event to check the game out and what it has to offer in this packed holiday season. I can safely say that The Run is back on my radar and I really want to find out how I'm going to get the main protagonist Jack across country in a massive race.


It's not very often you get a campaign with a racing game that can actually stand on its own two legs. In The Run, you're tasked with winning a race that begins in San Francisco (very fitting the event took place there) and finishing in New York. The campaign starts off with a bang and you're all of a sudden in this massive race against almost 300 other racers. As you begin you'll need to get out of the city and on your way to Vegas. You're informed that you need to be at least 150th place by the time you make it to Sin City. This massive race is sectioned into smaller bite size segments that will have you racing against 10 cars or so at a time, gaining time with checkpoint races, or even against certain rivals that are sort of a mini-boss. The prize for winning the coast to coast race is a cool 25 million, and if you win you'll get your cut.


It won't be as easy as it sounds; cops don't take kindly to street racers and will do everything in their power to shut you down much like in previous Need For Speed games. You'll be racing through crowded urban streets and highways with enough traffic to give you road rage, through the rain, snow, and even dust storms all while slowing trying to inch your way to pole position race by race. There will be setbacks like cops trying to bust you and you having to make your getaway on foot, but these moments are done with some simple quick-time-events. A little cheesy to have QTE's sure, but they aren't overpowering and I only encountered one of these during the few hours we got to play. There are regular cutscenes as well so don't fret. I'm guessing these are saved for the more frantic and cinematic moments when you aren't in your car.


For those that want a little more than a campaign and multiplayer, there are also a huge amount of Challenges (which become unlocked as you progress through The Run mode) to try your racing skills at. Some are simple point to point races; others have you outrunning cops, rival 1v1 battles, and even time attacking against an unfair amount of oncoming traffic. You don't only have to beat the time/objective, but you need to come in first for it to give you your medal. Come in third and you get squat, come in first with a bad time and you might get the bronze. All of these challenges incorporate directly into the built in (and improved) Autolog in which you'll see your friends times in real time now, not just at specific checkpoints. These challenges are specifically tailored to a certain driving mode, car, track, or feel and some were quite challenging to not only obtain the gold, but to finish in first (which is how you complete it). With more than 70 separate challenges, there's much replay to be had for those that finish the campaign or want a break from multiplayer.


Speaking of multiplayer, Need For Speed wouldn't be what it is if you couldn't race against your friends. With he built in Autolog, you'll constantly be getting updates when your friends smash your time and when you destroy theirs across all events. What makes multiplayer mode so interesting in The Run is that you can pick specific playlists you want to race in and then you're playing. There's no fussing around with lobbies to gather players before launching a game and you will even join races mid circuit. Obviously it will put you in last place, but you'll be given a healthy amount of boost to try and help in placing near to first as possible. You'll need to be on your game and focused in mutliplayer if you want to win as it's very hard to catch up as there's no rubber banding (thankfully). To really gain an edge you need to draft behind other racers then slingshot and boost past them at the appropriate times. I lost many-a-match because of my inability to do this properly, but others obviously learned how to and took advantage. I can already tell that the instant drop in play for online is going to make me hate lobbies in other games going forward.


I was skeptical on how good a story in racing game could be as it's usually just about winning, but I actually wanted to keep playing when we were told to stop and I seemed to care about Jack even after the short amount of time we got to spend together. With a ton of new additions like leveling up, rewinding when you don't take a corner properly, and the ever improving Autolog is shaping up The Run nicely from what we saw. We all know it's a packed holiday season, but make sure to come back and check out the full review at Xboxaddict to give you the final verdict on this new iteration in a long going and beloved series.