Preview of UFC Undisputed 3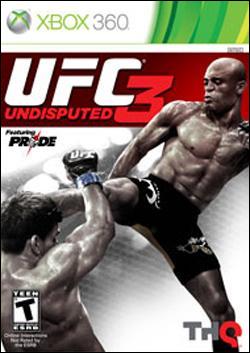 UFC Undisputed 3
by Adam Dileva

December 16, 2011

THQ has taken an extra year of time to update and polish the newest version of the increasingly popular UFC game: UFC Undisputed 3 (gone are the yearly names of 2009 and 2010), and from what Xboxaddict got to try out during this week of fights at UFC 140, I was very impressed. With a roster that now boasts over 150 professional fighters at launch, and I'm sure many more to come as DLC, even a casual UFC fan should recognize many faces here aside from the current champions. So what has THQ improved on with the extra development time? There's almost too much to go into great detail here in our early preview.


The first thing you're going to notice when you start playing is the option to play in UFC or Pride mode. Pride mode isn't just a simple change from octagon to squared ring either; everything from the Pride days has been recreated that's clearly been done for the fight fans. You have Pride era fighters, Lenne Hardt doing the entrances in only the way she can, commentary by Bas Rutten and Stephen Quadros, and of course the inclusion of Pride fight rules where you're allowed to soccer kick a downed opponent, knees to the head, and even face stomps. There are even Pride fighters included like Bob Sapp, Vitor Belfort, Dan Severn, Royce Gracie, and even the pride version of Rampage and Wanderlei (complete with different stats and before how they look now). The casual fans (and for the curious) will be pleased to know that any fighter can fight in either promotion as well. UFC fighters can fight in Pride and vice versa. You can see how Brock would do in a Pride ring or how quickly Sapp would gas in the UFC.


Presentation as a whole has been vastly improved, and now fans requests have been answered with finally having the fighter walk-ins now included. In UFC you'll see the fighter's entourage of trainers walking down to the ring with them as they wait for the referee to check them before going into the cage. In Pride mode you can expect to see the overly elaborate entrances with fireworks and lasers that make for a pyrotechnic show. It's clear that THQ has taken their time and that much of this is done for the fans; the inclusion of Pride mode alone should prove this. There are many small and large changes to the game that felt like a natural progression of the series as well. You can use the cage as a weapon against your opponent, you can KO with leg kicks now, and ground game has been reworked to make more sense with the new (and optional) controls.


A big change is the inclusion of amateur controls, which allows newer players to be able to competitively compete against fans of 2099 and 2010 that know how the ground controls already work. Have no fear, those of us that have gotten used to the controls from the previous games can keep these Pro controls if they wish (and will have an advantage). Ground game was easily the most frustrating experience that most fans in the previous games but now with the beginner controls, you can perform minor and major transitions by simply flicking the right stick up or down rather than the previous quarter and half circles. With expert controls you're able to fake transitions and do more, which will give you an advantage at high level play, but the inclusion of the newer beginner controls definitely remove some of the barrier that held back new and casual players from enjoying the games previously.


Completely redone is the new submission system and is now a much simpler due to it being a visual experience rather than just rotating the stick and hoping for the best. An octagon will appear on screen, one player will want to avoid the other players marker while the second player wants to overlap theirs (it was described to us as trying to fill buckets). There's a meter at the bottom that shows who's winning the struggle and you're able to transitions from one submission to another quite easily, provided your fighter uses those moves of course. It takes some getting used to, but it makes sense and becomes second nature a few fights in.


The general controls have stayed more or less the same; you still have your high and low modifiers and blocks for striking. You do now have the ability to feign almost any strike or transition which opens up a whole new level of high end play. Faking a punch then rushing in with a takedown or setting up a combo is quite useful in Undisputed 3. You're also even able to dodge hammer fists while on the bottom to hopefully avoid that brutal KO and try to recover from being rocked. Pride mode does have different moves like the soccer kicks, face stomps and more that are legal, and the controls feel natural if you've played the previous games.


Graphics look crisper and every fighter has been handmade (no more scans) rather than editing a template. This makes the fighters look much more realistic and you can easily tell who's who just by looking. Instead of the stamina bar, you now can choose to see a representation of each fighter's damage inflicted on each part of the body. This allows you to see what body parts are fatigued and damaged and where you should keep focusing your attacks. There are even deeper options like a competitive mode that removed flash KOs and you can even set fighters to have identical stats for a much more fair game with the major advantages (aside from each fighters' move sets of course). It's clear that THQ has listened to the fans and many things have been vastly improved with the extra development time. UFC Undisputed 3 released on Valentine's Day 2012 and is a perfect gift for all the guys out there and UFC fans (hint hint ladies). Check back here at Xboxaddict for some more UFC Undisputed 3 previews as the date gets closer.