Preview of UFC Undisputed 3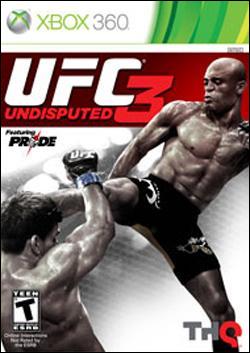 UFC Undisputed 3
by Adam Dileva

January 18, 2012

In less than a month we'll be in the virtual octagon once again with UFC Undisputed 3 with our created fighters that will once again go up against the best the sport has to offer. With the extra time off that THQ has taken since the last UFC game; much has been improved on other than just the game mechanics, which I went over in our last preview; this preview is all about the vastly improved career mode. Now, the career mode has been rebuilt and improved so that you'll be able to focus on actually fighting with your character more often rather than worrying about managing his stats between fights. You'll still be learning new moves and skills, but there are many new training routines that will focus on specific areas of the fight game so that you can improve in all facets. Without having to worry about stat decay or resting before a fight, career mode in Undisputed 3 is much more enjoyable this time around as your main focus will actually be fighting rather than stat management.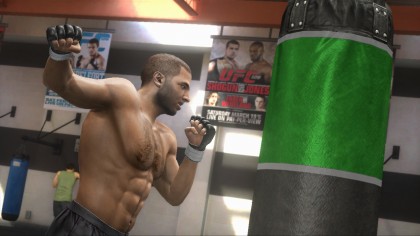 You'll start your career in the WFA just like in the previous game, making a name for yourself and racking up your wins (hopefully). As you become more known and win more fights, you'll eventually compete for the WFA title and even defend it. After you've established yourself, that's when the UFC will come knocking and you'll make your move to fight against the best in the world. As you make your way through the UFC rankings, you'll have opportunities to even participate in PRIDE tournaments as well during your career. This was a great change of pace as I was working my way up in the UFC roster, as fighting in PRIDE is very different than a UFC bout. You'll even have opportunities to change weight classes like in the previous game, but there's also be opportunities for those one-off bouts against someone in a different division as well to keep things exciting.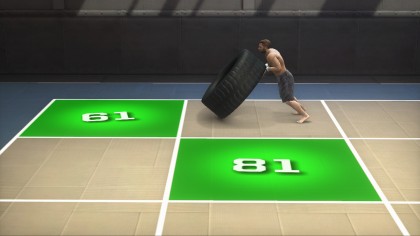 New to career mode is the inclusion of spliced in footage from real fighters that discuss different times of their careers. So when you're created fighter has his first match, you'll see a video of a real UFC fighter talking about his first match and his thoughts. The same goes for getting your first title shot and many other situations. As you replay through career mode multiple times, you'll even see different videos from different fighters. It's interesting to see a veteran talk about what's going through their mind and how it affected them just as you're about to do it in the game. It's a nice little touch that both casual and hardcore UFC players should enjoy.







After you've created your fighter's visuals, you then choose their background such as wrestling, karate, and more, to determine their base move sets and starting stats. It seems the starting stats were much higher in Undisputed 3 than in 2, making a much more rounded fighter overall as you progress through their career. The coolest part about career mode is that you can also choose to pick a fighter from the UFC roster and play him from the beginning as if it was his career just starting out. This means you can take Brock Lesnar, Lyoto Machida, Jon Jones, Pat Barry, or anyone instead of creating your own character if you choose.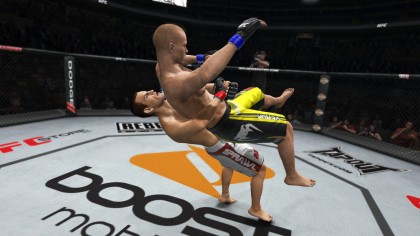 To boost your stats between fights, you'll still be doing training that will give positive or negative stat fluctuations based on what training you do. There are many more event-like practices in Undisputed 3, so it won't become as stale as sparring did in the previous title. If you want to boost your strength, it may have you training by flipping tires or hitting a bag. While some of the new training 'events' are quite good, such as the bag hitting while rotating around it, some are quite confusing and not user friendly, such as the tire flips. You're able to choose to finish the activity automatically, but you'll only gain half the amount of points instead of the full amount if you were to complete it fully manually. Many training sections are there to help you improve your game, along with your stats, and repeating them over and over will definitely help your overall game if you choose to do them.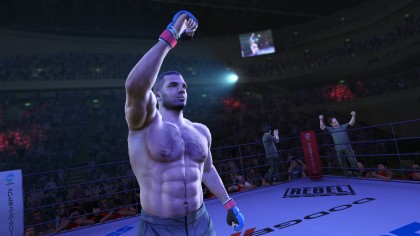 Like previously, you're able to visit other camps and learn specific moves to round out your fighter, what's new in Undisputed 3 though is that you'll be given the choice to eventually choose a real world camp such as American Top Team, Wolfslair, Greg Jackson's, and more. In the beginning you can go to any camp to learn moves, but eventually you'll have to choose a camp as your home, much like many real fighters do. Doing so earns you bonuses and they'll even corner you in your fights.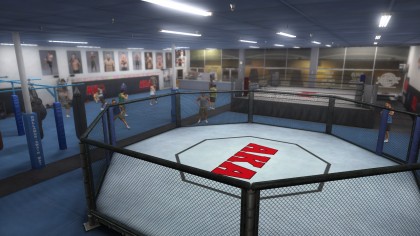 With the time I got to play career, I won the UFC belt, a PRIDE tournament, and had some fantastic back and forth fights with some of the heavyweight division. Progressing my character between fights felt much less like a chore this time around and I actually learned some of the smaller nuances from doing the training to boost my stats. The fact that the stat degradation and having to rest before a fight are gone, make this career mode a vast improvement in itself over the last game. Again, it shows that a lot of work and care has gone into Undisputed 3 with the extra time in development and I'm truly excited for Valentine's Day when UFC Undisputed 3 will be in stores to purchase.