Preview of Skylanders Swap Force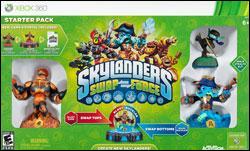 Skylanders Swap Force
by Brent Roberts

July 3, 2013

When you talk to the gaming world about popular video game franchises, you will hear about your Call of Duty, but what you may be surprised to know is that another video game franchise has become one of the most popular games in recent years, we're talking now about Skylanders. What could be considered a revolutionary harmony between merchandising and software development, Skylanders has soared to new heights with each and every release. Always relying heavily on the feedback and rapport with the gaming community, Skylanders has always provided innovations and improvements to their games to keep the franchise feeling fresh and fun. This year we were treated to the next installment in the Skylanders universe, Skylanders Swap Force and just like what we've come to expect, there are some great new innovations that make this title one of, if not the best game in the series. Time to grab your portal because XboxAddict is going to give you a taste of what you can expect from, Skylanders Swap Force.


First and foremost we have to explain that one of the innovations in this game involves not only brand new Skylanders, but new types of figures themselves. Before characters were one complete unit and when placed on the portal that was the character you got to play as. Not anymore though because these new Skylanders characters actually are magnetized in the middle so you can combine different top halves with different bottom halves to make a totally new character with combined powers! For example, if you have one of the new Night Shift characters and one of the new Sink Bomb Skylander figures, you can mix up the character parts and create a character Night Bomb, or Stink Shift and in doing so combine certain powers together on one Skylanders figure! While this innovation meets with a resounding applause, parents who buy these figures shouldn't have to worry about now , in essence, losing half a figure and end up with missing top halves and only having legs. This is because the Skylanders figures themselves are held together by some pretty powerful magnets so there is little worry that they should accidentally separate and get lost.


To truly grasp how big this innovation is, let us show you the list of the characters that have been announced so far. There have been 12 out of 16 Skylanders announced that are swap-able and they are:




Wash Buckler


Magna Charge


Spy Rise


Hoop Loop


Blast Zone


Free Ranger


Freeze Blade


Fire Kraken


Rattle Shake


Stink Bomb


Night Shift


Gorilla Drilla




Now when you have 16 characters that can be swapped out with one another, you have a total of 256 different combinations you can play with. This also doesn't include the 16 new Skylanders who aren't swap-able and the 16 core characters either. This innovation goes above and beyond anything that we have previously expected and when you level up your swapped character your skills and upgrades will actually save to that configuration which sends the replay factor of Skylanders Swap Force off the charts into stratospheric heights.


Without diving too much into the story what we can tell you is that in the Skylanders universe there is a magical volcano that is the source of all magic and powers within the universe. Once every hundred years or so, the volcano erupts and replenishes all the magic in the Skylanders universe. This normally is a welcomed event, except that Chaos is back and is using this time to create crystals of dark magic in order to corrupt the Skylanders and take total control of the universe. As our figures set off on their quest, we were treated to a new innovation and it's one that has been asked for by the gaming community for years, the ability to jump. In Skylanders Swap Force your characters can finally jump off the ground which adds a lot in terms of gameplay options moving forward and it's little innovations like this that bring smiles to gamers faces and in the end, that's what video games are all about.


We should also mention that all of your portals and everything will still work and everything that we already love about Skylanders remains intact except with various tweaks and improvements in gameplay. Releasing this October 13th, get ready for another mad rush to the stores and hours upon hours of hunting down those elusive and exclusive figures because Skylanders Swap Force is about to take flight.