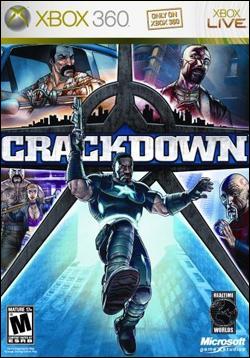 Crackdown
by Stephen Cameron

January 3, 2007
So you want to know what is at the heart of crackdown. I've got two words for you ABSOLUTE MAYHEM!!! Oh yeah and don't forget the open-ended play, the multiplayer modes, and what seems like hundred of upgrades. I almost forgot to mention a free Halo 3 beta included when purchasing this game. Now if that's not an incentive to buy a game I don't know what is. Now if you have played Grand Theft Auto or any of its clones, and I'm sure you have, then you will be familiar with the free roaming adventure gameplay. You will quickly realize that this game is like GTA on crack. You character is an Agent that works for a mysterious Agency that is trying to fight crime in a city that is overrun by it. Crackdown doesn't waste any time putting you in the middle of a gun fight. But you have to be careful who you shoot because unlike GTA Crackdown goes into a little bit more depth. If you clear a neighborhood of gang members then civilians will be able to live normally once again; but if you kill civilians you will scare them away and you will be penalized for your actions. So yes a little bit more strategy involved as the game progresses but that is one of the joys of this game. One thing that is similar to GTA is that you can build you agents' abilities such as strength and speed. The more objects you lift the stronger you character will be and eventually he will be able to throw cars. One of the things I had a ball with was the agents' ability to jump. The agent can jump very far and very hi and that ability also gets stronger in time.


Since you are the city's most destructive force Crackdown lets you fight fire with fire in a big way but remember if you get out of hand the local authority will try and curb your unlawful approach and the consequences can end up pretty serious. So like I mentioned earlier taking out innocent civilians is something you might not want to do too often.
However if you keep your attention on the bad guys you will have a lot of fun using the ridiculously over the top powers ups that are offered in this game. The game also features a coop multiplayer mode. You will be able to take the fight online with a buddy, and either compete cooperatively, or duke it out for bragging rights.

Games have experimented with location specific damage before, but Crackdown's approach is really one of the first too implemented fairly well. When targeting a small zoom scope appears and you can then toggle areas you wish to target. Very cool feature, just try to lay off the family jewels, even if they are bad guys.

Driving is also a lot of fun if you like seriously over the top action. Jumps and rolls are just some of the basic features to perform. Your cars have some crazy unique abilities, such as a massive truck you can use to hammer through other vehicles and a four wheel drive that can go pretty much anywhere and jump vertically using its suspension.

Crackdown also has a deep upgrade system so you can customize your agent to suit the play style you like best. As you get better in the game you will be rewarded with skill points and these will lead to skill upgrades, cooler morphing cars and new more powerful weapons. For instance, if an agent is at level 3 and they take a compact sedan, the car will automatically transform according to the player's level. At level 5 a vehicle turns into a deadly, unforgiving road beast that can knock just about any vehicle clean out of the way. Upgraded vehicles can also perform insane stunts and allow players to reach places any normal vehicle wouldn't. The increased speed and heavy-duty armor also appears to provide some extra thrills when handling a high-level vehicle. So get ready for some extremely fast and over the top car chases.

Let's talk weapons; the agents' fists aren't the only thing that'll be doing the crushing, stomping (literally) and rifle butting. There is a heavy arsenal of automatic and high-tech weapons for players to use. And like every other aspect of the game, Crackdown's weapons can also be upgraded to suit the player's taste in projectile artillery. As for the shooting mechanics...they are more like a refined version of GTA. Players are given more of a focus on the aiming and the ability to pick targets off much easier; even while jumping and running around.


Now you may think that Crackdown sounds gory and rather violent, but the game has a fresh unrealistic approach. The cell shaded graphics with loads of bright colors and special effects give the game a real sense of style. The two-player coop seems pretty cool, and it makes an already over-the-top game even crazier and don't forget the massive cities and deep customization what more can you ask for. This game is defiantly going to be a heavy contender in the New Year; especially if a Halo 3 beta is included as a packaged deal….OH YEAH!!!