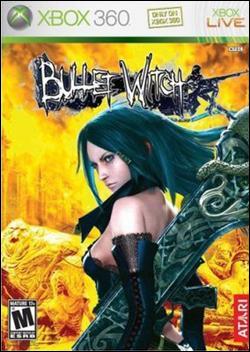 Bullet Witch
by Stephen Cameron

February 6, 2007
It's 2013 and the near future doesn't look to promising. There are under 1 billion humans left on earth after a series of disasters such as plagues, war, etc. The world is indeed on the brink of extinction. That is until Alicia a young woman/witch who dresses provocatively, carries a huge gun, and at times controls the weather comes to save us from the demons that are ready to wipe the rest of us out for good. Now, before you start second guessing the over done story line let me just tell you that this game is definitely going to give a breath of fresh air to your game collection. It is definitely worthy of being called a next gen title in my books. There are still lots of bugs to fix and things to be tweaked, like the excessive loading for example and some minor issues with shadows among other little flaws. Yet this game has not failed to impress me. Actually it has given me new faith for 2007 and the different genre of games we are going to get our hands on. Innovation is key and I think Bullet Witch is on the right track.

After a lengthy cut scene, you will find yourself in the post apocalyptic world fighting off a decent variety of enemies and some shockingly cool boss fights with a number of different weapons in various environments. Anyone into mindless run and gun action, and enjoy explosive moments and better then average visuals will defiantly want to keep on reading.

The first level is set in a modern day residential city. You will encounter your first zombies there in a violent gun fight in the middle of the street. You can utilize anything in the environment as cover but you will not have a hard time picking these guys off with your automatic rifle. A little bit further down the road you will come upon a big brain floating in mid air with a lifeless body attached to it. These brains are the key to breaking down barriers in the world in order to proceed. The only thing you must do is kill them but these brains have the power to lift any object in the vicinity such as cars and then throws them at you at full force. You may be lucky to dodge a couple attacks with you left trigger which is the dodge function but you should probably try to destroy the brain before he deploys this attack on Alicia; and just like that the barriers will disappear.

Now let's talk about what really makes Bullet Witch an innovative title. Magic, Alicia is a Witch after all. You can scroll threw your magic with the right and left bumper and then selection the power you want with the corresponding button ( A, X, B) Most of the magic spells can be unlocked with skill points after the first level. But other more powerful environmental power such as lightning and meteors are unlocked as the story progresses. You will be granted one of those powers in the first level to destroy a tank. These environmental powers are spectacular ways to defeat enemies. The basic magic is also very impressive you are able to throw cars among other objects into hordes of enemies with your "Will Power" ability. Other powers that you have right off the bat is "Sacrifice" which you can use to help injured pedestrians and then there is the "Acient Wall" this power lets you erect a mystical wall that you can then use as cover. I don't want to ruin all the cool magic for you, but as the game progresses and you have acquired and upgraded your skills you will truly be blown away with the fast passed action this game offers.

At the end of each stage you are awarded skill points that can then be spent on three different categories. The first one is "Ability" that's if you want to upgrade your HP or MP, then there is the "Gun Rod" category where you can buy a Machine Gun, Shotgun, Cannon or Gatling gun forms for you gun rod; these can then be upgraded to be more powerful as you earn more skill points. Last but not least you can spend you skill points on "Witch Craft" this category lets you acquire new magic and also lets you upgrade the magic you already have.

In a nutshell Bullet Witch is going to be a strong contender in 2007 it's defiantly up to par. The sound is fine and works well in all situations. The gun attachments all have good unique sounds as do the enemies. The game is fully voice acted and for the most part sounds great. The visuals are stunning, especially the magic, the action is fast paced but unfortunately and don't let thing discourage you but it's a little bit on the short side. In other words it will probably take you around 5 to 10 hours to beat the first time threw but there are still three difficulties to play threw, but that is pretty typical for a game of this genre. Anyhow I still suggest to start saving some money or at least give this game a rental.