Preview of Deadliest Catch Alaskan Storm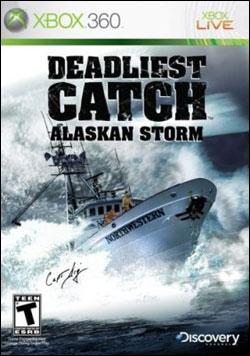 Deadliest Catch Alaskan Storm
by Rick Wallace

September 8, 2008

Life on the Bering Sea is not a piece of cake when you are a crab fisherman. High seas, deadly storms and treacherous ice packs loom on every horizon. These guys risk their life day and night to bring a delicacy to those of us that enjoy a plate full of Alaskan King Crab legs. Discovery Channel airs a weekly documentary called Deadliest Catch which details in live action the events and life changing moments of a crab fisherman on the Bering Sea. Fans of the show can now find out what its really like to be a crab boat Captain on the Bering Sea in a game called "Deadliest Catch: Alaskan Storm". The game is due to be released June 10th at major retailers across the country and online.

So how did an idea for a game like this come about? Captain Sig Hansen of the F/V Northwestern received several questions from fans on what it was actually like to be a captain about a crab boat on the Bering Sea. So Sig figured what better way for people to get a sense of what it's like than to make a game based on crabbing on the Bering Sea. So Sig and his brother Edgar began to pursue the possibility of finding someone to develop their game idea. And that's where Liquid Dragon Studios and Greenwave games come into play. Working hand in hand with Sig and Edgar, the team worked feverishly to gather all the information they could about life on a Bering Sea crab boat. The dev team traveled to Dutch Harbor, Alaska to observe, film and document all aspects of the industry. They also got first hand experience aboard the Northwestern while it was out to sea, and from the sounds of it that may not have been a pleasant experience for their stomachs.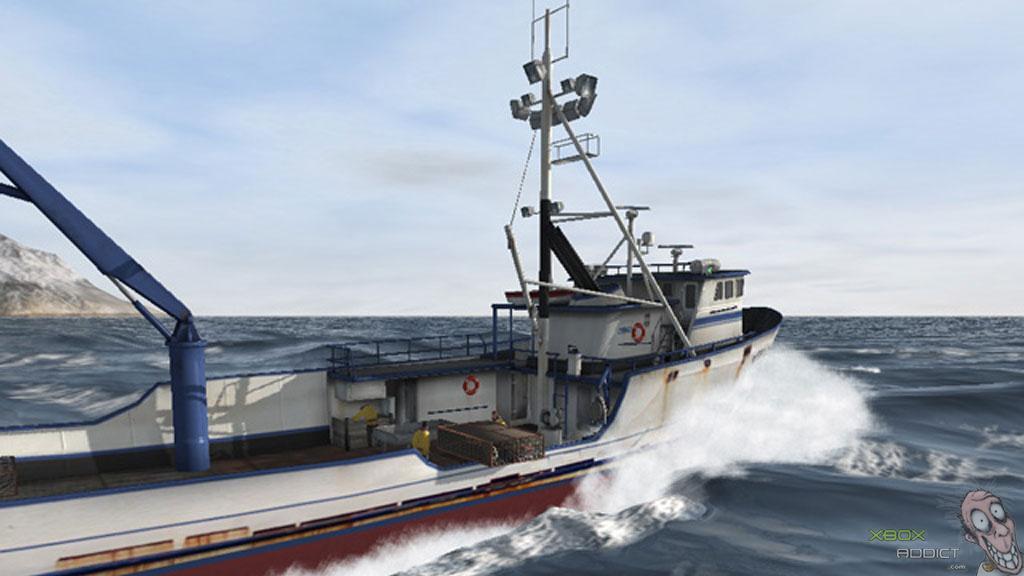 All Hail, the mighty Northwestern! Yeah, yeah. Shut up and fish!


Into the studios they went developing every aspect of the industry that they could possibly incorporate into the game play. Sig and Edgar spent days in development studio testing the authenticity of the Northwestern's control in movement in the game, checking the actions of the characters on deck, and writing their dialogue for the game.. Its safe to say that with the help of actually crab fisherman this game will proudly mimic its real life counterpart. The development team also spent extensive time in recreating the Alaskan Coastline from pictures and satellite topographic imagery. If you've sailed along the coast of Alaska, then you'll probably recognize the coastline as they've done a fantastic job recreating it in the game.
So what can we expect from the final build of the game? Expect near perfection from Deadliest Catch: Alaskan Storm when it comes to a pure simulation based upon the crabbing industry on the Bering Sea. You'll face up to 40 foot swells that can rock your boat, crew and possibly your entire virtual world if not handled properly. As the Captain, the boat and crew's safety sits upon your shoulders alone. That responsibility sits above and beyond all your other responsibilities such as:finding the crab, meeting your quotas, keeping your crew's morale up, etc. You can't collect the money if you don't make it back to port.

So now you know the basics of what went into creating the game. What can you expect from the game related to gameplay and features?

Well first of all, the game ships with 5 actual real life crabbing boats. They are the Northwestern, Cornelia Marie, Sea Star, Bering Star and the Shellfish. Each one of the boats can be used in the game. You'll also have at your disposal the USCG Mellon, a Coast Guard high endurance cutter. The USCG Mellon is a non player presence in your single player experience, but you'll have single missions that allow you to control the cutter in patrols , rescue and interception missions. You'll also get the limited control of the chopper during some rescue missions. This is the first time that the USCG has ever been featured in a video game.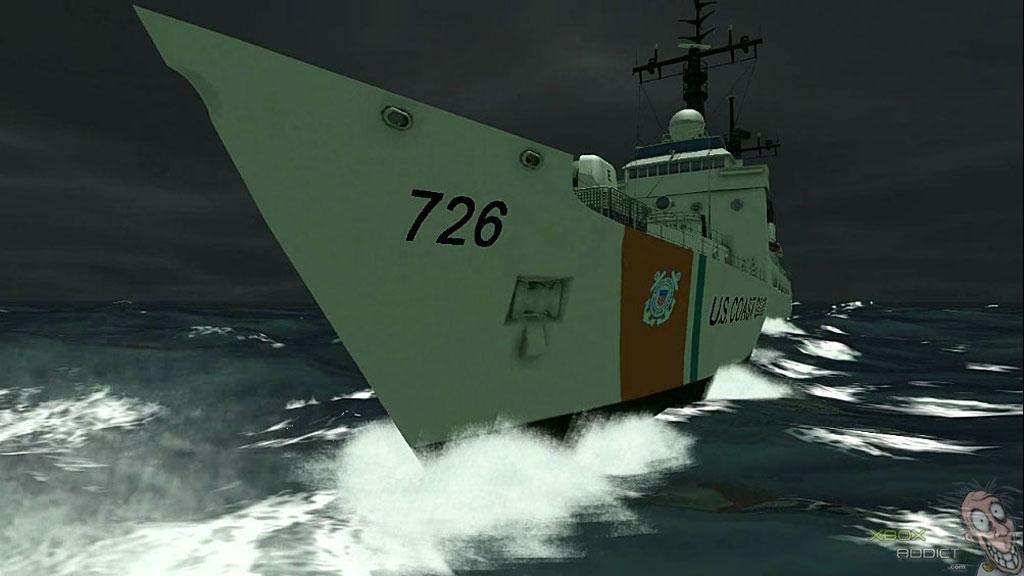 You get to be Captain on this bad boy! Just dont hit anything.


One of the most important factors for any game on the Xbox 360 is online multiplayer. Alaskan Storm has online multiplayer gameplay. That's right. You'll be able to go head to head against 7 other Captains over Xbox Live. Just like the show, you'll be competing to haul in the most crab you can before the crab season ends. There are 2 target crab species in the game. They are King Crab and Opilio Crab. You will set up your online room to fish for one or the other. An online session can last anywhere from 1 to 4 hours of real time. 1 hour of real time is equivalent to a 24 hour period in the game, and the host has the option to set a session to last 1 to 4 days.
Multiplayer matches are similar to a real life fishing campaign. Some of the events such as waiting in line to unload are sped up to keep the pace of the game more interesting. The winner of the match is determined by the amount of cash accumulated during the online session. You'll incur repair costs and other expenses which will be removed from your total cash before the winner is determined. While Xbox live is all about communication and making new friends, the developers decided to stick with the simulation idea and only allow for one on one voice communication using the boat's radio. In my opinion, a great idea and it just adds to the realism of the game. So at no time, during the game or in post game lobbies will you be able to chat with more than one person. Thumbs up on this idea.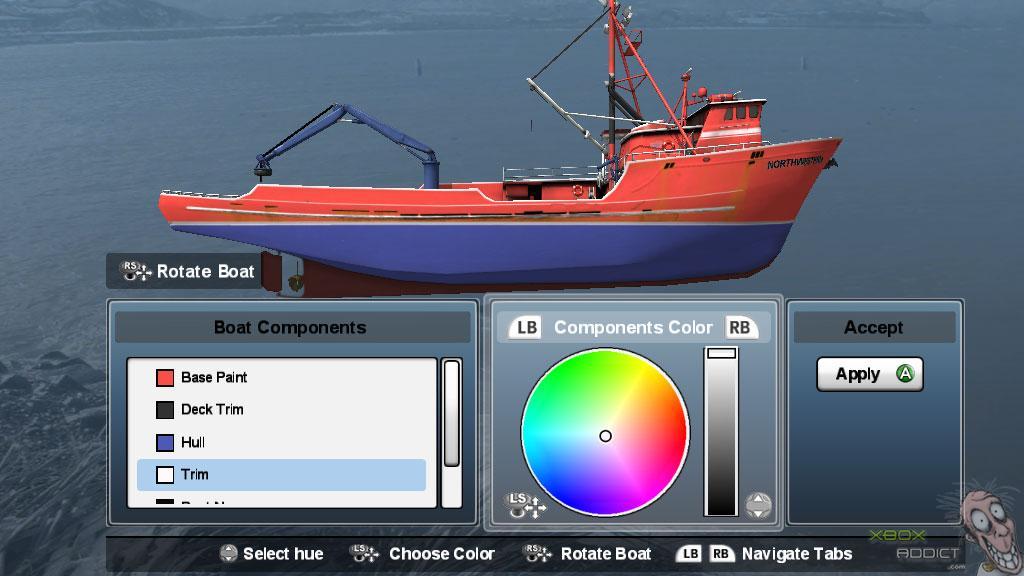 What color will your boat be? Cornelia Marie blue?


The most exciting feature that this game has to offer in my opinion is the fact that you can create your own boat. You'll paint it, name it and customize it using 5 boat types featuring different hull shapes, load capacity, engine power and so on. You'll be able to customize the boat even further with a total of 16 upgradeable parts. These parts range from more powerful engines to better amenities for the crew or extra safety equipment. What even more exciting about this feature is that you have the ability to take your customized boat online and show it off to the other Captains you fish with.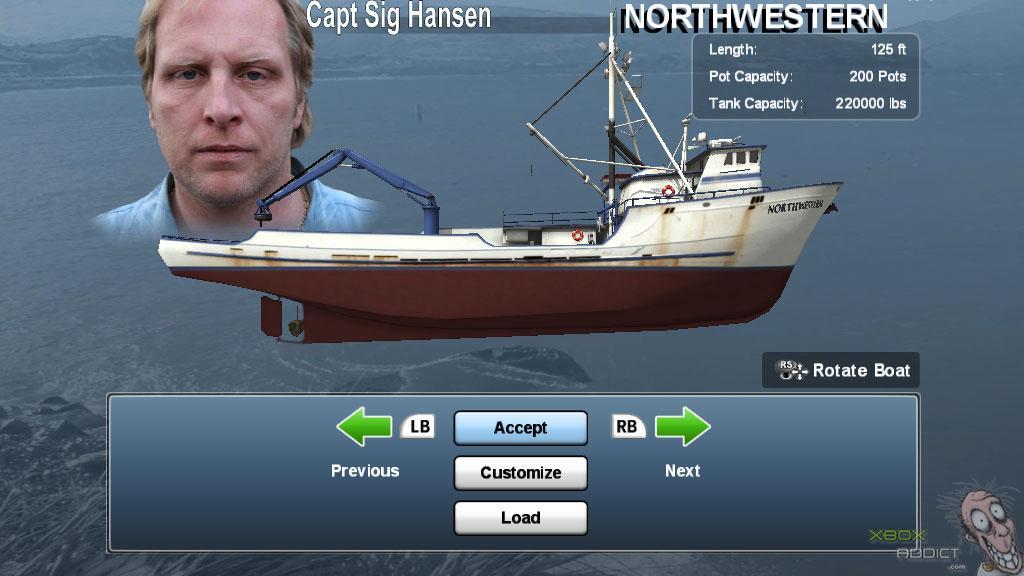 Choose your Hull, Cabin and Color of your customized boat.


Aside from the multiplayer there is a single player campaign and some mini games to play around with as well. The mini game are only playable in single player mode, and they do not have any type of online Leaderboard system. So basically they are just for your enjoyment and give you something enjoyable to do with some buddies while hanging out some Saturday afternoon. Some of the game included are throwing the hook, racing a skiff in beat the clock races, collecting buoys in huge waves in the skiff, and docking a large boat in a cramped space without collisions.

A lot of folks will find interest in the single player campaign as well. This is where you will get the true feeling of being a crab boat Captain on the Bering Sea. Once again, you'll be heading out to catch King crab and then Opilio crab. You'll have to decide what vessel you are taking to sea whether its your own creation or one of the real life vessels. You'll also have to hire your crew and this is where things could get tricky. Each crew member available for hire has different attributes to their credit. Some good, and some bad dependant on what their primary skills are. So you may have a guy that's great at the rail, but his attitude is just terrible. Do you want that combination on your boat? Its your decision.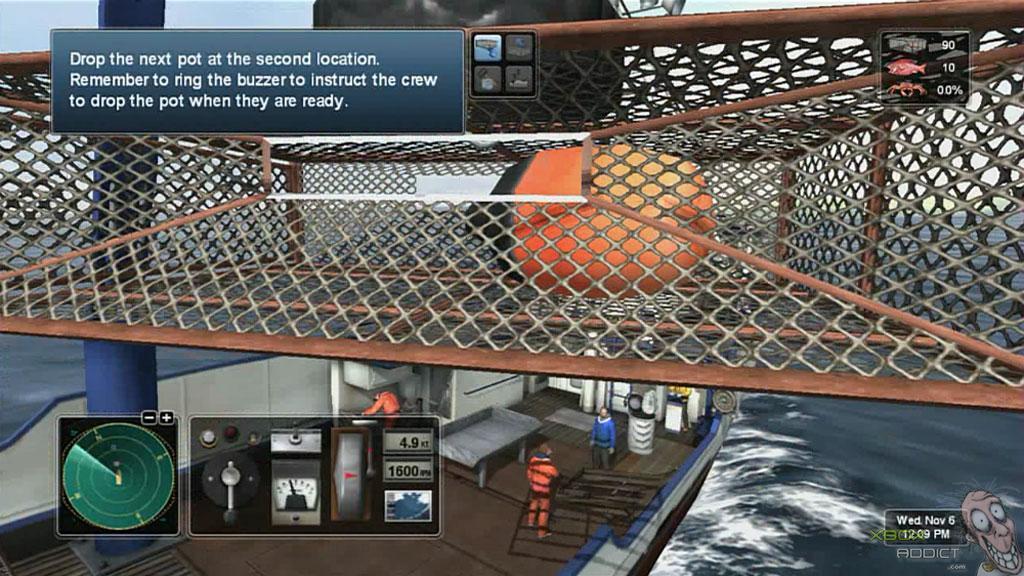 Dropping pots, but are the crab really here?


You'll be competing against 4 AI boats during your career. The average King season length is about 5 days, while the Opilio season is more of a 10 day average. These seasons could be longer or shorter dependant on the fleet's success in catching crab. A crab quota is set at the beginning of each season, and each boat gets a piece of that pie so to speak. If the fleet reaches is quota quickly, then of course the season will be over much faster. But if boats are struggling to ctach crab, the season could last longer. You have no control over this. Again, in multiplayer you do have control over this option and can determine a season length anywhere from 1 to 4 days which translates in a 1 to 4 hour period.
Weather is moves in a realistic manner as storm fronts are constantly moving across the Bering Sea. The water and boat physics in the game are simply amazing and well done by Liquid Dragon. At anytime during the game you could encounter 40 foot seas. That all depends on where you take your boat and what the weather is like around you. The earlier crabbing seasons experience calmer seas, while the later seasons have far more aggressive weather patterns that you will encounter. Ice also plays a major factor in a Bering Sea Captains work environment, and the gameplay makes sure you know exactly what that is like as well.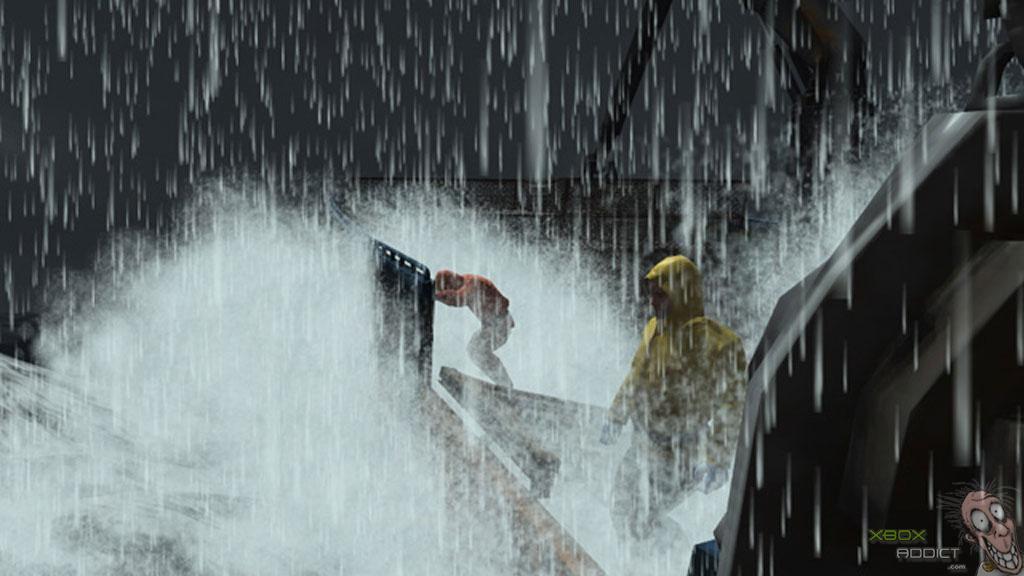 Change of underwear please. And not cause they are wet!


By the way....Yes, your boat can sink! That does not mean that your game is over by any means. If your boats sinks, each of your crewmembers has a chance of surviving based on the stamina and how well they handle and emergency. Once again, attributes in which you see when selecting your crew before the season. Other factors in your ability to continue your season would be how quickly the Coast Guard can find you and rescue you, and in most cases the insurance company will pay for the cost of your boat upfront allowing you to keep playing. This will all cost you money of course, and if you end up bankrupt or have lost too many crewmembers at sea, no one will want to work for you and your career is over.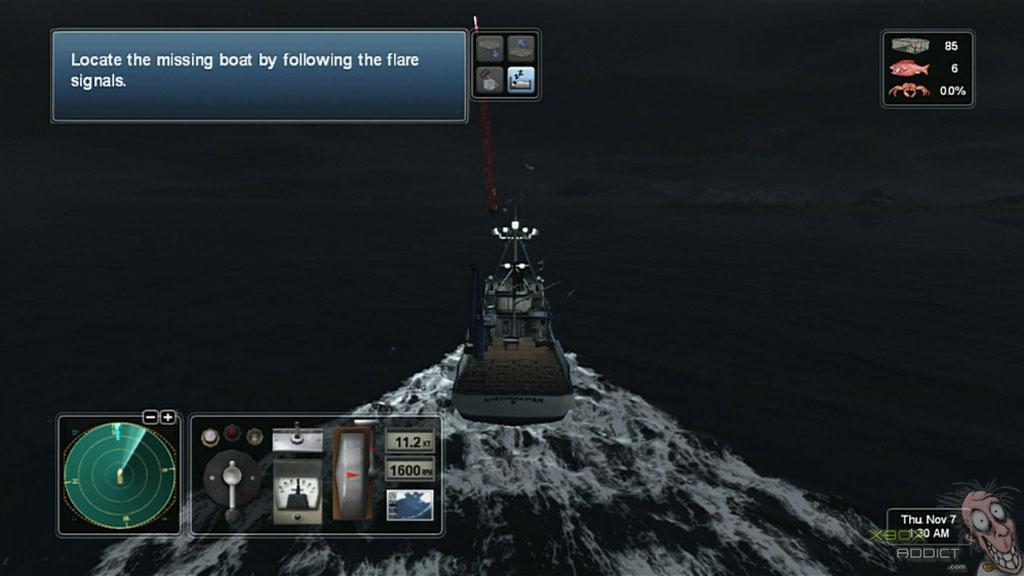 Skipper, flare in the sky straight ahead! Or is that fireworks?


Overall, Deadliest Catch: Alaskan Storm is a refreshing change of pace for the Xbox 360 gamer. The game will definitely appeal to a huge fan base of the show as well as casual gamers looking for something new and challenging. The game offers cutting edge gameplay and physics that will challenge the most expert gamer. The fact that Xbox Live multiplayer is also included makes this game a must have for anyone. The graphics look simply amazing, especially when it comes to the water and weather effects, and the control looks to be spot on with the simulation. The many hours of testing by the development team and the Hansen brothers looks like it has paid off. This game is a must have for any fan of the show, and it's a must have for all of the real time strategy gamers on Xbox and Xbox Live. I could go on and on about the features and detail put into this game, but if I did that then I would have to add chapters and a table of contents due to the games complexity. Without a doubt, this game is one of the sleeper hits of the year.
Preorder your copy of the game today. You will not regret the purchase in any way. Tell your friends as well. So to close, in the words of Captain Sig Hansen…..get ready to "Shut Up and Fish!!!!" this June.

Alaskan Storm is developed by Liquid Dragon Studios and published by Greenwave Games. Liquid Dragon Studios are creators of the game engine known as Splash. Splash is a powerful, extensible, fully data-driven game engine that features all the newest graphics technology used today in the industry combined with other unique proprietary techniques. The Deadliest Catch show is aired on the Discovery Channel at various times through the week. Check your local listings for show times. Deadliest Catch: Alaskan Storm is being released for the Xbox 360 and the PC.

XboxAddict.com is proud to support this game and we have now opened a forum for this game specifically. Check it out HERE. Feel free to discuss the game!!!