Preview of Red Faction Guerilla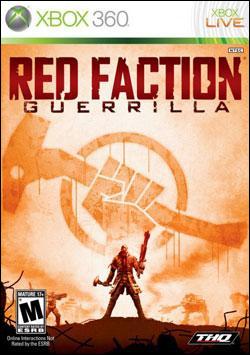 Red Faction Guerilla
by John Torrice

March 25, 2009

On March 16-18th XboxAddict.com was invited by THQ to come to Las Vegas to preview their upcoming shooter Red Faction: Guerilla. This event was to allow a look into the totally destructive world of Mars and the Red Factions fight against the Earth Defense Force (EDF). It allows one to join the rebellion of colonist, miners and settlers, as they attempt to reclaim their homes and mining claims that they have been driven out of by the EDF. This group of rebellions has decided to carry on the Red Faction name, although up against a different enemy they stand together as one to chant their battle cry "Better Red than Dead."

Before I get ahead of myself, let me share some insight with you about the Red Faction: Guerilla Event itself. Upon Arriving in sunny Las Vegas at about 11:30am taking a nice scenic ride from McCarran International Airport, I check into my room at the Red Faction Guerilla Headquarters being stationed at the Four Seasons Hotel. Taking the elevator up to what seemed to be the top floor, I flung open the door to my room and there greeting me was the RFG title theme Music playing on the Main Menu of a 42" LCD TV overlooking a breathtaking view of the Vegas strip. I grabbed the 360 controller and jumped right into checking out the game and experiencing hands on what THQ had in store.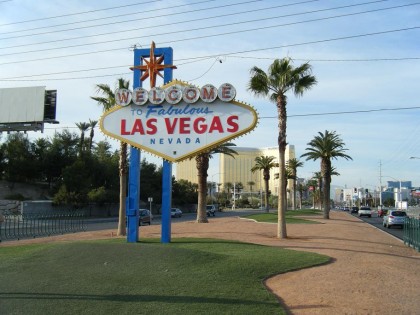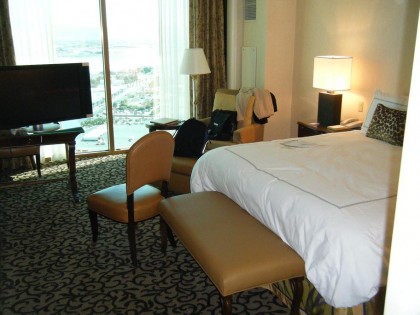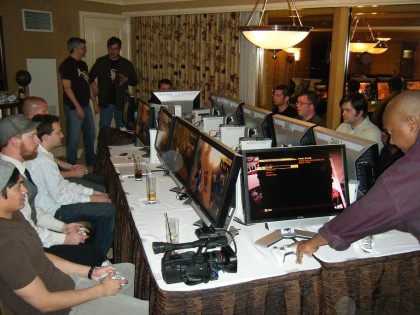 I dove right into the Main story mode, but had the option to play the Party Game of Wrecking Crew or have some MP fun on XBL. I'll be talking about those game modes a little bit later on. As you play RFG you will find yourself playing as Alec Mason, who has come to Mars after being all over the world to help his brother, Dan. You learn right from the start it's not going to be a day in the park for Alec and not given much to start with but the SledgeHammer it is a versatile force to recon with major devastation. The first 45 minutes to an hour I spent pounding and smashing buildings, boxes, vehicles and EDF's to see just how much destruction I could do. A feeling of accomplishment was had watching and hearing the building just creek, twist and crumble to the red clay below. The controls were very easy to learn and quite intuitive . Especially the RB used for switching weapons or tap for a quick toggle and your HUD was very easy to understand with a Health bar across the top, your mini map on the lower left with the EDF's Alert Level and weapons menu when RB is held.

Another handy weapon you start off with is the Remote Charges. They stick to any surface and they make a great trap for the enemy or set them down on in order to explode in a chain reaction, completely leveling an EDF building or Structure. You will learn many different methods to use your surrounding to assist you in easily removing the EDF troops. In the process of tearing up and down items throughout Mars, you'll discover Salvage Pieces that give off a shine when seen, accumulating these will allow you to purchase New Weapons and Upgrades. Safe houses are where you will end up taking shelter to hide from the EDF's and replenish your ammo supply and get those weapon upgrades.(Arc Welder, Grinder-shoots razor discs, and the good ole Rocket Launcher) Speaking of upgrades the Proximity Mines offer that surprise to the EDF while you take cover and finish off what might be left over after the carnage if the shrapnel has already or leave a Smart Proximity Mine taking out ONLY the EDF.

Getting around Mars you could choose the old fashioned method of walking around or why not grab one of the colonists mining dump, modified 4x4 or EDF Rover-if you are feeling lucky Punk, well do ya? Hit the Y Button and you are off with Right/Left Triggers for Gas and Brakes-Reverse, while and e-brake can be activated with the X Button to slide around corners in the chase missions or if you decided to take over an EDF Rover use the A Button to use the gun turret if mounted on top. After doing a few missions and some side missions being a Demolitions Master, which are normally Destruction related Challenges with a time limit and you receive Salvage Pieces for getting good times. It was nearing 7pm and I had to put down the controller and head to the lobby for dinner at the House of Blues located in the Mandalay Bay Resort adjacent to the Four Seasons. Dinner was very enjoyable and the food was delicious. All took place in a relaxing atmosphere. When dinner was over it was back to the room for some more havoc & mayhem.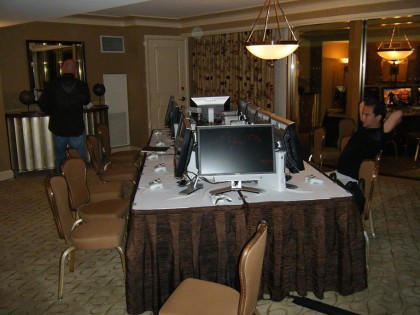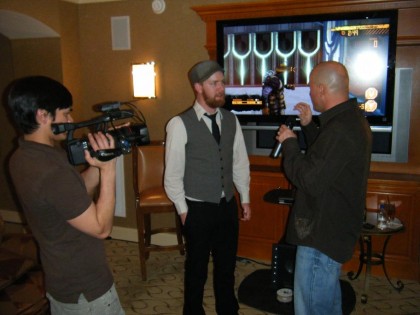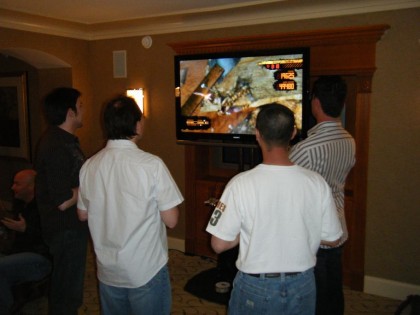 The next morning I was up early to get some playing time in before the 9:15 breakfast buffet that we had in one of the Four Season event rooms. I took the time to explore and look around the Open world of Mars and attention to detail was great. The characters look great along with the terrain and dust particles flying through the air. The dialog between characters could be better but everything else gives you the feel and experience of the Red Planet. In my exploring I did manage to find one of the hidden Mission Radio's, as well some of the Iron Ores spread around that gave you more Salvage Pieces and a Challenge. Oh look at the time so off to breakfast where everyone got their fill and as a group we headed towards a shuttle bus at 10:15 that took us about 25mins from the hotel arriving at the Desert Lake Shooting club for RFG Weapons Training Camp. We were greeted at the Lodge by Discovery Channels host of "Future Weapons" Mack. It was awesome!! Mack was actually one of our trainer/facilitators of the Camp.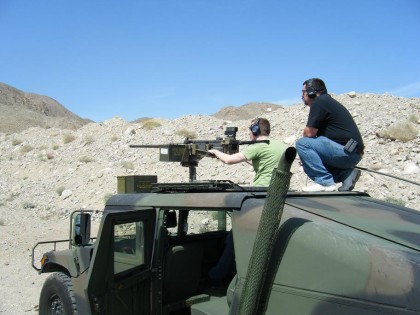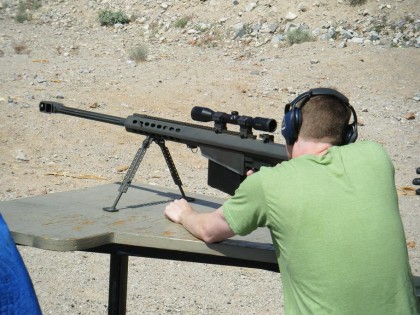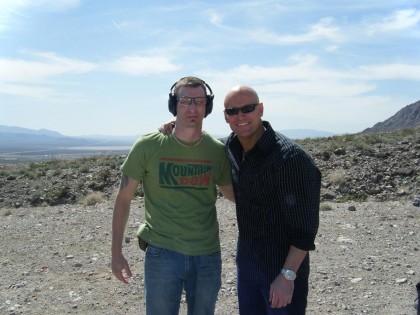 We were all provided with safety instructions and then instructed to pick up our ear and eye protection and make our way to the firing range. Once at the firing range and much to my surprise, laid out before us were close quarter MP5's, M4 Assault Rifle's, M60 Machine gun's, M107 .50 Caliber Sniper Rifle's, Grenade Launcher's and last but not least a .50 Caliber Turret on a military Hummer. Truly an experience to remember. Once everyone had fired each weapon there was a huge explosion 30 feet wide and at least 40 foot into the air behind the embankment we had been unloading on all afternoon. It was amazing and thrilling all at the same time…WOW!!!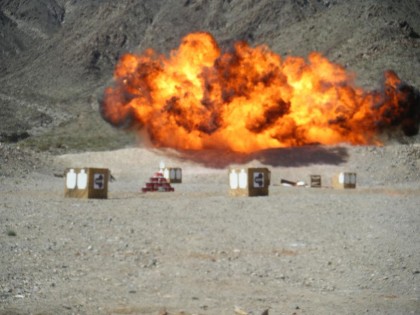 Getting back onto the shuttle bus at 2:30 and making our way back to THQ's RFG Headquarters as everyone was pretty exhausted from the excitement and sun beating down on us. After resting up and playing some more RFG it was 7pm, time for the MP event in the Presidential Suite. Mack greeted us as we entered the suite and he then spent the next several minutes sharing stories about himself, some of his background and that took us right into 2 video clips he had made with THQ for the Weapons of Mass Destruction in RFG. Everyone seemed to be infatuated as they listened intently to his experiences.

Now all hyped up from the video clips we hit up some MP action on the 12 360's that are system linked together, does support up to 16 players Max. RFG offers your normal Multiplayer modes of Anarchy- Death Match, Team Anarchy-Team Death Match, Capture the Flag, Damage Control, Siege, Demolition and just a Spectator mode to watch the action unfold. We ended up playing Death Match, Team-Death Match and Capture the Flag. In sitting down to check out MP I played Team Anarchy and discovered it very fast paced and you get different Backpacks that offer a tactful advantage. There is a JetPack allowing you to take flight and get a birds eye of your opponent, then the direct approach to things with a RhinoPack being able to run right through your victim or maybe a structure/building for total destruction. I always seemed like when I shot one person there was always someone hitting me from another angle; definitely have to keep your head on a swivel.

The other mode that was presented called Wrecking Crew was an offline party game offering 3 Game modes Total Chaos- 1 minute to cause the most damage with unlimited ammo, Rampage - 3mins to cause as much damage but every shot and backpack activation takes away from your time or Escalation-Limited ammo is offered but that and time increases with each round. Passing the controller to the next player to see who could string together the best demolition accumulating the most points to win the Round. It was a lot of fun seeing the different ways you could tear down or completely implode a building and no 2 rounds ever seemed to go the same way or have the same end result. This will be a great party and pass the controller game with fun for many hours as you will be trying to beat and top one another's score making it that much more competitive.

As the evening was winding down, it came time to leave the Presidential Suite. It was now 10:30pm and the conclusion of the RFG event was quickly coming to an end after two extremely fun filled days of action packed adventure, courtesy of THQ. The event was well organized and ran smoothly. I know I only speak for myself but I have to say, it was a spectacular event and THQ showed that Red Faction Guerilla will be a game that should be on your radar for a smashing great time letting you unwind from a hard day at work and unleash with Alec Mason or explore an open environment that gives you a real feeling you are amung the mining colonies on Mars. "Better Red than Dead"