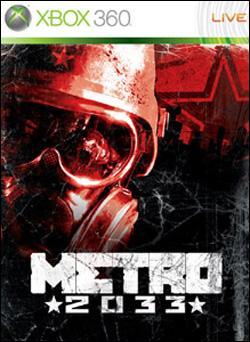 Metro 2033
by Stephen Cameron

February 6, 2010

With all the games coming out after tharte Call of Duty scare it's become really tough to pick out a potential game to pass the time with. With this preview I'll attempt to give you a tiny glimpse of a new THQ game called Metro 2033.

You're probably asking yourself the same questions I was; what is this game all about? What type of player experience is it? Metro 2033 is based on a Russian novel with the same name and it is currently being translated into English and several other languages. Apparently it was a bestseller in Russia and it's making it's way into the worldwide marketplace and THQ has decided to translate this story into a video game; they've even hired the author to help guide the story and fictional universe in the right direction. Also, the game is being developed by a Russian developer, thus the game has a strong Russian flavor to it, making it very interesting.

The game and story is set in a post-apocalyptic setting in Russia, where the humans have resorted to living underground in the complex subway system under Moscow. The surface has been taken over by mutated nasty evil animals that are just out to feast on your ass. There's just hungry, that's all. The real problem being on the surface and some parts of the subway though are the Dark Ones. They infect humans into a state of hysteria, and you seem to be the only immune person to all of this.
Since our hero Artyom is mysteriously immune to the infection, people start asking questions, and so do you. Why? Throughout the game you get these various flashes and as the game progresses they get more intense.

As you make you way through the various tunnels of the subway system you run into a network of different factions that hold certain territories and sections. Some are nice, and others, not so much.

Playing the preview build of the game it has a Resident Evil vibe to it. You start the game with what seems to be a butter knife and what they call a bastard gun; with accuracy not being terribly present of course. It also had a strong underlining theme, that you have to make every single bullet count.

This build of the game had a few elements that needed some polish. For example, there was no gamma setting controls. I honestly don't recommend playing Metro 2033 on a cheap television, as it's a very dark game and you need to see the crutial "pick-up" elements such as mask filters, ammo, and guns. Scavenging appeared to be the thing you'll do the most of; you'll almost have the fine tooth comb each level, and not just blast through them quickly because you end up at the end with no ammo. Another important thing is the good ammo is the currency in this game. So you can see how important is will be to conserve it.

I personally, wasted quite a few bullets, shooting in the subway ceilings as I was getting used to the controls of the game, thus falling back to the butter knife on several occasions. If you are looking for a game that has more of a hand holding experience you might wanna look elsewhere. Russians like to build games that are tough, and I love to play them!
Keep an eye for Metro 2033 from THQ, coming March 13th. You should definitely check it out.