Preview of How to Train Your Dragon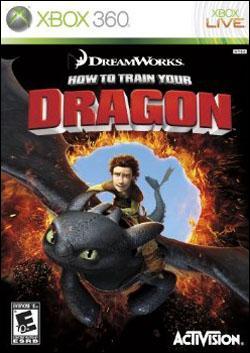 How to Train Your Dragon
by Adam Dileva

March 7, 2010

How To Train Your Dragon might be an odd name for a game, but it's based on a new DreamWorks movie coming out quickly this month that's sure to hook the kids in. What great animated flick wouldn't be complete without its own video game to follow suit though.


The game takes place after the movie so I would obviously suggest seeing that first before embarking on the adventure within. You get to choose to play as 'Hiccup' or 'Astrid' who are two of the main characters from the film and the game even contains some of the areas that people will recognize from the movie as well including the Viking Village, Wild Zone, Training Zone, and Fight Zone.


The goal is to become the ultimate dragon trainer by completing quests and battles to prove your superiority against your rivals. To do this you will need to find and train multiple dragons and even practice with them in the Training Zone to learn new skills.


As you start the game you are taught the basics and can wander around the Vikings' Village before you talk to townsfolk and learn what you need to do next. The Village is a decent size without being too daunting for the children but still enough room to run around and capture sheep and chicken or even pick carrots and flowers (for your dragon of course).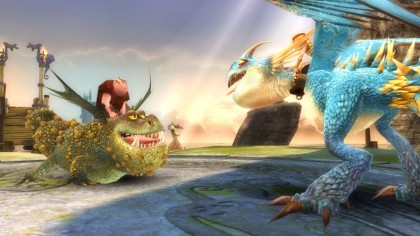 Becoming a Dragon Trainer is no easy task and requires just as much work; if not more, than a normal pet. You need to feed it and make sure it's rested and happy before doing battle or the outcome won't be favorable for your winning chances.


As you collect different items throughout the game, certain dragons will either like or dislike them. There are different categories of items that will refill certain energy bars of your dragon such as Health, Mood, and more. Finding the right items and even combining them to have the best use of your rations is where some of the challenge comes in.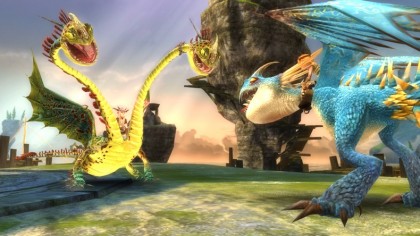 As your dragon progresses you'll need to train with them to learn and teach them new combos and skills. After you do the practice sessions a few times each they will permanently learn the corresponding skills and are now unlocked to use in real battles. Doing the training does become tedious quite quickly especially when you get a new dragon and have to teach them each combo over again as well.


As you gain experience points for training and battles you will level up which will also net you character points to be spent to upgrade specific stats of each dragon. If all of this sounds complex, especially for a children's game, it's because it is. I was actually quite surprised how in depth the dragon experience was and even how you can change the looks of your dragon for almost every single body part.


There is much customization with the dragons not only with the stats but the visuals as well. You can change the colors, horns, wings, tails, legs and quite a few variations of each part can make quite a unique looking dragon (and there are multiple types of dragons too).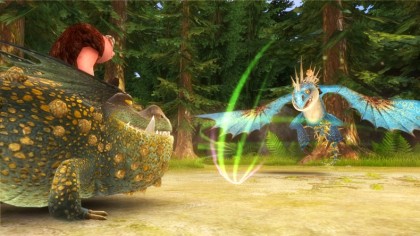 So if you want to be the ultimate Dragon Trainer you are going to need to battle other trainers to prove who the best in the Village is. Before a fight you choose your dragon(s) in any specific order you choose to try and offset the opponent's strengths. Once the battle begins you can use multiple different combinations of attacks to try and pass your enemies guard, you can jump and try and fly behind them or even shoot fire from a distance.


Fire can be upgraded through training to be a more powerful burst by holding the button down for as longer time, though this will leave you open to be interrupted. The X and Y buttons are how you do light and heavy attacks and different combinations of the buttons will yield completely different combos.


Every so often there is a tournament for a trophy (and achievements of course) and bragging rights and is a gauntly of numerous opponents you will need to beat to prove you are the best in the Village. The tournaments aren't too challenging as long as you have been keeping your dragons trained to their ability and go in with a happy and rested set of dragons. Win these tournaments and you unlock more quests to do, more mini games, and more dragon slots (for up to 4).


There are mini games included as well should the battling come dull after awhile. Some games will have you flying through rings within a set amount of time and others will have you breathing fire to make ice sculptures by pressing the correct button. There are more games as well and offer a nice distraction from the tedious dragon training. Winning medals in mini games will also net you items to help care for your dragons that can't be found other ways.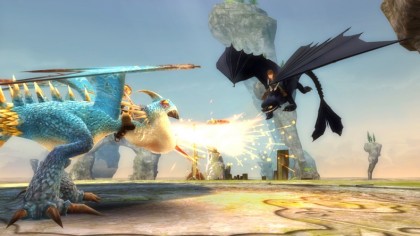 I always expect the worst when I'm about to sit down with a movie licensed game as the track record usually isn't in their favor. Surprisingly; before I knew it I found that a few hours had gone by and I was actually enjoying the deeper aspects of the game such as the dragon training and customization.


I'm not sure if all the in-depth stuff such as the dragon stats and longer combos will be understood or used much by the younger players, as I have a feeling they will mostly be button mashing, but for the proper age of children, there is a surprisingly deep amount of customization with the dragons that even I enjoyed at my age.


Obviously I've yet to see the movie but I do recognize the characters and areas from the trailers and it seems the quality of DreamWorks may have rubbed off a little bit with the game as well. If the kids enjoy the movie and they see the game at the store afterwards, don't be too afraid to possibly get them it; if I can enjoy it at my age I'm sure the target audience would have a thrill designing and battling their dragons against each other (multiplayer included for both the kids!).