Preview of Deep Rock Galactic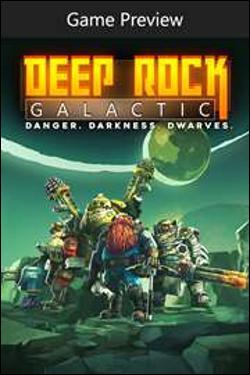 Deep Rock Galactic
by Royce Dean

September 21, 2018


For some reason there is a large populace of humanity that worships the famous. Celebrities are not only popular humans, but deities in their own right. If "Emma Prettyactress" endorses the next big diet that will help you lose seventeen pounds yesterday, then you can bet there's a new and devoted sect of housewives that will be eating like that for a month. If "Danny Badass" drinks the newest energy drink, then all of dude-bro kind will be covered head to toe in gaudy over designed energy drink swag that looks vaguely like the eerie patterns on the back of a moths wings; the purpose of which is to ward off others. Working as intended dude-bro.

I don't partake in the celebrity Kool-Aid or their weird companies founded to sell weird products to those of us with more money than brains. I can't even imagine myself in the shoes of a person with that lifestyle. All of the fame and the bravado and the extrovertedness required sounds exhausting. I'm more of the sitting type. You can't break any bones if you never leave the house. Instead, I choose to be the hero in games, the adventurer that saves the day and gets world renown fame without the actual world renown. I pretend to be the brave soul that faces their fears without hesitation and second guesses. Too bad I'm not really the character in the game. A recent game that was lauched into the Xbox Game Preview program has some of the darkest caves and buggiest bugs that I've ever had the pleasure of running in terror from. What is that game you ask?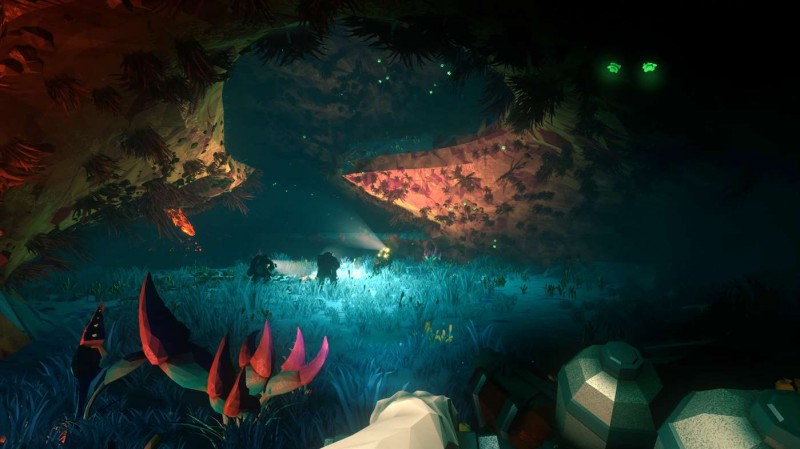 The winner of the Royce-y award for most surprisingly intimidating game is Ghost Ship's Deep Rock Galactic. This four player co-op game has you and three companions exploring the dark depths of an alien world in search of valuable ore. There are two spooky things to unpack here. First, these caves are truly pitch black and filled with all sorts of yucky bug monsters that come in both singulars and swarms. The other horror of Deep Rock Galactic is four player co-op...What, just me? Okay okay, I don't like playing things online with other people...at least not co-operatively. Other players never do the things you want them to. It's almost like they are their own individual with their own set of priorities and values. Disgusting. If you can get over those mental hurdles however, then Deep Rock Galactic offers a surprisingly unique and fun experience that no other game to date has offered.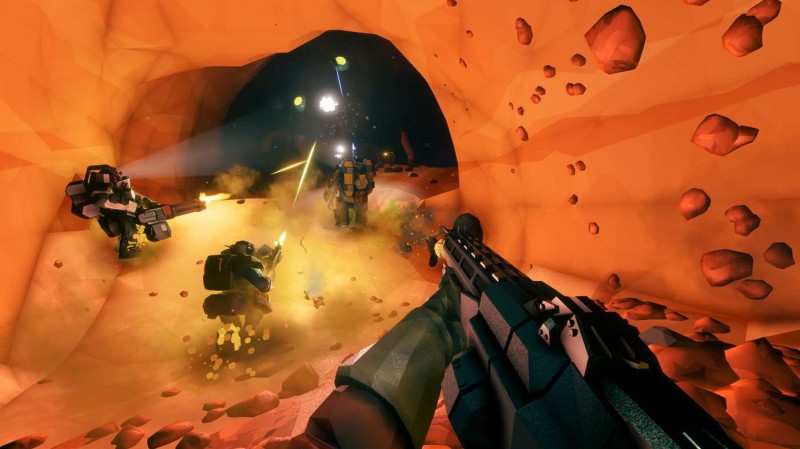 At its roots, Deep Rock Galactic is a first-person shooter made entirely of 'get-in-and-get-out' missions. The main objective of these missions is to collect a precious ore called "Morkite". Along the way you'll find various other minerals such as gold, or more fantastical rocks like "Nitra". Each mission also features side objectives that can earn you and your team a nice bonus if completed. There are four playable classes, each with unique abilities that serve to make the lives of your party easier, and you still have the ability to double up on any of the classes you bring to a mission as it is well within the rules. That being said, the more diverse your team the better off you'll be in the long run.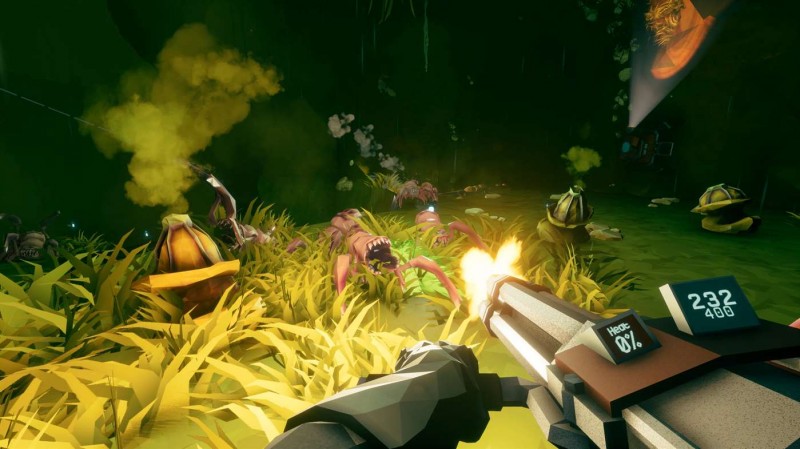 Each mission begins with mission control giving you the usual speech about getting back to the drop pod in time, because it leaves with or without you. Don't panic, the missions aren't timed. Instead, when you've gathered all of the required materials you'll approach your MULE robot, or Molly as it is so lovingly referred to, and activate its escape mode. During regular gameplay Molly will follow you and your team around providing a minor light source and serving as a depositing bin for all of the ore you pick out of the ground. You can only carry so much though; however, when escape mode is turned on the drop pod is called and Molly makes a run back to the ship. You and your team must muster all of your strength and keep up with Molly while fighting off waves of insectoid beasts. After escape mode is activated you'll have five minutes to make it back to your escape point before the ship leaves, stranding anyone unfortunate enough not to make it back in time.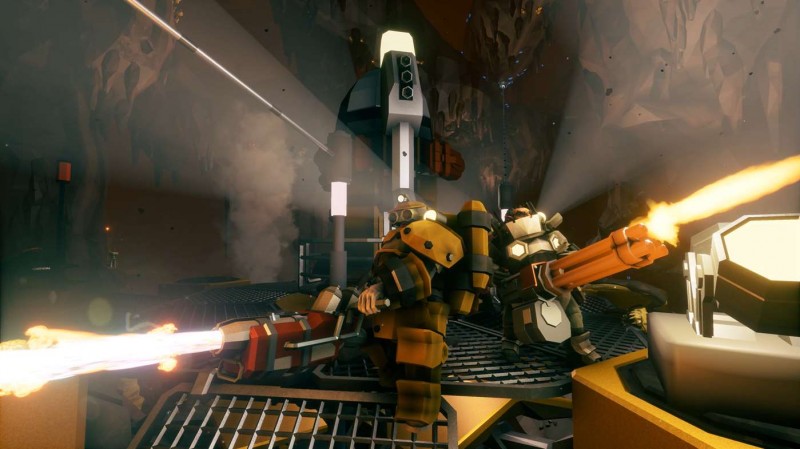 Gathering minerals is a simple task and can be done one of two ways. The first is by hand. Each of the player characters comes equipped with a pick axe that cuts through ore, and softer rocks, like there was nothing in front of you at all. Doing the mining yourself usually ends up being quicker and more efficient. There's also the added benefit of not missing any of the ore chunks that fall to the ground when they are chipped from their home. The second option for solo players involves a secondary robot pal you bring along on your missions; a drone of sorts. In many cases ore veins are too far out of reach for players to get to, when that happens the drone can be sent flying up to retrieve them for you. While the drone AI does a pretty darn good job, periodically it has to be sent back for missed pieces. Hide and seek typically follows drone mining as you'll want to be sure you found all of the tasty rocks that came tumbling down. Molly will be sad if you don't.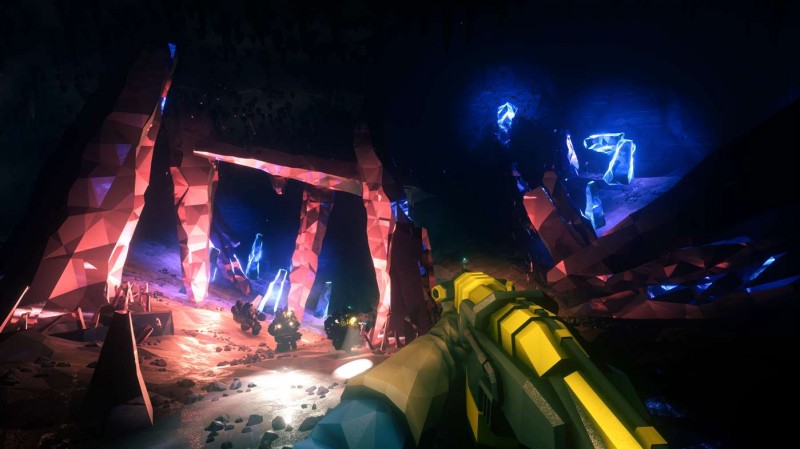 One of the more freeing elements of the game is its fully destructable environments. Obviously the places where ore is found can be cut into more easily, but you'll find yourself locked into an apparent dead end more than a few times. When this scenario rears its head you'll have to look around for a place where the walls are softer and get to digging! Indicators for softer walls are visual, so it isn't a particularly laborious task. Many of the aesthetic features in the caves can be broken too. Most of these provide no benefit, but others still, such as red crystals, will give your health a boost when broken.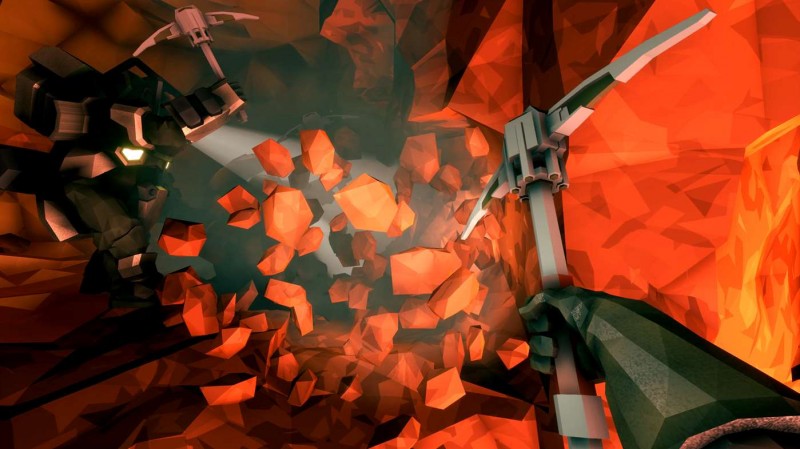 Deep Rock Galactic has a rich atmosphere. It tells you what the game is all about by blinding you. There's a real sense of ominousness that comes from the unknown dark, especially if you're new to the game and are unfamiliar with the things that await underground. Before you put forth the effort to light the place up, each cave is the exact same; a screen of black. Some have tiny points of light from the various crystal formations you'll find on your journey. When you light up that flare however, you'll see that each cave has its own charms and quirks. Being in an early stage of development, there's still some weirdness from the geometry and the way that destructible walls seemingly leave floating pieces of rock everywhere, but overall the blocky nature of the visuals does the game, and its themes, justice. Music is sparse, as it feels like it should be. Sometimes a lack of music is the best kind of music to elicit apprehension. When the music does pick up though, ready your guns. The bugs are coming.

Each of the four playable character classes brings their own specialized arsenal along with them to get the job done. Oh, and did I mention that they are Dwarves? All you need now is a flagon of ale, an axe, and an endearing bromance with an elf and you're ready to drop a ring into some lava. When booting up Deep Rock Galactic for the first time you'll be thrown into a tutorial mission as the "Gunner" class, which comes equipped with a Gatling Gun, Revolver, Satchel Charges, and a Zipline Gun for getting your team to high places. If gunning down bugs and keeping your team safe isn't your favorite thing to do, then this maybe isn't the best class for you. Beyond this initial class, you have the Driller, Scout, and Engineer.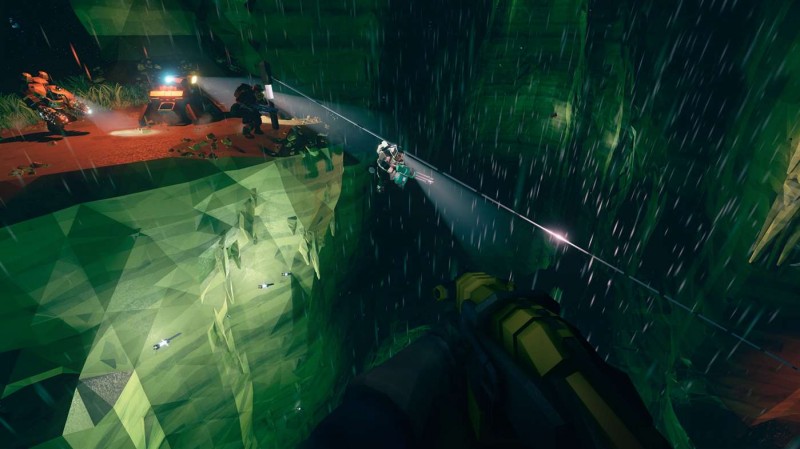 The Driller is the go to guy for speeding up the mining process. Equipped with Power Drills, this guy can bore through rock walls and enemies alike, though the drills will overheat if used for too long. You'll also have a Handgun, Flamethrower, and Satchel Charges to play with. Next is the Scout with the ever incredible Flare Gun. While each of the playable characters can throw flares in infinite number on a recharging cooldown, the Scout gets a gun that does the same task so much better. You aren't the sturdiest class, but your Sawed-Off Shotgun and Assault Rifle will keep you safe while your Grappling Hook will pull you to safety. Lastly, and my personal favorite, is the Engineer. The Engineer is your team's utility man. His Platform Gun can launch platforms, for your team to utilize, which stick to any surface. He also comes with a Shotgun and a high powered Grenade Launcher for wide effect damage. But most interestingly the Engineer can set up a sentry gun which will provide more light and extra firepower against the creeping dark. All playable character classes carry varying numbers of grenades as well.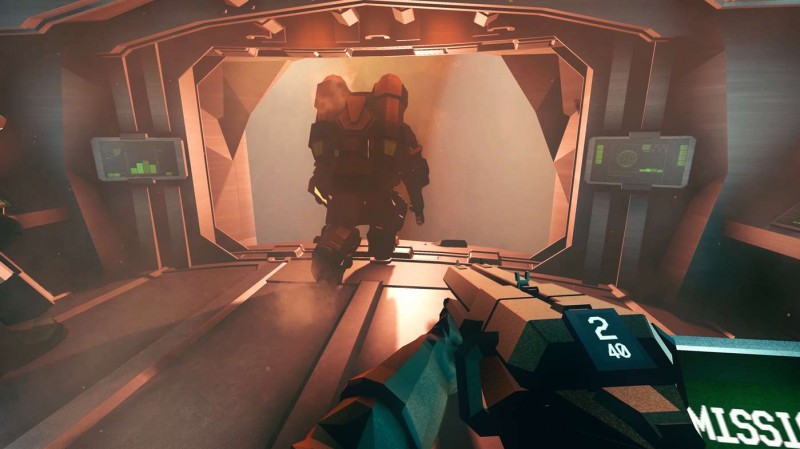 Upgrades and cosmetic changes are available to players that have gathered enough resources to do so. At the cost of ore, you can increase the damage and ammo capacity of weapons, your defensive effectiveness, as well as the flame and poison resistance of your armor. You can change your dwarfs beard style, skin tone, and even armor style for added fun. Though the options for these visual changes are somewhat limited, they add an extra level of depth for those that like to really dig their claws into a game.

It's rare to come across a game these days that feels as fresh as Deep Rock Galactic does. Developer Ghost Ship has taken the first-person shooter genre and made a game that feels unlike shooters before it, a feat that's becoming harder and harder in an increasingly over saturated market. And something to remember here, the game is still in preview form. So, whether you decide to play with a group of friends or by yourself, Deep Rock Galactic offers a gameplay experience that will challenge you in all the right ways; making success all the more rewarding. Will you be the Scout, diving headlong into caves making sure it's safe for your team to proceed, or the Driller that makes your daunting task child's play? Is the art of marksmanship your call by stopping the enemy in its tracks with the Gunner, or will you support your ragtag band with the best technology the Engineer can offer? In the deep caves of foreign worlds, these choices are up to you.