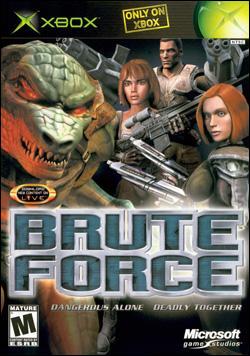 Brute Force
by Stephen Cameron

August 7, 2002
Since the showing at this years E3 expo, reports have poured in surrounding Digital Anvil's upcoming tactical squad based shooter Brute Force. All of them seemed to gravitate towards comparing Brute Force with Microsoft's/Bungie's stroke of genius, Halo. After sitting down and actually playing the game in a recent trip to the home of Digital Anvil's studio in Austin Texas, I can honestly say that there are only a handful of distinguishing comparisons to which you can say that Brute Force and Halo are alike. One being that it's going to be published by Microsoft, it has aliens, it has guns, they're both absolutely beautiful graphically, and they're both excellent titles of which every Xbox gamer should have in their game library. Period.



I would like to start off by saying that I had actually played Brute Force earlier this year at E3 and was not impressed at all with the gameplay. The graphics were amazing but the game play just wasn't there. The controls were clunky and the camera views were odd and to be honest, I had no idea what in the hell I was supposed to be doing. Now that I've actually sat down with the controller in my hand, a brand new build of the game, and had someone there to show me the ropes so to speak, Brute Force has joined the list of Xbox titles that I simply must have!



For those who have never heard of this title before, Brute Force is a 3rd person squad based tactical shooter where gamers control four distinct characters that each has their own special abilities and traits. These elite warriors are part of a Special Ops unit designed to do the "dirty work" of the Federation and because of their special skills and attributes, the Brute Force team is the only team capable of completing difficult tasks such as infiltration, assassination and encounter missions on hostile territories.


From the ground up Brute Force was designed with team-based gameplay in mind. Charging head first into the game with only one character guns blazing will get you nowhere but dead. Instead gamers will have to learn to use the skill sets of each character to their fullest potential in order to successfully complete all 22 missions that span over six different planets. For the "run and gun" type of action there's Tex, an assault trooper who specializes in mini-machine guns that spit out thousands of rounds a second. For the "sneaky sneaky" necessities there's Hawk, a female scout who specializes in stealth and recon. Flint is the lone Cyborg of the group as well as the sniper. Last but not least is the most recognizable of the group, Brutus. A feral warrior from his home planet of Ferix, he is the fastest and deadliest of the group.



Along with their different classes each character has their own unique abilities as well. Brutus has his "Spirit of Vengar" mode that allows him to see enemies in a heat sensory type of view. Tex has his Berserker mode where dual weapons are whipped out for the ultimate in ass-kicking action. Flint can use her sniper rifle for advanced targeting to gather information such as health reports of enemies. And Hawk has the ability to cloak herself to scout in the most dangerous situations without being seen. Sounds cool huh? It is. Each of the modes will be a necessity that comes with a small price, time. The ability to use these special powers are controlled via a meter system that thankfully will be upgradeable throughout the game to give you longer durations of these skills.


Each character can only carry two armaments at any time but no need to worry as there are a total of 30 different selections of weapons in the game, four types of grenades, as well as eight different hi-tech pieces of equipment. The different classes range from rail, particle, sonic, laser, ballistic, launchers, cannons, and bio weapons as well as a few other hidden surprises. Players will be able to equip each character at the start of each mission with a vast lineup of weaponry to be chosen from at the cost of credits. Weapons and ammo can also be obtained on the battlefield from fallen enemies but can only be used on that level only.


As I mentioned above Brute Force uses a credits system that allows you equip your characters as well as re-spawn a character when they die. Re-spawning a character will cost you $10,000 credits and weaponry ranges in price. Players will earn credits based upon completion of levels and the number of kills. In theory you won't be able to run out of credits, but the cost of having your whole team re-cloned at the beginning of a new mission may leave you with very little cake to equip them. Players who complete a mission without loosing a squad member will also be rewarded with honorary medals.


The control scheme for Brute Force is almost exactly as that of Halo where your right trigger shoots, left trigger throws grenades and uses items in your inventory. Movement and aiming are done with the two analog sticks and you're ABX and Y buttons control your jumping, weapons switching and reloading. The differentiating factor between Halo and Brute Force's control scheme is the D-pad. The D-pad will be heavily used as it's the main menu for controlling your squad throughout the game. By pressing either up, down or left and right you can select any one character or all of them and issues commands via the ABXY buttons. At first it's a bit daunting to have so much thrown at you to control, but once you master the command structure you begin to wonder how you would have gotten through the game without it.



So you want to sling some lead with your friends' right? Gamers will be happy to know that the entire game of Brute Force can be played cooperatively with up to four players, something that only a small number of developers are doing nowadays. As you play through the levels there will be waypoints setup similar to Halo that will warp characters from their current location (presumably way way behind you) and bring them back into the action. This is a great feature as the levels are very large and most missions can span from 30 minutes to an hour to complete. The waypoint system will work for both single and multiplayer games in co-op mode. And while we're speaking of multiplayer, it's time to bring up the topics of system link and Xbox live. Brute Force supports neither of them. The only way to play coop or deathmatch will be via split screen on one Xbox. Having been a PC Gamer up until the Xbox I have become pampered by lan and internet play and I'm accustomed to not having to share my game space with someone else's character. But Digital Anvil thinks it will work so I will remain skeptical until I actually see the final version. In our hands on session I was able to play co-op with one other player and it worked great, but since there are no first person viewpoints other than sniper mode, I am hesitant about how four players are going to be able to actually see the environments past their characters on a 25' tv.


Digital Anvil has incorporated the slickest way for gamers to join into the action. No longer will you have to exit a level for your buddy to jump in, all he/she has to do is simply plug in their Xbox controller and instantly the screen splits off into however many people join in and since no one has one set character there's no setting up to be done. Sheer brilliance! Now if he/she decides to split your pad for some nachos or to actually get some sleep from playing Brute Force all night, all they have to do is unplug the controller and automatically the screen resizes itself. Can't do that on the PS2 or Gamecube now can you?


Aside from co-op mode Brute Force will offer your standard deathmatch as well as team deathmatch, but with a twist. Gamers will be able to dice it up against one another complete with their own squad for a total of a 16 player dm. Toss in the fact that there will be unlockable characters from the game that can be used in deathmatch and you have a sweet recipe for hours of tactical warfare amongst your friends.


Brute Force has the ball in their court. Absolutely stunning graphics, intriguing characters with multiple abilities to differentiate them, lush environments, a full symphony orchestrated soundtrack, 16 player deathmatch, co-op mode for up to four players, an arsenal of weapons that would make a militant man cry for joy, and enough challenging missions to keep you wanting to play it over and over and over. Bring it on!