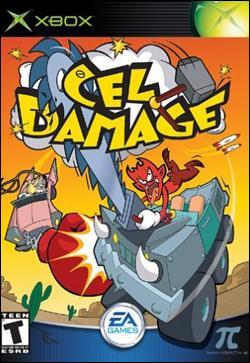 Cel Damage
by Stephen Cameron

August 23, 2001
Pseudo Interactive is working on a multi-player 3-D Xbox car combat title most similar to Twisted Metal meeting Jet Set Radio, the first of its kind. And can be described as an intense, fast and furious action game. When we heard a cel-shaded game could run at 60 frames per second like Cel Damage, we knew it would be good, but not this fun. From the looks of the screenshots, the title lives up to its definition because it will also be taking full advantage of the cel-shading phenomenon, popularized by Jet Set Radio.



Cel Damage will let you control one of six different characters, each cartoons with his/her own vehicles set to be insanely damaged in what are basically destruction derbies placed throughout ten different arenas and four cartoon worlds to choose from. These four worlds are Desert, Jungle, Transylvania, and Space. There will also be four hidden characters that will require unlocking, so in total there are 10 characters. Add a dose of cartoon violence with hidden levels and secret areas, and you've got yourself a rather innovative combination of genres.



Violet is the game's "Tank Girl". She's an anime-based troublemaker who drives a big APC that mounts a fantastic long-range mortar. Sinder, whose favorite weapon is the wood chipper, is a little devil who got kicked out of Hell for being too chaotic and winds up on Cel Damage driving a tight-maneuvering Hummer. Dominique Trix is the game's sexy femme fatale with a pink caddy and a hood-mounted crossbow to set havoc. B.T. Bruno is an Elvis impersonation, but in his day-time job a construction worker who drives a big bulldozer with a sledgehammer. Fowl Mouth is a gangster duck in his Studebaker with a Tommy gun that sprays bullets all over the place. Flemming, our last of the six original characters, drives a hovercraft with laser cannons powerful enough to cause flames. After you've chosen character, you get ready for some fast and furious action until the ink runs dry. Sort of like when a cartoon character gets erased in Warner Bros.' Who Framed Roger Rabbit?.







alt="Thumbnail"
src="/screenshots/thumbnails/1601.jpg" width=80 border=0>


alt="Thumbnail"
src="/screenshots/thumbnails/1602.jpg" width=80 border=0>


alt="Thumbnail"
src="/screenshots/thumbnails/1603.jpg" width=80 border=0>


alt="Thumbnail"
src="/screenshots/thumbnails/1604.jpg" width=80 border=0>



There will be three modes of play: Smack Attack A.K.A. Deathmatch, Gate Relay (race), and Flag Rally. Flag Rally (better known as capture-the-flag) was the style of game play shown at E3 2001 in which there are four flags in a level and the objective is to grab all four flags before the other players. You may also have to take flags from other players who have grabbed a flag that you need, and then reach a finish circle in the center of an arena. While the other players are also vying for the four flags needed to win, you can pick up power-ups that last for a period of time and a handful of melee and ranged weapons that can result in one-hit kills.



The 36 weapons to be featured include a freeze ray, a shrink ray, gigantic boxing gloves, a massive hammer, a chain gun, whaling harpoons, buzz saw blades, broadside cannons, a homing missile, and many more. If you stumble upon a wood chipper, you can use it to chew your opponents' vehicles into little pieces once you've bashed into it, and then spit the chips out. Only one weapon can be used at a team in addition to your standard-issued pellet blaster that fires rapidly and isn't as powerful. Other competitive styles of games besides capture-the-flag will be playable when the game goes Gold.



Thanks to the Soft body physics engine developed to stimulate free-roaming cartoon dynamics, the vehicles actually bounce and bend on turns and high jumps. When attacked by fire, your vehicle will be animated to flame up and cinder. And when crushed by a boulder or a sledgehammer, your vehicle will be animated to smoosh to the ground as wafer-thin scrap heaps, so it's pretty advanced stuff to mess with. The cars will accelerate with the right trigger, brake/reverse with the left, steer with the left stick, fire primary weapon with the A button, and you can fire a power-up weapon with the B button.



Brawn is important but almost as much as Brain, something you'll need in order to navigate your way and get past obstacles in different arenas like rivers, houses, trees, etc. Weapons will be useful in getting past the obstacles through destruction, if the weapon in hand is powerful enough. The game is reported just about done and should launch as one of Xbox' launch titles.



Related Links

href="http://www.xboxaddict.com/products/product.php?Product_ID=162">Cel Damage Game Profile

Cel Damage Interview
with Kevin Barrett

href="http://www.xboxaddict.com/interviews/cel_damage/movies.php">Cel Damage
Exclusive Movies