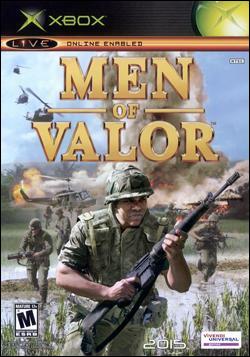 Men of Valor
by Stephen Cameron

August 23, 2004
If 2001 was the year of the WWII shooter, 2004 is the year we all go to Vietnam. Nearly a half-dozen 'nam-themed games are landing within the next half-year, with varying degrees of realism and attention to detail. With this large-scale offering on the horizon, it may be difficult to narrow which one you should be playing first. I can tell you, no matter what you play, once you bite into 2015 studio's and Vivendi Universal's Men of Valor, you won't bother playing much else. You won't bother eating, you'll likely give up sleeping, and you'll be a much edgier person than friends and family are used to being around.

My biggest concern going into this game, especially in the wake of a massive deluge of World War II-themed first-person shooters ranging in realism and seriousness from Medal Of Honor to Return To Castle Wolfenstein, was that it might be exploitative or insensitive to the nature of the setting, the subject, the conflict, and the men and women who fought in it. Trust me – this is NOT a concern. The game unfolds in several real-world operations during different phases of the war, from reactive policing operations near the game's beginning to more active military actions as the war moved on. The settings are painstakingly, hauntingly realistic, and missions range from 'reconnaissance-and-force' (upper echelon doesn't like the way 'search and destroy' sounds to the TV cameras these days) to snatch-and-grab operations on enemy personalities and even a babysitting operation where you are accompanied by embedded journalists who have a penchant for getting themselves into danger and trouble. You are NOT a one-man army like the character in a certain zombie-and-nazi-infested shooter (hint: it takes place in a castle – one you return to) – you are one man trying to keep your head down and protect your teammates and get yourself out of the combat zone alive along with your friends. Think Halo but with no Spartan armor, Warthogs, or Pelican dropships. Just scavenged weapons picked up from fallen enemies – crude Chinese semiautomatic rifles and pipe grenades. The in-mission scripting is fantastic – missions open with cinemas playing out of your teammates bantering, voicing their concerns, their fears, joking with each other, and creating characters realistic enough that you're upset when one of them falls. What's more, the other A.I. teammates get upset, sometimes blowing their cool in their frustrated anger, something I've never seen in a game before. The illusion of these characters being real fighters and fellow combatants is incredible.

Vin Diesel's character quips in The Fast and the Furious that he lives his life a quarter-mile at a time. In Men Of Valor you'll live your life by the inches. Every single foot you crawl toward an objective in a heavy combat zone feels hard-won. Unlike most shooters where you might as well be rolling around on a pair of rollerblades in the fight, Men of Valor will see you spending much of your time in the fight flat on your belly in the dirt, springing up to dash for fresh cover closer to where the enemy is. Every tree and rock suddenly becomes a valuable resource. And the Viet Cong you fight are all the more frightening for the fact that often you barely see them, if at all. Muzzle flashes in the distance from treelines, or from windows of huts, are sometimes all you see of the threat trying to kill you. Enemies ghost out of the grass, shouting (and be ready for some gritty realism in the enemy callouts -"F**K you, G.I!! You get out of my country! You go home in f**king bodybag!!!"), firing, and then disappearing back into cover. Your teammates are equally vocal, and I was completely surprised at how natural and real they sounded – teammates get seriously angry when shot at. I'm always impressed when play mechanics force you to adopt behaviour that's realistic in the field, and Men of Valor does just that… unless marching a trail, you often jump from a prone position into a low crouch, run for cover, then drop. A squeezed trigger moves the point of view into a firing position, with a more accurate crosshair and a slight touch of zoom, as your weapon is moved to your shoulder.

What makes this game so completely immersive in the role of this infantryman are the small touches and details – 2015 has gone to incredible lengths to make this game feel more as though you're playing the role of this soldier, rather than just using a name and a gun as an avatar for your fight in the gameworld. Private Shepard (I renamed him "Joker" so I could get my Kubrick 'Full Metal Jacket' on) is a black American in a mostly-black unit, giving a perspective on the fight not often seen in film or fiction considering the number of black soldiers that went to fight. Missions often open with a letter to- or from- home, giving Shepard's thoughts and feelings on the recent battles or the phase of the war that he's involved in, and the letters from home emphasize the displaced feeling of the soldiers. A beautiful touch that particularly impressed me was that often a Polaroid photo next to the letter being read will enlarge, fill the screen, and suddenly you're IN the photo, playing out the events being described in the letter. It's just an example of the amount of attention 2015's put into making this game feel as though you're playing out this soldier's life and not just a disconnected series of levels or maps.

Visually, the game is astonishing. You're in jungle country, and the hardware of the xbox has been teased, tweaked and coaxed into giving you the most incredible depiction of deep jungle I had thought possible. Friends who have been ribbing you to ditch your console to go play Far Cry on PC might be a little more subdued when they see this baby running on the Xbox. Foliage is dense, and it isn't just for eye candy, either – it's cover, both for you and for your enemies. Battles become a game of trying to stay invisible while at the same time trying to position yourself where you can see where the enemy fire is coming from. Again, often you're fighting a muzzle flash a few yards away, or emptying your clip in the direction of an angry shout. Missions take place on water, with Apocalypse Now-style boat runs up river in which you fight targets from the bow of a speeding riverboat, and in the air, from the door-gunner's position of helicopters being used to insert or extract you from combat zones. The variety of combat styles and types make you feel as though you're more than just a pair of hands toting a bag of weapons around a combat zone – you are a fighter, using your environment and the weapons of allies and enemies alike to accomplish your objectives. You have a limited weight allowance and this is reflected in your weapons inventory – realistically, you can carry perhaps two rifles at a time of different types and a few grenades or secondary weapons.

In short, this game appears ready to set the bar for the remainder of the contenders – this will be the Vietnam game to play in the coming year. Even in its nearly-finished state it shows style and polish. With supported multiplayer on Live as well as a single-player campaign that is the most engaging I've played since Halo, this game is going to be one of those rare ones that takes you away and keeps you playing long after most other games would have you coming up for air.