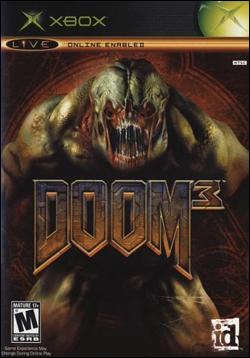 Doom 3
by Stephen Cameron

January 26, 2005
Slowly walking down a dark hallway, having no desire to find out what's at the end, you try to make sense of what's going on while you fight for your life from Hell's Demons. Sounds like a nightmare you occasionally have, right? Wrong. This isn't a nightmare, nor is it a figment of your imagination; this is your character in Activision's new title, Doom 3.

Wipe that sweat off your forehead son, and stop shaking, because this is only the beginning. Grab your gun soldier, because hell has come to Mars, and it's your objective to send it back with guns blazing.

Anyone who has been into games, whether console or PC should be familiar (at least a little bit) with the Doom series of games. Debuting back in 1993 on DOS, Doom has definitely made a name for itself amongst PC gamers. With Xbox fans constantly hungry for a great shooting game, Vicarious Visions has its talented team at work pushing the Xbox to its limits to replicate the same realism and skin crawling experience PC gamers have while playing the Doom series. Will Vicarious Visions and Activision walk away leaving fans keeping their night light on after the newest installment of this gaming experience? Only time will tell, and we still have a little over a month before the final version will be released to consumers. Until then, we'll cover what you should be able to expect in the next Doom series installment, Doom 3.

With any good game there has to be an interesting story behind it that'll keep you wanting to play hours on end, and this situation is no different with Doom 3. You'll take on the role of a soldier, like in previous series, where you'll be on the red planet on the property of
Union Aerospace Corporation. As the story unfolds you'll soon learn that there were a lot of top secret experiments happening in this facility, one being inter-dimensional space travel. Everything is fine until someone working for the corporation accidentally opened up the wrong gate, only to invite demons from hell to wreak havoc on the facility. This is where you come in. Your job is to destroy and send back the demons, one bullet at a time.

You'll have no problem staying scared and alert with 5.1 sound streaming through the speakers, and if that doesn't do it for you, the visuals will. Using 250k Polygon models and normal mapping along with shadowing and lighting techniques, Doom 3 is sure to keep your heart pumping as you walk through a dark room wondering what's crawling on the walls. With Doom known for being a PC game, it's also known for the very detailed graphics that come along with that platform. Will Xbox be able to pull it off graphics-wise? We can only hope so, and from the looks of the images already released on Doom 3, it doesn't look like it will be disappointing anyone.

Gameplay is also a very important aspect to any game, especially a first person shooter like Doom. Because Vicarious Visions understands the importance of this, they've taken a lot of steps to make sure that you, the gamer, have an enjoyable gaming experience. One of these steps was creating auto-adjusting sensitivity for your controller thumbsticks. What this essentially does is allows for the controller to behave differently whether your character is walking down an empty hallway or fighting a few ugly Demons. The developer has also taken advantage of Xbox's built in hard drive, which allows them to shorten the loading times among other things. If you're tired of catching flack from your PC gamer friends here's something you can rub in their face. Xbox, unlike the PC version, will allow for co-op mode, which can only make things more interesting if you become bored with single player.

As I have noticed with the majority of Xbox fans, they all want a game to include Live play. For some it's the difference between purchasing and renting a game. If you happen to be apart of the many who do enjoy the online gaming Live offers, then you have nothing to worry about because Doom 3 will feature online gaming. As far as we know right now, some of the Live features you'll experience will be last man standing, deathmatch, and the aforementioned co-op mode. All will be sure to keep you busy a long time after you've already beaten the game.

With the Halo 2 buzz beginning to die down a bit, there are plenty of gamers waiting for the next big action title. It looks like with Vicarious Visions hard at work, this just may be it. With only a little over a month left before release of the game to consumers, we can only wait and see how things turn out. After viewing the available information, including pictures and features, it definitely looks like Activision and Vicarious Visions have a big hit on their hands. Unfortunately we'll have to wait until the game hits the shelves, which is scheduled for early March.