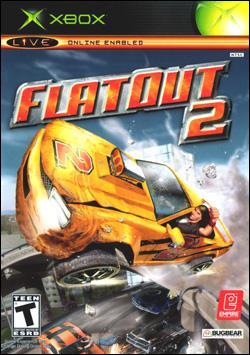 Flatout 2
by Stephen Cameron

July 7, 2006
FlatOut, is an over-the-top demolition racer that is heavy on the physics and on the realism. These cars drive a lot faster than your usual derby car, but they're just as delightfully low rent in design, as are the many different racing environments you'll find yourself crashing in. Ask any motor racing fan what their absolute, stand-out favorite moment of a race is and they'll say the approach to the first corner, because that's when there's the greatest risk of a pile-up. Actually, serious motor racing fans probably wouldn't say that, even though it's true. Taking that into account, it stands to reason that FlatOut was so popular. It was a great racer, yes, but it was also brilliant at smashing speeding cars into thousands of little oily pieces. The guilty pleasure gleaned from forcibly transforming a shiny new automobile into a ramshackle mess of bent wings and wobbly wheels was undoubtedly the game's highlight.
So the developer of FlatOut 2, Bugbear, has been very careful not to meddle too much with its winning formula. The second game gives a spit and a polish to the features of the first, and stuffs a whole load of extras into the mix for good measure. The result is a game that's bigger and swankier in every respect.
FlatOut is destruction racing to the very core, throwing aside any superfluous story elements or anything similarly goofy for the sake of just making a pure arcade racer. When you first boot up the game, you're offered a career mode, a quick race, a time trial mode, and multiplayer. Career is where you'll spend much of your offline time and where you'll buy your first car. Initially, you're presented with a few decidedly slower vehicles, but as you move through the career mode, new classes will unlock and each one will get progressively faster. Plus, you can buy tune-ups for each ride that improve speed, horsepower, traction, braking, and all the other usual upgradable stats you'd find in a racing game.
I think Bugbear must have sat down and scribbled down 'What was FlatOut?' in its design process for FlatOut 2. After a bit of chin-scratching, it probably came to the conclusion that it was a cool party game. FlatOut's slightly disturbing rag doll minigames and addictive demolition derby events were the perfect way to vent a bit of road rage. But was it an absorbing single player jaunt? Mmm, not really, no. Once smashing into rivals stopped being fun and started to pose a serious migraine threat, there wasn't really anything of any substance to dive into.
This time, the single player mode is much more exciting, and has a lot more character about it. Each rival has its own distinct personality: on the surface it amounts to not much more than a cheeky face and a name popping up on screen whenever you shunt another car, but after a while it becomes apparent that each driver has a particular fondness for a certain type of destruction, and they'll rack up points every time they take out one of their rivals in a certain way. It's similar to each driver having a signature attack, and really helps to keep your wits honed in a race.

Not that there's the slightest danger of you nodding off at wheel. Apparently, FlatOut 2 was going to be more arcady in its driving style, but if anything there's even more depth to be plumbed. It's certainly a damn sight easier to keep your car facing forwards than in the first game though, thanks to more forgiving vehicle physics. The 34 vehicles ultimately available each have very different handling attributes. Even though the list of vehicles has doubled, the variation between each is no less distinct, and driving them effectively will still require you to put the hours in. Even if you replaced FlatOut 2's gleeful destruction with something like Gran Turismo 4's religious regard for its vehicles' well-being, it'd still be a top racer. It's proper tricky and no mistake. If you take the game at face value (that is, that it's blatantly a dipstick short of a full engine and can't offer too much sophistication), you'll be shafted. Add to that the fact you start out your campaign with a car that resembles a four-wheeled skip, bereft of any upgrades or tuning, and FlatOut 2 is a game which demands as much respect as recklessness. Bet you weren't expecting that now, were you?

Then there are the 5,000 objects on every track to smash into or be smashed up by. As in the first game, the sheer toothchipping frustration of being clobbered on the penultimate lap is offset by the knowledge that a rival is just as likely to run into a petrol pump as you are. The sense of your opponents being just as fallible as you makes the whole experience that much more enjoyable, and that much more compelling. This is the sort of 'realism' that really makes a difference to a game, not the minutiae of gear ratios and stopping distances. With the new Championship mode sitting alongside the standard Career mode, where points are raced for in a series of stock car and street races, the whole single player game feels decidedly more competitive and immersive.

Now that the game has relocated to a US-style setting, there's a welcome variation to the environments on offer. FlatOut was a thoroughly lovely-looking game before, but the increased number of circuits, in places based on the Nevada desert and downtown LA among others, really make the overall FlatOut 2 experience more visually enticing. Each track has a greater number of shortcuts and alternative routes too, so it'll take some time before you've seen everything the game has to offer.
And that's the story of the game, really - there's more of everything, which is rather appropriate given its new American setting. It's not a radical departure from the original game, which is good, but thoughtful additions like hurling your crash-test dummies through the windscreen online and extra emphasis on exploring the many paths on offer in each track mean that FlatOut 2 is the perfect way to continue driving in high-speed wonky lines. And it's the ideal means of causing unspeakable damage to shiny motors completely guilt free. If you never bought FlatOut, buy this. If you did, trade it for this. Simple as that.