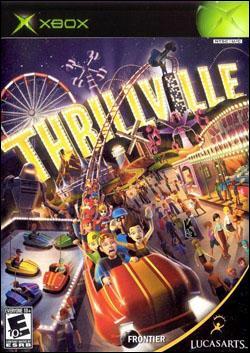 Thrillville
by Stephen Cameron

October 24, 2006
For those of you, who haven't heard of Lucasarts next game called Thrillville, let me tell you what makes it so unique. This is a theme park based game that brings everything gamers love from party games and sim games together to all xbox owners. Although, Thrillville's functionality is still being determined, it still doesn't take away from the simplistic gameplay and focus on fun. It is basically what the party-genre users are paying for: simple games, original/exciting gameplay, and a title in which the graphics are not as important as the good old-fashioned head to head gameplay which usually results in loud raging "BANGS!!!" as controllers fly across the room and makes holes in the walls.

Let me break it down for all you addicts. Rollercoaster Tycoon was a massive hit when the first game in the series was released many years ago. Then came Rollercoaster Tycoon 2 which was a disappointment to say the least, everyone wanted 3D graphics and new gameplay, but we got the same again with a few new rides. Rollercoaster Tycoon 3 was also a bit of a disappointment, the new 3d graphics were great but the game play failed to impress, same with the expansion pack Soaked. Does ThrillVille under deliver or does it put all the wrongs right again? Simple answer is yes the gameplay issues are sorted out and Thrillville adds a whole new level of party-like gameplay that you can enjoy with your friends and family (OH YEAH!!! multiplayer goodness).

Thrillville is basically three games in one: a tycoon-style game, a theme park simulator and a midway/arcade-game compilation. The overall goal is to build your own theme park, complete with roller coasters, log-flume rides and carnival games. Thrillville then lets you walk through the park and interact with your guests, polling them on what's working, what's not and then altering your park accordingly. The third piece of the Thrillville puzzle is park management, as the game lets you set overall admission prices, determine prices for each carnival game and conduct R&D on new amusement park trends that might benefit your park in the long run.

Now for the coaster-building portion of Thrillville. For a game with 25 different types of coaster and a whole butt load of different pieces and types of track, there's actually very little work involved in creating your ultimate puke-train. Once the ride is complete, you can hop in the front seat and take it for a spin, and you can edit the coaster on the fly if you find that a twist is not quite to your liking.

In terms of depth, the carnival games offer the most. Probably every one who has attended an amusement park has spent a few dollars into the lightgun shooting games, crashed around in the bumper cars or played a couple rounds of miniature golf. Well, Thrillville lets you include those games in your own themepark, and just like the roller-coasters, you can actually take them for a test ride. Really neat feature.

So, if your going to be creating a custom mini-putt course for your guests, you can play the course for yourself. Or if you create your own extravagant bumper car arena or go-kart track, feel free to hop in the vehicle and take a ride. You can even design your own shooting range and play through it like a first-person shooter, or install an arcade with a game called "Luftwaffe" and play the top-down 1942 clone to your heart's content.

Sound wise the effects are very good, such as the background noise of peeps talking, screaming and shouting. The music is not particularly suitable or good listening. Sometimes it is ok, but most of the time you will find the music very new age hippy which doesn't seem to fit with a theme park theme.

Thrillville still looks rough around the edges, even for a game where gameplay is the developers' primary focus, but there's still time for LucasArts to polish things up and smooth things out. With a wack of single-player missions, and multiplayer mini-games Thrillville has a lot to offer, but even with all that, it would still be nice to see a bit more attention paid to the graphics but from a pure gameplay standpoint, the game looks ready to go, and I personally can't wait to get my hands on the final product.