NEWS - Sunday, July 25, 2010

FIFA Soccer 11 update
FIFA Soccer 11 reinvents player authenticity - on and off the ball - for every player and at every position on the pitch with Personality+, an all-new feature that sees individual abilities reflected in game, enabling clear differentiation for every player.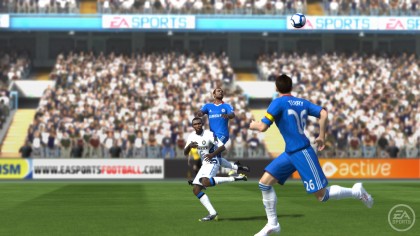 With Personality+ a player's abilities on the pitch is mirrored authentically in game, creating individual personalities. Players will be distinguished from one another through a sophisticated database that evaluates and grades each player's skill-set over 36 attributes and 57 traits, compiled by 1700 scouts around the world. Real Madrid's Kaka will deliver crisp, creative passes, Barcelona's Andres Iniesta will utilize tighter turns and close control to dribble through defenses, Manchester United's Wayne Rooney will hold off defenders and strike shots from distance with pace, and top-flight defenders like Giorgio Chiellini of Juventus will anticipate, predict and react to offensive players to win back possession.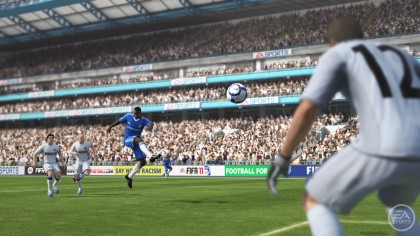 Goalkeepers have also been injected with Personality+. The real-life personality of the keeper, whether acrobatic or traditional, will dictate his style in game. Dive attributes will determine keepers with ability to reach for further shots while reflex attributes determine reaction times, enabling a keeper like Petr Cech of Chelsea FC to showcase world-class skills.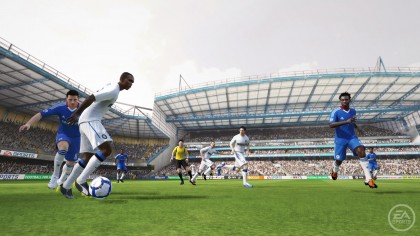 Building on the FIFA Soccer 10 gameplay that won 50 sports game of the year awards, FIFA Soccer 11 introduces new Pro Passing where pass accuracy is determined by a gamer's ability on the control pad, and player skill, situation and urgency on the pitch. Plus, experience true freedom in man-to-man interactions with 360° Fight for Possession that transforms physical play from just lateral jostling to full 360° collisions.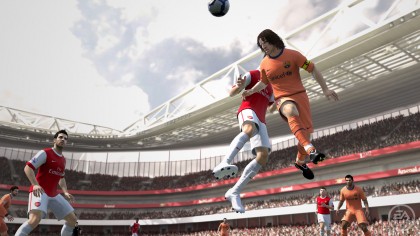 A series of new customization tools will enable fans to transform FIFA Soccer 11 in new ways. Go online in Creation Center to create a player or team, share with friends and download into your console. Plus, assign customized chants for any team and play music tracks from your existing library within the game.
New features will be announced at Gamescom in Cologne.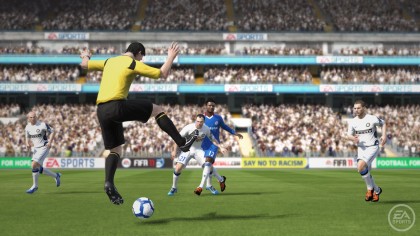 Key Features

• Personality+ - A player's performance on the pitch is mirrored authentically in game, creating clearly differentiated players with individual personalities. Personality+ at every position and for every player reinvents how players perform-on and off the ball.
• Personality+ Goalkeepers-The real-life personality of the Keeper, whether acrobatic or traditional, will dictate his style in the game. Dive attributes will determine the keepers with the ability to reach for further shots while Reflex attribute determine reaction times.
• Personality+ CPU AI- CPU controlled stars have a suite of skill moves to exploit, with star player attributes and specific behaviours attributed to particular players.
• Personality+ Celebrations-User Controlled Celebrations 2.0 enables you to perform your players' trademark celebration & interact with teammates in real-time.
• Personality+ Player Models- Greater variety of bodies and models further distinguishes each player. Plus, new dribble run styles perfectly match players' real-world abilities and style.
• Pro Passing System- A new passing system where pass accuracy is determined by a gamer's ability on the control pad, and player skill, situation and urgency on the pitch. Poor decisions or over/under striking the ball will mean error-prone outcomes. New types of passes such as swerve passes will enable players to make a safer and more effective play.
• 360° Fight For Possession -True freedom in man-to-man interactions, transforming physical play from individual lateral jostling to full 360° collisions involving multiple players.
• Advanced Intelligence: REAL AI now controls CPU players enabling them to recognize and react to patterns of play more sophisticated than simple on-the-ball decisions. Plus, hundreds of skill moves have been recorded and assigned to thousands of players.
• Advanced Goalkeeper Awareness- Goalkeepers are now more aware of their surroundings and react more intelligently to each threat. Improvements include sprinting to cut off a loose ball, demonstrating urgency when scrambling back to the net, and the aptitude to skillfully identify and react to lob shots.
• Creation Centre: Go online to craft your own player and create the team of your dreams. Plus, manage your team's formations and tactics right from the web. Create your player's appearance, accessories and attributes and then create a team with a distinctive crest and kits. Share with friends and download into your console to play online, in Tournaments and in Kick-Off matches. Created players can also be used in the Arena, Career Mode and Lounge Mode.
• Career Mode: A new engine delivers an authentic experience that mimics the real-world game. Begin as a real player, created player or Virtual Pro and evolve into a player-manager and manager--or just begin at the top--and enjoy a 15-year career. Players now receive instant feedback and enjoy a vastly improved status system. Plus, authentic tournament structures, results and new calendar system, featuring simultaneous simulations, improve the speed and flow of games. Featuring new Team Management for simpler player comparison and Friends Leaderboard to compare stats and earnings.
• My Music & Audio- Assign customized chants for every team and league. Set your home club's anthems and chants to play during player introductions, halftime, and after goals. Even hear your name echo in the stands of Old Trafford or San Siro with customized chants for your Virtual Pro. Plus, play music from your hard drive in game.
• Advanced Goalkeeper Awareness- Goalkeepers are now more aware of their surroundings and react more intelligently to each threat. Improvements include sprinting to cut off a loose ball, demonstrating urgency when scrambling back to the net, and the aptitude to skillfully identify and react to lob shots.
• FIFA Theatre - Save highlights from any match - including online - right to your hard drive to view, replay or upload to easportsfootball.com at any time.
• Complete Authenticity -Over 30 officially licensed leagues, 500 licensed teams and more than 15,000 players.


Source: WWW.FIFA.EASPORTS.COM