NEWS - Tuesday, August 31, 2010

KontrolFreek
This latest design was created to honor the much-anticipated release of Halo: Reach, Bungie Studio's final entry in the classic console first-person-shooter series.
Available in limited quantities, the FPS Freek Legendary will begin shipping on September 14 and is available immediately for pre-order here: www.kontrolfreek.com/legendary.asp
Featuring a laser-etched grip surface on a new convex-shaped, platinum color thumb pad, this latest FPS Freek model also incorporates an improved three-clip attachment - giving players a boost to both style and functionality. The FPS Freek Legendary is what snipers, laser-lovers, and players who enjoy sticking n00bs with plasma grenades need. Players that prefer to engage from a distance, and especially those that are salivating for the new DMR (Designated Marksman Rifle) will find the perfect companion in the FPS Freek Legendary. The FPS Freek has proven time and time again to help gamers at all skill levels improve their shooter play. By lengthening the controller analog sticks, the attachment allows for approximately 40% greater leverage and unmatched aiming precision in all FPS environments.
"KontrolFreek is extremely pleased to be able to offer this special edition FPS Freek to our community of FPS gamers," said Ashish Mistry, CEO of KontrolFreek. "KontrolFreek has helped tens of thousands of players become better at the games they love and, with the addition of the stylish FPS Freek Legendary, our tradition of offering innovative and effective console gaming accessories proudly continues."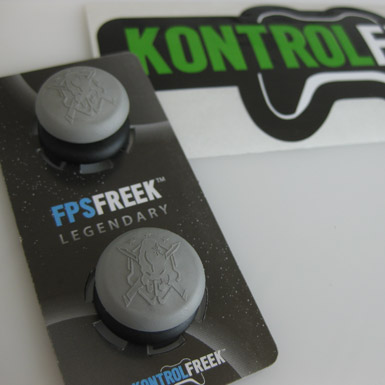 Source: www.kontrolfreek.com/legendary.asp