NEWS - Saturday, May 25, 2013

(RUMOR) - Xbox One Reveal may have teased actual games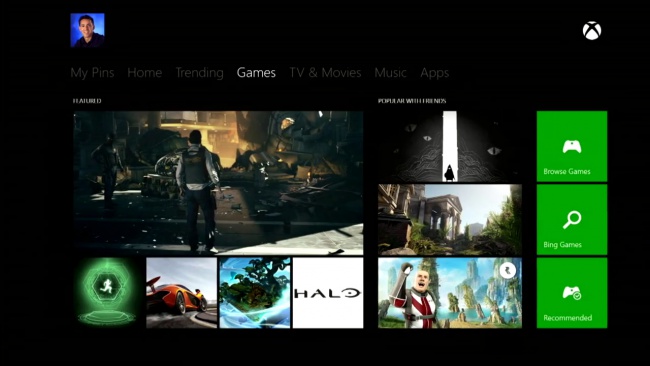 Somewhere during the Xbox One reveal a brief image was captured of the console's HUD, with the "Games" tab selected. This image, discovered by AllGamesBeta, could be a rat's nest of teasers for Microsoft's unannounced games. Of course, it could also be nonsense, a red herring as to what Microsoft actually will be announcing at E3. Nevertheless, this is what E3 is all about. Rumors and speculation, followed by disappointment and depression!
Altogether there are eight images that could be teasers for announced or unannounced games. Keep in mind this is the "Games" tab, so each image should be related to a game and not, say, the Halo television series announced by Steven Spielberg. Here's a list of brief descriptions of each image:
Largest image, placed in the "Featured" section of the tab. Looks to be a crime scene investigation, which could imply that the game is Beyond: Two Souls, but that's a

PS3

exclusive. Other possibilities? The Vanishing of Ethan Carter, or maybe Watch Dogs? Ah! Likely Quantum Break, as per Drogo_Baggins' tip. (Editor's Note: The image is most definitely from Quantum Break)
Left most smaller image, placed in the "Featured" section. A green hexagon floating in the air with an icon of a man running in the center. Lots of glowing green hexagons floating around the main one. No doubt in my mind here, that's a Crackdown agility orb.
Left-center smaller image, placed in the "Featured" section. It's a sick car drifting on a track. While I'm not experienced enough in car games to tell if this is one or another, odds are this is

Forza

Motorsport 5, an Xbox One exclusive racing game announced at the event.
Right-center small image, also in the "Featured" section. It appears to be a small square section of jungle floating in the air with impressive, but

cartoonish

graphics. It's surrounded by glowing blue swirls, which are mildly confusing. My best guess? This looks like something Rare related. Perhaps it could be Viva

Pinata

orBanjo

Kazooie

? Could be something

Lionhead

related, too.
Right-most small icon in the "Featured" section. Halo logo. '

nuff

said?
Top-most image in the "Popular With Friends" section. A figure standing alone with a sword, shield and cape. Either he's standing between two walls of darkness or he's exuding a giant ray of light in the midst of darkness. The darkness has eyes, appears to be

smokey

. Potentially a teaser for

Ryze

[sic]

, which is about gladiators. Might be Dark Souls 2, but that's not an exclusive.
Middle image in the "Popular With Friends" section. Looks like very high-end graphics showing off some... is it Roman? architecture, some ferns, other plants and fauna. My best guess would be that this is a cinematic for say, Civilization V or Total Rome. Seeing as neither of those make sense on the Xbox One, I'm drawing a blank.
Bottom-most image in the "Popular With Friends" section. A gentleman in armor holding his hand aloft, a sea in the background with several rock pillars rising out of the ground and water, each covered in plants. Beautiful setting. Perhaps most importantly, a Rare logo in the top right corner. If it wasn't for the Rare logo I'd say this could be Fable, but that's a

Lionhead

game. The man could be either a future or a medieval soldier. The low quality makes it unclear. Again, I'm at a loss.
Considering how piss-poor my guesses have been, does anyone have any other ideas? All I'm willing to bet on are the Forza image and the Crackdown agility orb. Oh, and Halo. There's got to be a Halo 5 teaser coming up, right?

The other question, beyond what games are these, is whether this is just a huge red herring or not. Do you think this image is actually a teaser for what Microsoft has planned to announce soon? Or is this all a joke at our expense?


Source: http://www.neoseeker.com