NEWS - Tuesday, June 11, 2013

E313: Ubisoft announces The Crew for Xbox One
While it may sound crass to ogle a game for its sheer size, the first aspect that hits you in the face about The Crew is precisely that. At a glance, Ubisoft's persistent world automobile slugfest just looks like a particularly pretty next-gen arcade that puts a premium on team-based play. But once you spend several minutes at its controls and start tooling about in its gigantic environment you start to realize that The Crew is an open-world beast of monstrous proportions, and a time-sink capable of sapping years from your life.
The game's map is essentially the map of the United States in its near entirety. Like its real world counterpart it contains dozens of cities, each with their own distinct visual and atmospheric personality, which are separated by acres of differing types of rural landscape. It's not 1:1 scale, certainly, but it's still 5,000 square kilometers in size and traversing it from coast to coast, we are told, would take several hours.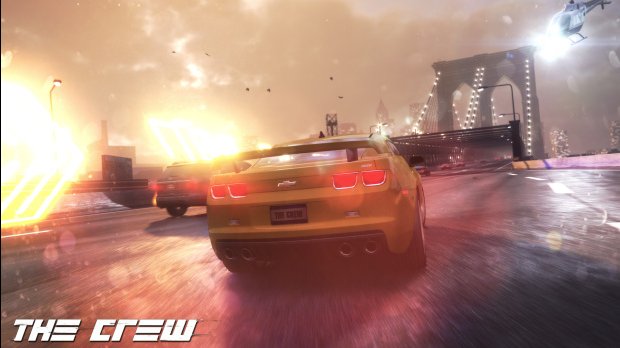 While that all sounds rather impressive, it doesn't really prepare you for the experience of actually navigating your way around the game. If you fancy driving from Las Vegas to Chicago - like we did - you can let the lushly detailed Americana map wash over you. You'll head out of the neon-encrusted strip with its overlit landmark casinos, cross miles of sun-blasted desert that's marked with huge canyons and rocky terrain and then the arid environment will give way to rural greenery before you hit Chicago, where skyscrapers tower above the streets.
Take this virtual road trip, and you won't see a loading screen once. You don't even have to stick to the tarred roads - you can journey as the crow flies, providing the topography allows it. The Crew's map imbues players with a sense of unbridled freedom.
Of course, you don't have to do all that - and admittedly, we didn't. We used the game's fast-travel mechanic, which allowed us to drop in at certain sections of our virtual road trip and take in the view. To do this, you head into the game's map in the menu, flick your cursor over to any area you like, click a face button and you're there with barely a beat skipped. The developers have wisely realised that most players may not want to use The Crew for sightseeing, and would rather get stuck into its collection of missions and activities - which it has in abundance.
The mission-types are what you'd expect from an arcade racer - time trials, head-to-head sprints, demolition derbys and the like - and if there are varieties we haven't seen before, we didn't uncover them during our time at The Crew's controls. This was mainly because the point of the E3 demo was to hammer home the sublime ease of teaming up with some mates to wreak some motorized havoc.
Players can tap up to four mates or complete strangers who are playing about in the game's persistent world. Successfully completing a mission awards XP points for car unlocks - which run the gamut from supercars to off-road vehicles to boy racer cars and beyond and racing equipment (such as Nitro boosts). The player who performs the best overall gets a medal and bragging rights over their mates.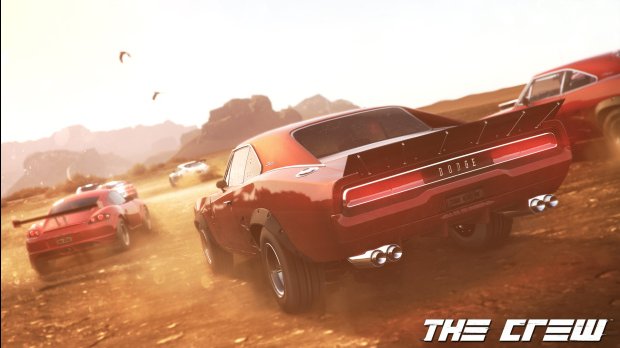 We're told there are facilities to prevent players from griefing each other; once four players are teamed up they're locked off from the other players in the map, so a nasty passer-by can't troll their mission. Players who don't play ball on-mission can be booted and if you're being attacked for no reason by some dolt, you can always use the fast travel mechanic to get away from them. The Crew also has a constantly running match-making algorithim that ensure you're pointed towards players who play the same way you do, enjoy the same types of cars and races and speak the same language.
Finally, The Crew offers customization that borders on fetishistic; players can strip cars into 19 component parts and rebuild them to spec using different engines, suspension, wheels, transmissions and more. Naturally, custom paint jobs are also on offer. There's even a handy app available that allows players to customize their vehicles on their tablet or smartphone and upload them instantaneously into the game.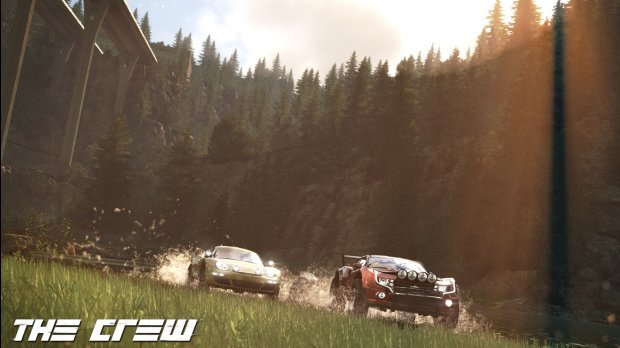 The only sticking point for some players is that The Crew needs to be always online in order to work - which is essentially the asking price of persistent world games. This is largely because The Crew has been built to accommodate seamless co-op or competitive play. But like any game of this genre - or any MMO, for that matter - team-based play is an option rather than a requirement. You can tackle this beast solo if you want.

The Crew is essentially Need For Speed: Most Wanted with the barriers cut away and the map super-sized. Developers are fond of bandying about phrases like 'evolution of a genre' and normally we'd jam forks in our eyes before following suit. But that's what The Crew truly feels like. If this is what the next generation of arcade racing has in store for us all, grabbing a new console is a no-brainer.


Source: http://www.oxm.co.uk/