NEWS - Wednesday, June 12, 2013

E313: MS Points to Real Money transition FAQ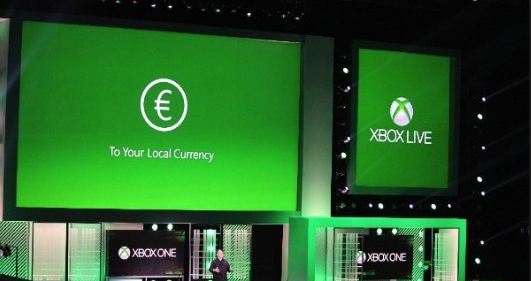 Microsoft account transition to local currency
Frequently asked questions
What is changing?
We are excited to announce that as part of the fall 2013 update, Microsoft Points will be retired, and transactions will take place using local currency! The monetary value of your Microsoft account will be stored in local currency as well, offering you a new, convenient way to purchase exciting Xbox content. This change allows you to use a single Microsoft account to purchase games, movies, apps, and entertainment from your favorite Xbox stores and the Windows Phone Store!
How does this change affect me?
You will begin using local currency or an Xbox Gift Card (denominated in your local currency) to buy music, games, videos, and more from your favorite Xbox stores. When you use your existing Microsoft Points to initiate a purchase or redeem a Points card with your Microsoft account later this year, we'll deposit into your account an amount of money equal to or greater than the marketplace value of your Microsoft Points, and your Microsoft Points will be retired. The purchased funds you deposit into your account after the transition will not expire. However, the funds we deposit into your account at the time of the transition will expire one year from the deposit date.
Is there anything I need to do?
As long as your account location is set to one of the following countries or regions (see the next question, below) and you have a billing address on file in your Microsoft account, there is nothing you need to do. For information about moving your account location, see Moving? Bring Xbox LIVE with you!
Which regions are affected by this change?
Microsoft Points will be retired in all countries/regions. Content previously available for purchase with Microsoft Points will soon be available for purchase with currency in the following places:
| | | | |
| --- | --- | --- | --- |
| Argentina | France | Mexico | Spain |
| Australia | Germany | Netherlands | Sweden |
| Austria | Greece | New Zealand | Switzerland |
| Belgium | Hong Kong SAR | Norway | Taiwan |
| Brazil | Hungary | Poland | Turkey |
| Canada | India | Portugal | United Arab Emirates |
| Chile | Ireland | Russia | United Kingdom |
| Columbia | Israel | Saudi Arabia | United States |
| Czech Republic | Italy | Singapore | |
| Denmark | Japan | Slovakia | |
| Finland | Korea | South Africa | |
How will you ensure that I will get a currency credit that is equivalent to what I paid for my Microsoft Points?
To make this a seamless and positive experience for our customers, we have considered many factors to ensure that the amount deposited in your Microsoft account will be of equal or greater marketplace value than your Microsoft Points.

Am I going to lose my Xbox LIVE Rewards?
No. Microsoft Points that you've earned through Xbox Live Rewards will remain in your Xbox account and will transition to your local currency with the rest of your Microsoft Points. Prior to the transition, all your earned Pending Points will be deposited into your account. Be sure to stay up to date with all the latest Xbox Live Rewards news at Xbox LIVE Rewardsor by following @XboxLIVErewards on Twitter.

What will happen to Microsoft Points Cards?
Microsoft Points Cards will continue to be redeemable on your console and on Xbox.com throughout 2014 and for a limited time thereafter but will be discontinued after the launch of Xbox Gift Cards this fall. Please note that any funds we deposit into your account at the time of the transition will expire one year from the deposit date. Xbox Gift Cards, which will be denominated in your local currency, will be available for purchase in retail stores and through online retailers.

What if I have codes and/or Microsoft Points Cards that I haven't redeemed?
Go ahead and redeem them! Even after your account transitions, we'll still accept purchased Microsoft Points Cards and codes through 2014 and for a limited time thereafter, and we'll credit you an amount of currency equal to or greater than the Marketplace value of those points as we phase out the Microsoft Points program.

Can I add funds to my Microsoft account online?
Yes! Xbox Gift Cards, which will be denominated in your local currency, can be added to your Microsoft account online. Xbox Gift Cards will be available for purchase through our online retailers' websites and in local retail stores this fall. In the meantime, please continue to purchase and redeem Microsoft Points cards and codes – we'll accept them through 2014 and for a limited time thereafter. Please note that any funds we deposit into your account at the time of the transition will expire one year from the deposit date.

Can I take funds out of my Microsoft account?
No. While you can't get a cash payout of funds from your Microsoft account, you can use the funds in your account to buy a variety of Xbox content—from apps in the Windows Phone Store for your Windows Phone 8 to games in the Xbox Games Store.

Can I transfer funds from one Microsoft account to another?
No. Once your Microsoft account is funded, those funds can't be transferred to another Microsoft account. Xbox Gift Cards make for great gifts and can be purchased in retail locations or through any of our online retailers' websites.

Do I have to use the funds in my Microsoft account as my primary payment method?
No. Although your account will initially be set up with the currency in your Microsoft account as your payment method, you can still purchase content using another form of payment, including credit cards.

Can I split payment between an Xbox Gift Card or my Microsoft account and a credit card?
We do not offer a split payment option at this time. However, this option may be available in the future.

Which tax locale will be used in calculating my purchases?
We will not apply taxes when you purchase digital content using funds that we deposit into your account at the time of the transition. However, when you use funds that you deposit into your account after the transition (including from Xbox Gift Cards, which will not be subject to tax at purchase), all appropriate taxes will be applied to those purchases based on the ship-to address for your account.

Where can I use the funds in my Microsoft account?
At this time, your Microsoft account can be used to buy a variety Xbox content from your favorite Xbox stores, as well as content from the Windows Phone Store using your Windows Phone 8.

Can I buy an Xbox LIVE Gold Membership with an Xbox Gift Card or the funds in my Microsoft account?
At this time, Xbox Gift Cards can't be used to buy an Xbox LIVE Gold Membership. However, this option may be available in the future.

Can I buy an Xbox Music Pass with an Xbox Gift Card?
At this time, Xbox Gift Cards can't be used to buy an Xbox Music Pass. However, this option may be available in the future.

Can I use the funds in my Microsoft account to buy third-party content and subscriptions, such as Netflix, Vudu HD movies, HBO GO, or Hulu Plus?
No. Funds in your Microsoft account can't be used to buy third-party content, such as TV programs, movies, games, and app subscriptions. However, you can purchase such content using another form of payment, including credit cards.

How do I change my account location?
You can move your Microsoft account from the region it's associated with now to any other region up to one time every three months. However, the funds in your Microsoft account will not move with you, so be sure to spend your money before you change your account location! For more information or to move your account, see Moving? Bring Xbox LIVE with you!

Can I redeem currency from a different region in my account?
No. You can only redeem currency from the region associated with your account.


Source: http://www.xbox.com