NEWS - Wednesday, October 2, 2013

Deus Ex: Universe revealed, Deus Ex: HR Director's Cut dated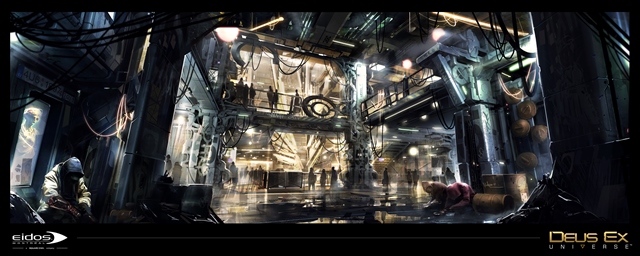 The Future Vision for Deus Ex
From David Anfossi, Head of Eidos Montreal:
As promised, I'm back to share more news about our Eidos-Montreal studio and what the teams are working on here. We currently have several games in development including the upcoming Thief, but today I will focus on two particular announcements both relating to the future of Deus Ex.
Deus Ex: Human Revolution was a critical and commercial success, and from this game an amazing franchise has been revived. We are fully committed to Deus Ex here at Eidos-Montreal, we've already learnt so much and we have many new ideas for the future that we are actively working to develop.
So first up, I am delighted to announce that we have confirmed a ship date for Deus Ex: Human Revolution - Director's Cut. We will be releasing the game on October 22 (25 in PAL regions) on the Wii U, PS3, Xbox 360 and PC. Over the last 18 months, the team has been working very hard on the development of the Director's Cut. With this edition, we gave the team the envious task of pushing the boundaries of innovation and creativity to explore something we believe will become a big part of the future of the franchise, the second screen experience. When the game launches, players will have the opportunity to experience Human Revolution in a new and unique way through SmartGlass, the PSVita and the Wii U GamePad. I look forward to hearing your feedback on the Deus Ex forums.
And we are taking things further.
I'm really excited to let you know that we are working on an ambitious idea which we're calling:

The concept behind Deus Ex: Universe is to create an ongoing, expanding and connected game world built across a generation of core games. It's a commitment on our part to deliver meaningful content that expands the franchise on a regular basis and to deliver a deep conspiracy that will span several connected Deus Ex games, creating a more immersive and richer experience than ever before. Deus Ex: Universe will include PC and console games, but also additional Deus Ex games and experiences available in other media such as tablets, smartphones, books, graphic novels, etc... You might have seen the name pop up recently in the press – well this is what it's all about.

I'm pleased to confirm that we are already into production of the starting point for Deus Ex: Universe with a new game for PC and next-generation consoles. We're very excited about it at the studio and I wanted to let you know that most of the team behind Deus Ex: Human Revolution is already working hard on this new game. It took us four years to learn how to create a unique Deus Ex experience with Human Revolution and it was important for me to keep this knowledge within the franchise.

I want to leave you with a piece of concept art from our next-gen Deus Ex game (pictured at top) that shows trans-humanism segregation, which is a backdrop to our vision for the next Deus Ex. It represents a "ghetto-city' voluntarily built in order to separate the classes. The people in this segregated class have reshaped their environment, nostalgic for their ideal of Cyber Renaissance. This dark and dystopian vision sets the tone for things to come in Deus Ex.

For now, I hope you are excited about the future of this game that we love so much. Deus Ex is coming to next-gen, it's early so don't expect to hear much more from us just yet, but I wanted you to know.

I'm very excited as a developer and gamer!


Source: http://www.eidosmontreal.com