NEWS - Tuesday, November 19, 2013

New Xbox One videos feature Kinect, Bing Search, Twitch and SkyDrive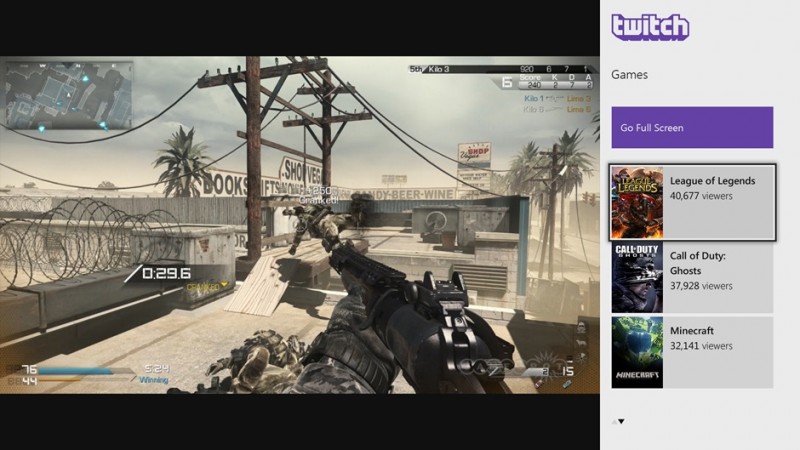 From Xbox Wire:
Twitch, the world's leading video platform for gamers, sees more than 45 million gamers gather each month, and we are excited to deliver features on Xbox One for Twitch fans around the world.

The Twitch experience on Xbox One will enable Xbox Live Gold members to view the full content catalog from tens of thousands of PC & console broadcasters on the Twitch platform. Twitch on Xbox One will have the most robust viewing experience on the market for any console, utilizing features such as Snap mode and instant switching.

With Snap mode on Xbox One, you can do two things at once on the same screen. You can watch Twitch videos while you play your favorite game, watch TV or enjoy another app. Xbox One instant switching lets you quickly jump from one activity into Twitch using your voice, simply by saying "Xbox, go to Twitch." You can alternate between viewing Twitch broadcasts with any other gaming and entertainment content on Xbox One. By accessing the Twitch app channels in the Xbox OneGuide, you can see what's new in the Twitch catalog and can personalize your viewing experience by bringing any Twitch app channel into your OneGuide Favorites.

Check out the following for a walk-through of the Twitch app:
New Details about Twitch on Xbox One
We love the content that gamers can watch on Twitch so much that we added the ability for spectators to earn media achievements -- only on Xbox One. Think you've seen all the videos Twitch has to offer? Watch through the night to earn the Night Owl achievement, or join 100,000 viewers simultaneously watching a broadcast on Twitch to earn the Standing Room Only achievement. There will be 10 Achievements at launch with the Twitch experience. Here's what you'll need to do to earn each:


Watch one hour of live video on Twitch to become a Newcomer
Watch 10 hours of live video on Twitch for Competitive
Watch 100 hours of live video on Twitch for Best Viewer
Watch one hour of live video on Twitch channels that have less than 10 viewers to be the Hipster
Watch 10 hours of live video on Twitch channels that have less than 10 viewers and become theTalent Scout
Max Bandwidth is received by watching a single channel on Twitch for more than eight hours consecutively
Around The Clock is exactly that, just watch at least one minute of live video on Twitch in each hour of a full day
Prime Time, simply: watch a total of 10 hours of live video on Twitch between peak viewing hours from 7:30 to 11:30 p.m., on a weekday

We know the ability to instantly broadcast gameplay is something the gaming community is excited about, and we are too. We are working to ensure the initial Twitch on Xbox One broadcasting experience meets the expectations of the Twitch community, so while this feature won't be available right away, we'll let you know as soon as it is ready. Our goal is to deliver it during the first part of 2014.

You can also check out Twitch's Xbox One page at: www.twitch.tv/apps/xboxone.
A New Generation: Taking Advantage of the new Kinect
Xbox Wire had the chance to chat with the developers of some of Xbox One's biggest launch titles, including "Dead Rising 3," "Forza Motorsport 5," "Ryse: Son of Rome," "Just Dance 2014" and more, to find out how they're using the power of Xbox One and the new Kinect to create new gameplay experiences.

Be sure to stay tuned to Xbox Wire as we share exclusive interviews and news leading up to Xbox One's launch on Nov. 22.
"Xbox Bing - Deliver Me a Whole new Way to Search"
When we watched Star Trek decades ago, the idea of talking to a computer seemed like pure science fiction. Fast forward to the present and your voice has replaced the remote control for your living room with Xbox One, an all-in-one games and entertainment system with sophisticated voice navigation and natural language voice powered by Bing and Kinect. In addition to combining games, music, movies, and live TV into one amazing device, every Xbox One utilizes the power of Bing and Kinect to make it fast, easy and natural to find, play, watch, and listen to whatever you want.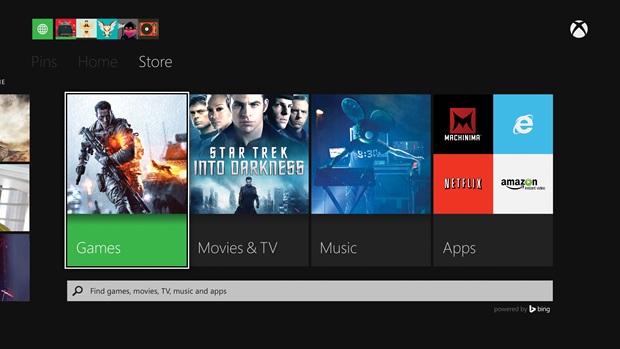 Bing makes finding the entertainment you want easier than ever on Xbox One. Whether your game, show, song or movie is in an app, on your console, or in our own Xbox Music or Xbox Video, the same instant search technology that powers Bing web search also brings your entertainment results together beautifully on your TV.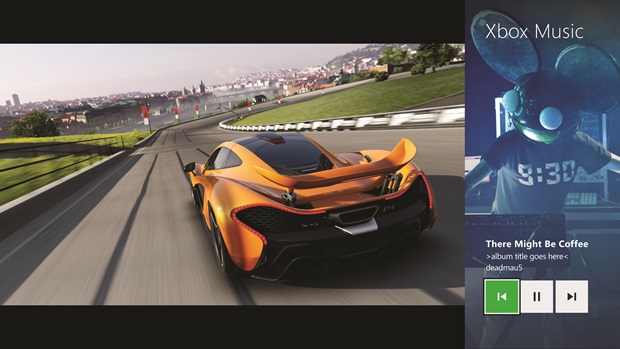 Xbox entertainment is growing from hundreds of thousands of pieces of content to millions. With all of the rich content options available today also comes complexity – most of us have a hard time finding the entertainment we're looking for without paging through screens and screens of menus and switching between different programs. You have games, movies, music, TV shows and apps including services like Netflix and Hulu. By marrying great content with the power of Bing's voice technology and the magic of Kinect, we're able to provide instant access to an ever expanding universe of content options. Voice search works across media types and across apps so you can focus on deciding what to enjoy rather than where and how to find it. You say it, Xbox One finds it.

Upgrade Your TV

Our relationship with our TVs has historically been a one way street. We watch our shows and movies but the experience is largely about taking things in rather than a true interaction. Bing voice technology and Kinect on Xbox One changes all that. Now you can not only interact with your entertainment and gaming experiences with the sound of your voice, but you can also control and navigate the entire system. From turning on the console ("Xbox, on") to launching a game ("Xbox, go to Forza Motorsport 5") to initiating a Skype call with your buddy ("Xbox, Skype, John"), we have upgraded your status with your TV to "in a relationship."
Bragging Rights on Xbox One: Share Game DVR Clips Anywhere with SkyDrive
Over the past few years, we've built the power of Bing into products across Microsoft. Whether you're using Windows Phone, Office, Windows 8, or soon Xbox One, we've made it easier to find the stuff you are looking for and do something with it. With the worldwide availability of Windows 8.1 we introduced a whole new way to search with Bing Smart Search. Now, with Xbox One, we're following suit with a redefined way to search with your voice.

Just Say What You Want

Over the past few years, we've focused on overcoming limitations of previous voice experiences. To achieve speed and accuracy improvements, we focused on an advanced approach called Deep Neural Networks (DNNs). DNN is a technology that is inspired by the functioning of neurons in the human brain. In a similar way, DNN technology can detect patterns akin to the way biological systems recognize patterns allowing us to better understand natural language. With Xbox One, you can search using natural phrases. For instance, you can say:
"I feel like watching comedy movies from the 1980's"
"Show me popular dubstep music"
"I want to watch the movie Star Trek Into Darkness"
"I want to play Forza Motorsport"
With an arsenal of over 300,000 servers powering the back-end of Xbox One, the system is learning and adapting every day so as the vast expanse of the digital entertainment and services continues to morph at record speeds, the experience will continue to get better.

Since we first announced Game DVR and Upload features for Xbox One, we've seen a lot of interest from gamers on how these features will help them capture their best gaming moments. When you bring your Xbox One home this week, you will find it easy to record your clips and personalize them for your Xbox Live friends to see. And we're happy to reveal a new feature we've been hard at work on in Redmond. Thanks to SkyDrive on Xbox One, you can save your edited game clips directly to the cloud and share the way you want to share without any restrictions or limitations. Xbox One is the only console that allows you to take your clips to any social network, video upload site or professional editing tool.

What are Game DVR and Upload Studio?
Game DVR makes it possible to capture the most epic moments in your gaming experience. You can snap it to the side of your game to begin recording up to five minutes of footage at any time. You get to choose whether you want to capture the last five minutes of gameplay or quickly capture the last 30 seconds simply by saying "Xbox, record that." Hit the Game DVR notification or say "Xbox, go to Upload Studio" and you will quickly move into the app, where you can create personalized footage -- edit multiple game clips together, trim them, add picture-in-picture video, voice over commentary or choose a skin. After you've put all of the finishing touches on your video, it will be uploaded to Xbox Live where your friends can see it in your activity feed.

Simply say "Xbox, go to Upload" to view all of your clips or to go back and edit anything you recorded from earlier gameplay.

How do I share my clips?
After editing a clip in Upload Studio, you'll have the option of uploading and sharing content with your Xbox Live friends or the entire community or saving clips to SkyDrive. When you choose Save to SkyDrive, your clips will be saved into a folder titled Xbox Games Clips and the 720p mp4 file syncs across any smartphone, tablet or PC, allowing you to share your greatest game moments anywhere. With your Game DVR clips in SkyDrive, you have complete control over your clips -- choose whether you want to share content beyond your Xbox Live community, host it on your own websites, save to your hard drive, wrap in your own intro and more.

We hope you're excited about sharing your Game DVR clips. We can't wait to see your best gaming moments and how you creatively edit and share them from Xbox One when it launches this Friday, Nov. 22.


Source: http://news.xbox.com