NEWS - Monday, January 27, 2014

Canadian retailers raise prices on select games, EB blames the Loonie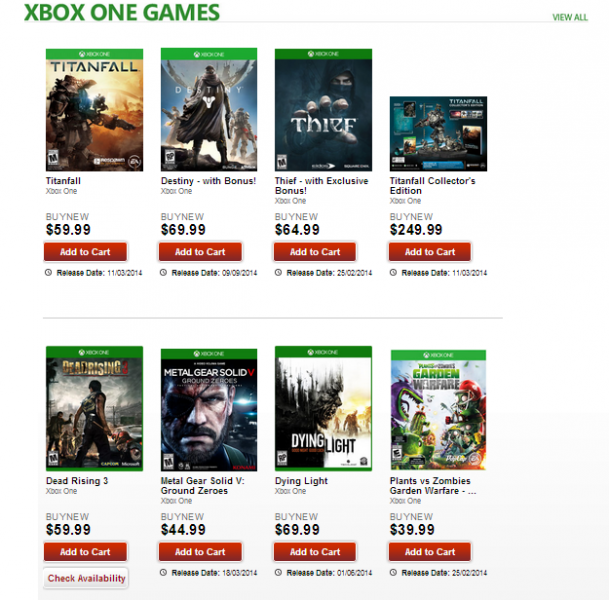 A quick scan on EB Games.ca bears the ugly truth: EB Games/Gamestop has swiftly moved to capitalize on the weak Canadian dollar by jacking up the price of several highly anticipated games, such as Lighting Returns: Final Fantasy XIII and Destiny.
For example, Lighting Returns for Xbox 360 and PS3 now costs $64.99 CAD (previously $59.99).
Destiny for both next and current gen consoles now costs $69.99 CAD (previously $59.99).
Upcoming Ubisoft titles Watch Dogs (all versions, even for Wii U) and The Crew (next-gen only) have been increased to $69.99 (previously $59.99).
A call to EB Games has confirmed that these prices are also in effect at retail as well as online, citing the failing loonie as the reason.
What is suspicious here is that while these increased prices have actually been in effect for over a week (seemingly as a reaction to the fluctuation of Canada's currency) other major Canadian retailers, such as Best Buy, Futureshop and Amazon.ca have not acted in kind (yet). Unfortunately, there are some exceptions: Futureshop, for example, has increased the price of Donkey Kong Country: Tropical Freeze for Wii U by $5 to $54.99 and both current and next gen versions of Metal Gear Solid V: Ground Zeroes have increased in price by $5, now costing $34.99 and $44.99 respectively. (Amazon.ca has matched the next-gen cost for Metal Gear, but so far is keeping the curent gen versions as well as the price for Tropical Freeze at their original prices). According to Screwattack.com, many analysts believe that we can ultimately expect to see these increases reflected across the board as Canadian retailers adjust their prices to reflect those of their competitors.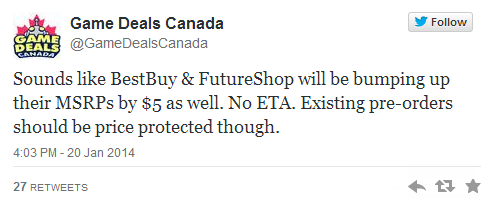 It should be noted that key first party games, such as the Microsoft-exclusive Titanfall and Sony's Infamous: Second Son remain at $59.99 at EB Games (though it is not unusual for games from first-party publishers to hold fast to the status quo in times like these).

For the moment, it appears that the price increases are strictly limited to full-priced software, and has not affected the price of accessories or console hardware. Here's hoping that remains the case, as no one wants to revisit the days when Xbox Live 12-month subscriptions cost $80 CAD, or see a $550 CAD Xbox One.


Source: http://www.screwattack.com