NEWS - Tuesday, April 1, 2014

Xbox One TV, Video, Smartglass and DVR features coming to Canada
From Xbox Wire:
Since the launch of Xbox One, it's been our mission to keep improving – the games, the entertainment, the all-in-one experience. That's why we're bringing some updates to you this month across Xbox Video and Xbox SmartGlass, and it's why we're also exploring exciting new features to bring TV elements to more global markets and a new option for using OneGuide on multiple devices. Let's take a look.

Xbox Video Adds "Rent Once, Play Anywhere" Across Platforms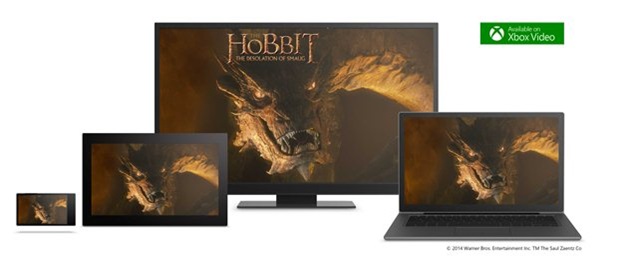 Starting this week, you can rent (or buy) a movie on Xbox Video, begin watching on one screen, then pick-up right where you left off on another.* Perfect for movie junkies or anyone who loves marathon-watching TV shows, Xbox Video makes it easier than ever to watch whatever you like on Xbox One, Xbox 360, Windows 8, Windows Phone 8, or even online at XboxVideo.com. This comes just in time for the blockbuster smash "The Hobbit: The Desolation of Smaug," which you can buy this week or rent starting Tuesday, 8 April. Or you can buy a Season Pass for season 1, 2, or 3, to catch up on "Game of Thrones" before season 4 starts.

*On Windows Phone 8 and XboxVideo.com, resuming playback where you left off on another device is coming soon

More SmartGlass Features Make Navigating Xbox One Experiences a Snap
In addition to watching your favorite content, we know you want a range of options for how you navigate Xbox One experiences. You can use the Xbox One controller, Kinect voice or gesture commands, the new Xbox One media remote, and Xbox SmartGlass on your smart phone or tablet.

We added a range of new SmartGlass features recently to make it easier for anyone around the world to navigate Xbox One experiences. With SmartGlass you can now:


Easily navigate game options so you can quickly get to the full list of Achievements, challenges, and game clips without jumping through multiple screens.
View recent players to find people you recently gamed with, easily add them as a friend, or issue a rematch challenge.
Sort the Friends list by online status for a quick view of what your friends are doing.
View your Activity Feed in a way that matches the view on your console
Launch an app in Snap from your mobile device, and when you're done, simply unsnap it.
Receive Xbox Live messaging alerts on your mobile device, making it easier to stay in touch with friends when you're on the go.

Previewing System Updates: OneGuide and SmartGlass Updates in More Markets

So in addition what you can do today, we also want to explore some new ideas. That's why we're making a range of new features available to select Xbox Live members by invite only in the U.S., Europe, and Canada. Designed to improve the TV experience on Xbox One, the features bring elements of OneGuide to new markets, and they add OneGuide and universal remote control to Xbox SmartGlass.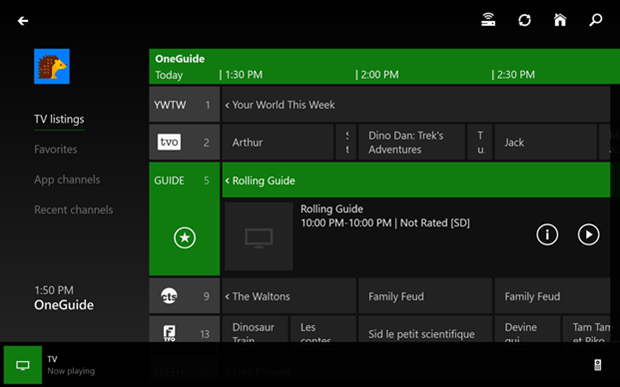 Those select Xbox Live members will see:


An enhanced TV watching experience (that's already available in the U.S.), which sees TV listings added to OneGuide, alongside Favorites and App Channels. This will work for people in Europe and Canada who have their TV connected to Xbox One via HDMI-in.
More control over Xbox One, their TV, and set-top box, including setting new recordings and watching recorded content from their DVR, all from a tablet or smart phone. Xbox SmartGlass also adds a cool new feature to show the most recently-watched channels.
New Kinect voice commands in Europe and Canada (already available in the U.S.) which let you control your set-top box and other AV equipment.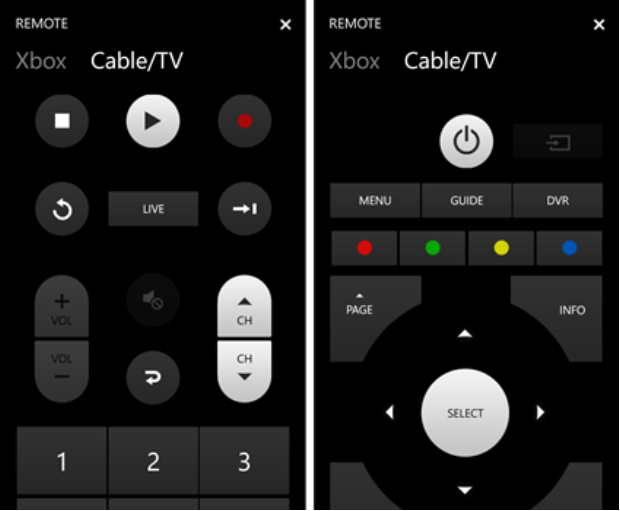 These features will be available to select Xbox Live members while we get feedback, and launch them officially for everyone later this year.


Source: http://news.xbox.com