NEWS - Saturday, August 23, 2014

MS and EA kick-off Xbox One full game preloads early with Madden 15
From the Major Nelson Blog:
Madden NFL 15 Xbox One now available for Pre-order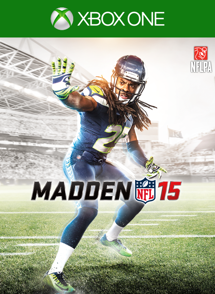 Content: Madden NFL 15
Check pre-order price and availability in your Xbox LIVE region
Game Description: XBOX ONE GAME EXPECTED TO RELEASE ON 8/26/2014. YOU MAY DOWNLOAD THE GAME FROM XBOX LIVE BEFORE THEN, BUT IT WILL NOT BE PLAYABLE UNTIL 12:01 AM PDT / 3:01 AM EDT ON THE RELEASE DATE. Once purchase is complete, download this game by selecting the "Manage" button on the product details page on your console. To get 10% off your purchase and an exclusive trial five days before the release date, you'll need to sign up for EA Access before you pre-purchase Madden NFL 15. This includes the standard edition of Madden NFL 15 plus the Pre-order Bundle in Ultimate Team, which is comprised of 11 Pro Packs (distributed 3 packs week 1 and then 2 packs per week for the next 4 weeks). Madden NFL 15 transforms you into your rival's worst nightmare with a new breed of defense built to challenge the best offenses in the NFL. An all-new, intuitive tackling system, and improved coverage logic make defense exciting and fun to play. Learn and hone your skills in the Gauntlet, an all-new mode in Skills Trainer that will take your new abilities through the ultimate test in intense conditions and challenges. Whether building your legacy in Connected Franchise or a dynasty in Ultimate Team, it's not just football, it's Madden Season!

Source: http://www.majornelson.com