NEWS - Monday, July 4, 2016

PSA - July Games for Gold - Get em' While They are Hot
July will see the Games with Gold roster take on four newcomers. As with last month, Xbox One will get two dedicated titles, and two Xbox 360 titles through Xbox One Backward Compatibility, for a total of four completely free titles thanks to Games with Gold. Xbox 360 gamers, of course, also get access to the latter two titles.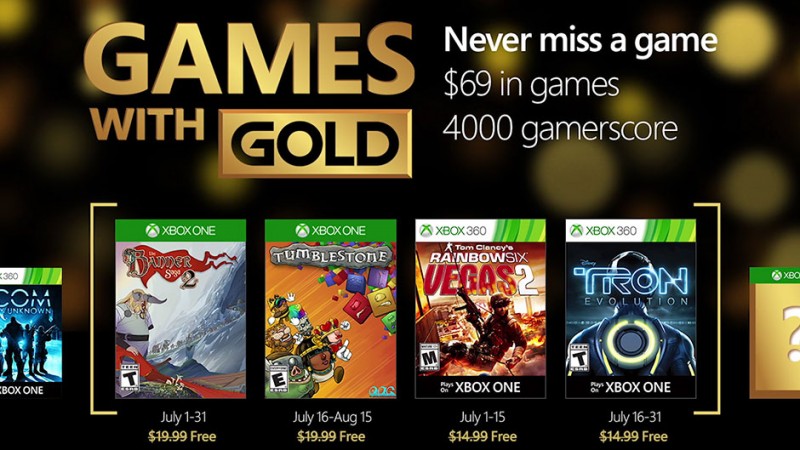 So what are the games you ask. Well here you go:
The Banner Saga 2 ($19.99 ERP) - Available from July 1-31 on Xbox One
This epic, story-based, role-playing game continues its emotional journey across a breaking world. Bold leadership decisions, wise use of resources, and skillful battle tactics are vital to ensure your Viking clans make it through alive. Accompanied by an evocative score from Grammy-nominated composer Austin Wintory.
Tumblestone ($19.99 ERP): Available from July 16-August 15 on Xbox One
The classic feel of local-multiplayer puzzle battles returns with Tumblestone, a new competitive indie puzzler from The Quantum Astrophysicists Guild. Inspired by beloved classics like Tetris and Puyo Puyo, and adding a story mode, arcade modes, and exciting multiplayer game modes.
Tom Clancy's Rainbow Six Vegas 2 ($19.99 ERP): Available from July 1-15 on Xbox 360
On Xbox 360 and Xbox One, Sin City is under attack by terrorists in Tom Clancy's Rainbow Six Vegas 2. Create your own special ops identity that persists through single and multiplayer and progresses as you play. Break the siege on Las Vegas through night and day, pitting yourself against some of the best-equipped and tactically challenging foes in the series.
Tron: Evolution ($14.99 ERP): Available from July 16-31 on Xbox 360
Jump inside the grid, to the gleaming neon cities and high-speed action of Tron: Evolution. Explore the events leading up to the "Tron: Legacy" movie as Anon, a new System Monitor, in the expansive world of Tron.





Source: Xbox News Wire