NEWS - Tuesday, July 26, 2016

Games with Gold for August Announced
Well, it's that time again, as Microsoft lets Xbox Live subscribers know what games are coming for free with their Xbox Live monthly/yearly subscription. August looks to be a good time for fans of a few genres to get into some gaming madness.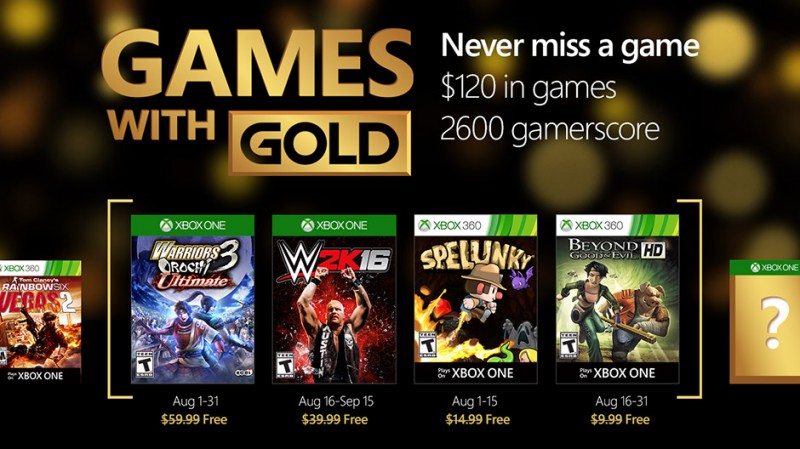 Here is what Microsoft is offering up next month:
Warriors Orochi 3 Ultimate ($59.99 ERP) - Available from August 1-31 on Xbox One
Blending the long-running and beloved Dynasty Warriors and Samurai Warriors franchises, Warriors Orochi 3 Ultimate brings characters from both series together to defeat Orochi, the Serpent King. With over 120 playable characters and a free, open mix-and-match party system, you'll be able to carve up your foes any way you please.
WWE 2K16 ($39.99 ERP) - Available from August 16-September 15 on Xbox One
The latest and most diverse installment of the prolific WWE video game series containing over 120 Superstars and Legends. Revel in the return of the story and MyCAREER modes, where your actions influence your personality and your alliances and rivalries can take you to the top of the WWE world.
Spelunky ($19.99 ERP) - Available from August 1-15 on Xbox 360 & Xbox One
This indie platformer allows you to blast through rock to find your shortcuts and challenges you to avoid traps, find loot, and defeat your enemies. With each level being procedurally generated, the experience is new and different every time.
Beyond Good & Evil HD ($9.99 ERP) - Available from August 16-31 on Xbox 360 & Xbox One
Play as Jade, an investigative reporter trying to uncover a sinister government conspiracy, armed with her camera, her wits, and a retractable battle staff. Get help from your uncle Pey'j, a pig, to save the planet.
So there you have it Xbox fans, your free games for August don't seem that bad at all.


Source: Xbox News Wire