NEWS - Thursday, September 29, 2016

Turtle Beach's Stealth 420X+ Launching on October 2
This weekend Xbox One users get a new truly wireless headset as the Stealth 420X+ launches on October 2nd. The launch price is $149.95 (USD). Fans attending this weekend's TwitchCon 2016 can check out the Stealth 420X+, alongside Turtle Beach's entire holiday lineup.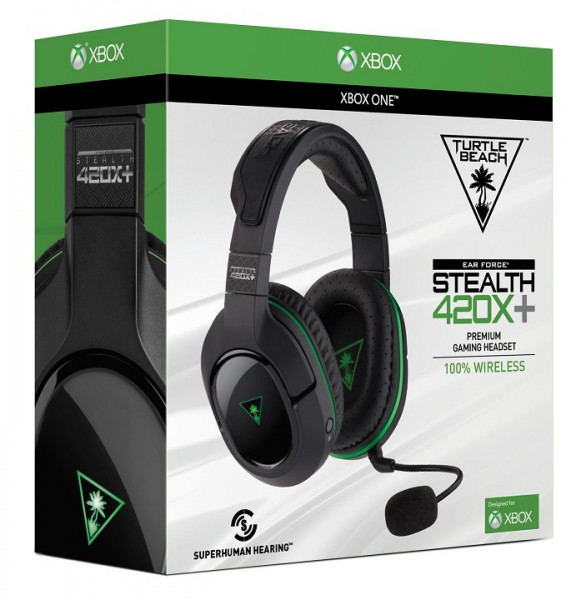 Headlining Turtle Beach's presence at TwitchCon is the soon-to-be-released Stream Mic and other products, including the all new Elite Pro Tournament Gaming Headset and Tactical Audio Controller (T.A.C.). – the official audio gear of choice for professional eSports organizations OpTic Gaming and FaZe Clan.
Full details for the Stealth 420X+ , as well as Turtle Beach's full holiday 2016 Xbox One focused product lineup, are below:
Stealth 420X
Officially licensed gaming headset for Xbox One offering gamers the freedom of 100% wireless game and chat audio.
The Stealth 420X+ comes loaded with features, including Superhuman Hearing which provides a competitive advantage by allowing players to hear soft sounds like enemy footsteps sneaking-up from behind and weapon reloads off in the distance, Bass Boost and other audio presets, Mic Monitoring so players can hear their own voice to avoid shouting, a removable high-sensitivity mic, independent game and chat audio controls, a 15-hour rechargeable battery and mobile compatibility.
The Stealth 420X+ launches Sunday, October 2, 2016 in the U.S. for a MSRP of $149.95 (USD).
Stream Mic
A first-of-its-kind professional desktop microphone created for gamers streaming directly from their consoles. With the Stream Mic, players can livestream gameplay from their Xbox One, as well as from a PC or Mac thanks to universal plug-and-play compatibility.
Additionally, the Stream Mic features adaptive mic patterns and fully customizable software, while a dual-capsule mic array with advanced digital processing supports multiple pick-up patterns for different applications and environments, and a zero-latency headphone output provides accurate monitoring so anyone can stream like a pro.
The Stream Mic will elevate your Twitch, YouTube and MLG.tv streams to a whole new level, and launches Sunday, October 23, 2016 for a MSRP of $99.95.
Elite Pro
The first gaming headset designed from the ground-up for today's generation of eSports athletes and hardcore gamers.
The Elite Pro's 50mm Nanoclear speakers deliver more efficient, crisper audio with less distortion for a game changing sound experience, while the Pro Gaming Microphone with TruSpeak Technology provides crystal clear chat so your commands are always heard.
The Elite Pro also debuts Turtle Beach's unique ComforTec Fit System – a revolutionary adjustment system for truly personalized comfort, including AeroFit™ Ear Cushions – where groundbreaking material technologies combine to deliver passive noise isolation with cooling comfort, and the patented ProSpecs Glasses Relief System – alleviating ear cushion pressure for gamers who wear glasses.
Elite Pro T.A.C.
The most powerful audio controller ever designed for eSports, combining cutting-edge audio technology like DTS Headphone:X 7.1 Surround Sound and Superhuman Hearing with Turtle Beach's incredibly powerful chat and microphone tuning tools, giving eSports athletes and hardcore players everything they need to win.
Further, when combined with the Elite Pro Tournament Gaming Headset and Elite Pro Tournament Noise-Cancelling Pro Tournament Microphone, gamers will unlock the full power of the best competitive gaming audio setup, with unbeatable microphone performance that isolates team chat from the roar of the crowd.
The ultimate eSports audio setup designed to help you dominate the competition
So there you have it. Turtle beach has a full slate of products for Xbox One owners this holiday season.


Source: Press Release