NEWS - Thursday, December 15, 2016

For Honor Closed Beta Announced for January 2017
Ubisoft has announced that the For Honor Closed Beta will be available in January 2017. Players will be able to step onto the war-torn lands of Ashfeld, Valkenheim and Myre with brand new multiplayer experiences that showcase the age old war between Vikings, Samurai and Knights.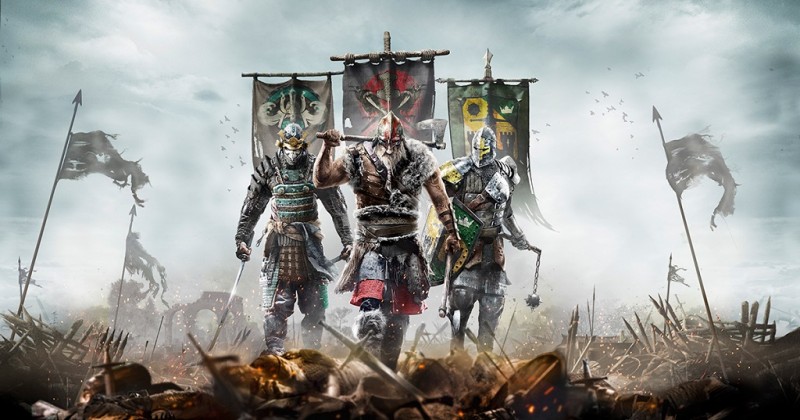 Coinciding with the closed beta, Ubisoft will launch War of the Factions, a pre-launch limited time event. War of the Factions will track all multiplayer activity across all platforms in the closed beta launching January 2017. Rewards will be given to warriors participating in the beta as well as the winning faction.
Two new Heavy heroes, the Samurai Shugoki and the Viking Warlord, and a new Assassin, the Knight Peacekeeper were also showcased today. They each offer even more depth to the competitive multiplayer experience:
Shugoki: Once the guardians of the Samurai, they have become as family. Massive and fierce, their weapon of choice is the kanabo, a huge stick that they only can wield efficiently. The Shugoki might not have the same agility as the other Samurai, but their rock-like resistance and demon-like strength make them an unavoidable force on the battlefield.
Warlord: Warlord is a name from an ancient Viking tradition, a name that is earned by only the true leaders in combat, those who are ready to spend their whole life servicing all who need it. Warlords' shields are as versatile as they are strong and their sword, while simple in design, is sharp and deadly.
Peacekeeper: Selected from the desperate, the humbled or the devoted, they are sworn to secrecy by unbreakable oaths. Quick and lethal, they fight with a short sword in one hand and a dagger in the other. Peacekeepers are the deadliest duelists of all Assassins, capable of winning a fight before their enemy even knows they are here.
Ubisoft also debuted its brand-new metagame, Faction War, the persistent cross-platform conflict between the Knights, Vikings and Samurai. Players begin by pledging their sword to the faction of their choice. Every multiplayer battle in For Honor impacts the world as players earn War Assets based on their personal performance in matches. These War Assets can be deployed and spent helping players conquer and defend territories. Every match makes a difference as all players contribute to the glory of their faction during each 10-week competitive multiplayer season. Once the season ends, all For Honor players will receive rewards based on the rank of their faction. At the end of each season the Faction War resets and resumes after an off-season period.

So does this sound like an interesting game to you? Well, you can get a taste of what For Honor has to offer by registering for the Beta right HERE.


Source: Press Release