NEWS - Thursday, March 15, 2018

The Crew 2 has A Launch Date for Fans to Mark on Their Calendar
Well, it is about time. Ubisoft has finally announced when The Crew 2 will be available for fans to play, and that day is June 29th, 2018.
Developed by Ubisoft Ivory Tower, a studio based in Lyon, France, The Crew 2 will let players experience the thrill of the American motorsports spirit inside a fully redesigned USA. The game's playground will let fans test their skills, solo or with friends, in nonstop competition and exploration. From coast to coast, drivers will explore America and compete to become the greatest motorsports champion by collecting a wide variety of exotic cars, bikes, boats and planes, and dominating the motorsports scene on the land, on the water and in the air. They will find challenges and inspiration among four different motorsports families: street racing, off-road, pro racing and freestyle, and will be given a broad set of options among a wide selection of vehicle types.
Ubisoft has also unveiled The Crew 2 Motor Edition. This version of the game will let fans get the game three days early allowing them to gear up before their competition on June 26.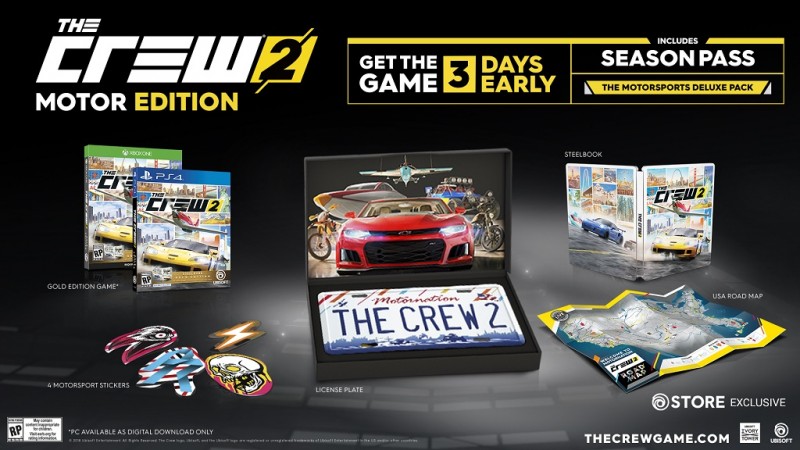 Now available exclusively on the Ubisoft Store, this exclusive edition gives players the following:
The Crew 2 Gold Edition and season pass lets players enjoy new vehicles, outfits, additional content and much more.
The Motorsports Deluxe Pack, which includes unique outfits and vehicles, including the Ford F-150 Raptor Race Truck 2017, Pilatus PC-21 Air Race Edition 2002 Plane and the Abarth 500 Monster Truck Edition 2008.
A customized, 11.81" x 5.9" American The Crew 2 license plate that comes in a high-quality collector box, an exclusive Steelbook, the official Roadmap of the game and four original stickers.
Players who pre-order will receive The Crew 2 Legendary Motors Pack, which includes exclusive vehicles such as the Mercedes-AMG C 63 Touring Car 2016 and the Harley Davidson Iron 883TM 2017.

Players can start their in-game vehicle collection right now with The Crew Rewards Program. By completing a series of monthly challenges in the first installment of The Crew, players can unlock up to 19 vehicles in The Crew 2, including exclusive water vehicles.

Finally, you can head over to Ubisoft's The Crew website, right HERE, for a chance to sign up and get a chance to play in The Crew 2's Beta.


Source: Press Release/YouTube