NEWS - Friday, April 27, 2018

Games with Gold for May 2018 Announced
As we are set to close out April, and into the wonderful month of May, Microsoft finally lest Xbox One owners, and those that have Xbox Live Gold, know what games they will be able to donwload next month. So, check out the details below: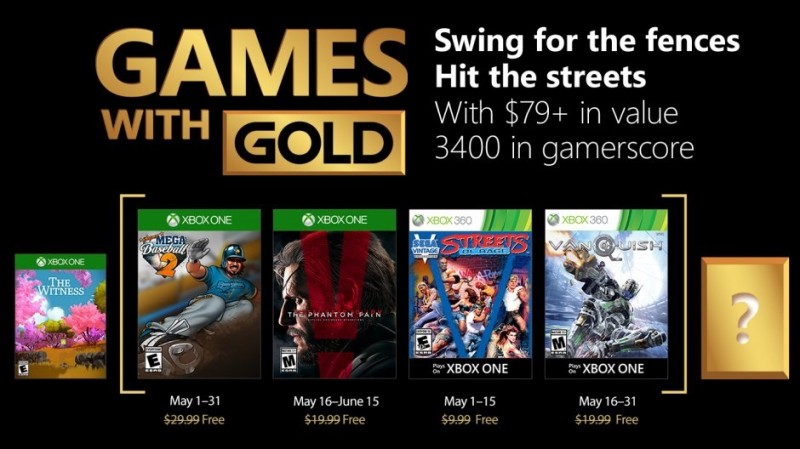 Super Mega Baseball 2 ($29.99 ERP) - Available May 1 to May 31 on Xbox One
The Super Mega Baseball series is back with gorgeous new visuals, deep team and league customization, and long-awaited online multiplayer modes. Fancy yourself as either a rookie or baseball purist, SMB2 packs a mode for everyone. Compete in ranked matchmaking (1v1), dominate friends in arranged matches (1v1, 2v1, 2v2), or take on the AI (solo, local co-op, online co-op) – all kept fair by the dynamic difficulty system known as Ego
Metal Gear Solid V: The Phantom Pain ($19.99 ERP) - Available May 16 to June 15 on Xbox One
Powered by the Fox Engine, MGSV: The Phantom Pain will give players a first-rate gaming experience as they are offered tactical freedom to carry out open-world missions, allowing them to find their own unique way to achieve victory. Traverse the world with jeeps, tanks, horseback and even on foot. Stay alert and don't forget to call on AI companions when needed.
Sega Vintage Collection: Streets of Rage ($9.99 ERP) - Available May 1 to May 15 on Xbox One and Xbox 360
Join Axel, Blaze, and company as they battle the evil Mr. X across all three Streets of Rage games. Originally released for the Sega Genesis, the classic brawler series has now been updated for release on Xbox Live Arcade! Earn all new achievements, take on challenging new game trials, compete with other players across Xbox Live Leaderboards, and clean up the streets with a friend in two-player local and online co-op.
Vanquish ($19.99 ERP) - Available May 16 to May 31 on Xbox One and Xbox 360
This is a sci-fi shooter with a a fast, fluid, and frantic combat system. You play as Sam Gideon, a DARPA agent armed with the Augmented Reaction Suit (ARS) that gives him extraordinary combat powers to help evade attacks and take down enemies. Take too much damage and the ARS allows Sam the ability to slow down time, helping to give him the edge in battle.
So, there you have it folks. Some great games for Xbox Live Gold Members to download in May. We hope that you enjoy them, and remember, they are free with the XBL Membership, so don't ignore them.


Source: Xbox News Wire