NEWS - Sunday, May 27, 2018

Terrell Owens to Grace Madden NFL 19's Hall of Fame Edition Cover
Electronic Arts has announced EA SPORTS Madden NFL 19. It is a game that they claim will deliver more game-changing control to players than ever before. With Real Player Motion Technology, a new animation system that unlocks next level responsiveness and player personality, players will experience more precision as they run, cut, catch and celebrate on the gridiron this season.
Along with more authentic ways to build an NFL roster, the ability to train and develop players, achieving NFL greatness is said to have never felt so personal. EA celebrates this year's release three days earlier on August 7th with the Hall of Fame Edition, featuring six-time Pro Bowl player and 2018 Pro Football Hall of Fame Inductee, wide receiver, Terrell Owens on the cover. Fans can anticipate a second cover athlete for the Standard Edition to be released on August 10th.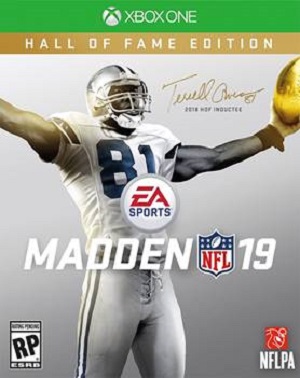 In Madden NFL 19 Franchise Mode, players can choose the offensive and defensive schemes that best fit their playstyle as they compete in single player and/or multiplayer seasons. Schemes are also linked to a new intuitive progression system - based on authentic positional archetypes - that give virtual coaches the tools and the big decision to either win now or build their squad for the future. NFL fans will also have a top community-requested feature with the introduction of Custom Draft Class Creator where fans can create their own draft classes featuring players from the past and present for use in Franchise.
Madden NFL 19 Ultimate Team gives fans even more ways to choose their path to glory as new training tools let them develop their favorite players their way via Player Upgrades. For players who want to prove they're the best of the best in Solo Challenges, a new curated single-player experience called MUT Solo Battles provides a leaderboard reward system allowing fans to showcase their skills on the field while competing against other top Ultimate Team players.
EA also announced two Madden NFL 19 pre-order offers packed with rewards.
Fans who pre-order the standard edition will receive the full game on August 10th and their choice of one Elite Player from their favorite NFL team, as well as five Gold Team Fantasy Packs.
In celebration of Terrell Owens' induction to the Hall of Fame, fans who pre-order the Hall of Fame Edition of Madden NFL 19 will receive all the benefits of the standard edition but also 3-day earlier access, their choice of one of five Elite Hall of Fame Legends in Madden Ultimate Team, one Training Pack, and seven additional Gold Team Fantasy Packs.
For fans who can't wait to get hands-on with this year's authentic football experience, EA Access members can play Madden NFL 19 first, starting August 2nd on Xbox One.
EA Access members will also receive a 10 percent discount when they pre-order the digital version of Madden NFL 19 on Xbox Live.


Source: Press Release