NEWS - Thursday, July 26, 2018

Games with Gold for August Announced
So, as we get ready to close out the month of July, Microsoft announces the next batch of games available to download for those with an XBL Gold Membership. So, here is what is available on August 2018: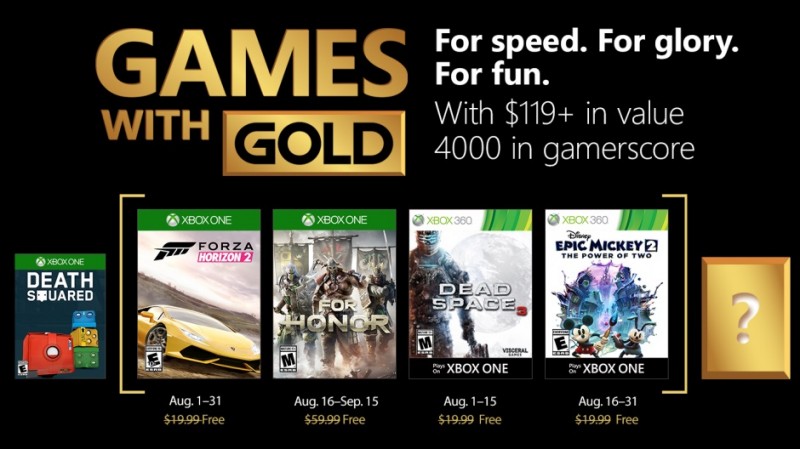 Forza Horizon 2 Standard – 10th Anniversary Edition - Available August 1 to 31 on Xbox One
Drive over 200 exotic cars and explore the beautiful vistas of southern France and northern Italy like never before, in this 10th anniversary edition of Forza Horizon 2. Show off your driving skills with friends online in challenging races and events, day or night, in dynamic weather conditions. A world of beauty and freedom awaits in this ultimate celebration of speed and style.
For Honor Standard Edition - Available August 16 to September 15 on Xbox One
Mix speed, strategy, and team-play across several multiplayer modes as you control your favorite warriors, be they bold Knights, brutal Vikings, or deadly Samurai. Master the innovative Art of Battle combat system and guide your armies to ultimate victory.
Dead Space 3 - Available August 1 to 15 on Xbox One and Xbox 360
Return as protagonist Isaac Clarke in the survival horror game Dead Space 3. Joined by Sgt. John Carver, travel to the ominous ice planet of Tau Volantis to uncover the secrets of the Necromorph plague. With online co-op mode, join a friend and use teamwork to end the deadly threat once and for all.
Disney Epic Mickey 2: The Power of Two - Available August 16 to 31 on Xbox One and Xbox 360
Grab your magic paintbrush and return to save the world of Wasteland once again in Disney Epic Mickey 2: The Power of Two. Pair up with Oswald the Lucky Rabbit, interact with classic cartoon characters of the past, and defeat the Mad Doctor in this heroic two-player co-op adventure.
We won't lie, we here at XBA think that July's Games with Gold is fairly impressive.


Source: Xbox News Wire