NEWS - Tuesday, August 14, 2018

Another Two Xbox One Controllers Announced and Coming Soon
So, there are one or two of us here at XBA that just love collecting controllers, and Microsoft has made this summer/fall even more expensive by announcing two new controllers hitting soon. Today the fine folks at Redmond announced the Phantom Black Special Edition controller and the Xbox Wireless Controller – Grey/Blue.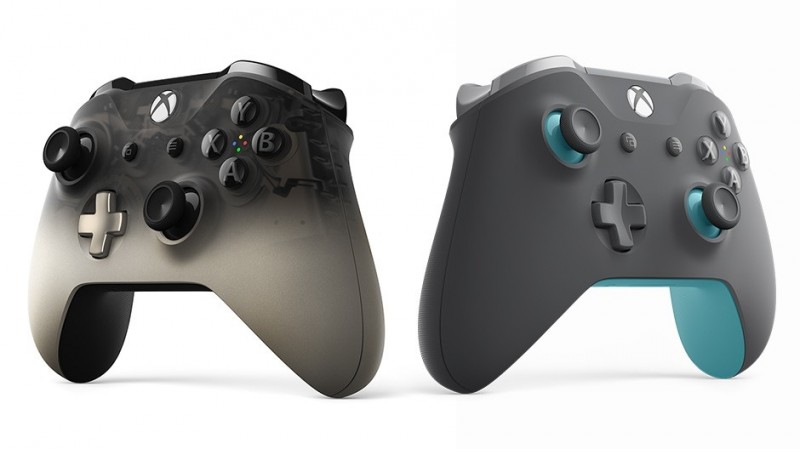 The Xbox Wireless Controller – Phantom Black Special Edition (the one on the left of the pic)
The controller was inspired by the idea of catching a glimpse inside. This controller is about mystery meeting luxury to reveal the technology within the controller. From top to bottom, this controller fades from a high-tech translucent matte black to a stunning metallic champagne gold. Black buttons, triggers, thumbsticks, and bumpers are accented with a champagne gold D-pad. On the back, textured grips will help you stay on-target when games get intense.
The Xbox Wireless Controller – Grey/Blue (the one one the right of the pic)
The other announced controller features a sleek, dark grey design. Grey monochrome ABXY, menu, and navigation buttons reinforce the modern minimalist design. For a pop of color, there are eye-catching blue accents at the base of the thumbsticks and on the back of the controller.
We should also note that both controllers have a 3.5mm headphone jack and Bluetooth technology for gaming on Windows 10 devices or Samsung Gear VR. You can also take advantage of the custom button-mapping feature through the Xbox Accessories app. In select markets, these controllers come with 14-day trials for Xbox Live Gold and Xbox Game Pass.


Source: Xbox News Wire