NEWS - Tuesday, October 9, 2018

Collectors Edition & New Music Added to GRIP: Combat Racing
The upcoming combat racing game GRIP is getting a pretty original Collectors Edition for a physical release, and there are only 300 of them to purchase. Alsoi announced were additions to the game's soundtrack. Hospital Records, have amongst others, provided a sensational selection of licensed drum & bass tracks for GRIP: Combat Racing – the staggeringly-fast, futuristic arcade combat racer.
Hospital Records have licensed the following 11 tracks to help usher players through each of the game's gravity-defying courses:
Battery x Makoto "Submerge"
Krakota x Urbandawn "Coyote"
Inja x Pete Cannon "War Games" (Instrumental)
Krakota "Citadels"
Royalston "Diorama"
Rawtekk "Restless"
Whiney "Sunday Grunge"
Whiney "Talisman"
Lynx "Clap Track"
Hospital Records' tracks join the following great music already included in game:
Entita "Can't Wait"
Full Kontakt "Cyborg"
Full Kontakt "BlackOut"
Full Kontakt "Clock Watch"
Full Kontakt "Power Train"
Full Kontact "The Creeper"
Imperium "Cerbera"
Kevin Green Lee "GRIP"
Mart-E "Boost Empire"
Pragmatic "Going Down"
Revaux "Solidify"
Silence Groove "Reconnect"
Xtigma "Crash City"
Players looking to enjoy even more from the game's soundtrack will be pleased to learn that the Collector's Edition features the original soundtrack on double vinyl, CD and MP3 Download. Available from shop.wiredproductions.com This collector's edition is extremely limited with only 500 numbered units being produced and only 300 being made available for general sale.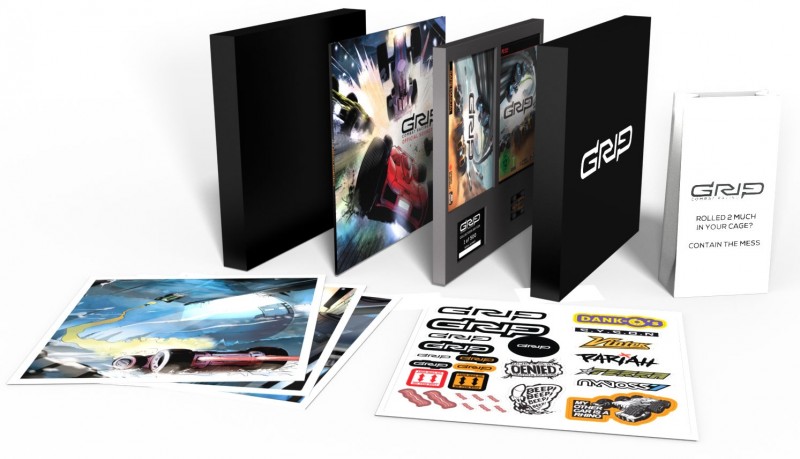 The exclusive GRIP: Combat Racing Collector's Edition includes:
GRIP: Combat Racing video game
Double Vinyl + CD Soundtrack + MP3 Download key
3 x 12" double-sided art prints
Classic Game Manual & Lorebook
GRIP USB Drive
Exclusive DLC (Nyvoss Hex Paint Kit, Vortex Rims and Vehicle Decals)
GRIP Sick Bag
Vehicle Decals
Numbered card of authenticity
We here at XBA think that this is a pretty neat collectors edition, and wonder how quick it might just get snapped up.


Source: Press Release