NEWS - Monday, December 10, 2018

New Free Content Season Kicks Off December 11th in COD: Black Ops 4
Ok COD players, the consensus is in, and Black Ops 4 is a hit. Many people continue to play since it's release in October, and many people continue to level up, prestige, and do it all over again. Well then, Activsion has some news for you.
Activision and Treyarch announced that a new content season is kicking off next VERY SOON for Xbox One players. It is said that this update is the biggest content update yet, and for those wondering, it is called Operation Absolute Zero. The actual update will launch across all modes of the game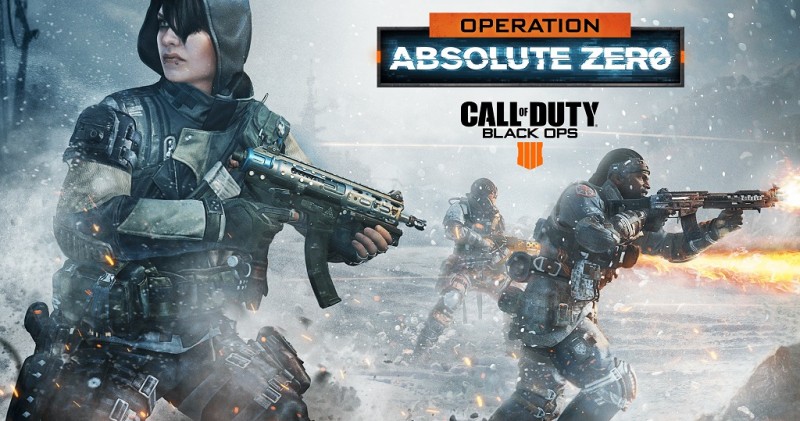 The new content includes, but is not limited to, the following:
Brand New Specialist – Zero
Players can reprogram the flow of combat with Zero, a new Specialist that can be used in Multiplayer and Blackout modes. Zero can disrupt and distract enemies with powerful hacking tools in Multiplayer, changing the flow of battle in crucial moments. Players can unlock Zero by completing Tier 1 in the revamped Black Market and immediately start testing out her new equipment and abilities.
Brand New Blackout Location and Updates
Hijacked is the newest destination in Blackout, inspired by the intense classic multiplayer map from Black Ops II, fans can loot the luxury yacht to gear up for a firefight and battle opponents on their way to the final circle. Also, players can hop into a new armored vehicle called the ARAV once they're back on dry land.
New Zombies Updates
Abevy of new Zombies features will be added, including Daily Callings, which arenew gameplay challenges that reward Zombies players with bonus XP and Nebulium Plasma upon completion. Fans will be able to check the Zombies Barracks for each day's new challenge to maximize their earnings, level up faster, and concoct even more Elixirs and Talismans for their next record-breaking run.
Revamped Black Market and New Gear
Operation Absolute Zero brings a revamped Black Market that lets players earn items in improved ways. Also, a new powerful Assault Rifle and a fast-firing SMG will be added to the pool that players can acquire through the Contraband stream just by playing. Plus, fans can collect new tactical outfits, personalization accessories, new characters to use in Blackout, and special gift-wrapped melee weapons – just in time for the Holidays.
New Festive Holiday Event
After Operation Absolute Zero arrives, the Holidays will come to Blackout with themed seasonable items earnable in the loot pool, and throwable snowballs in Blackout that allow players to mount a festive assault on their enemies.
Wow, that is quite the free update for COD fans. All we can say is that enjoy the new content, and maybe we will see you on the battlefield...


Source: Press Release