NEWS - Sunday, January 6, 2019

PSA - Xbox's January 2019 Games with Gold Now Live
We thought we should remind you that Xbox's January games for the Games with Gold program are now available for download. So, with that in mind, here is what you get: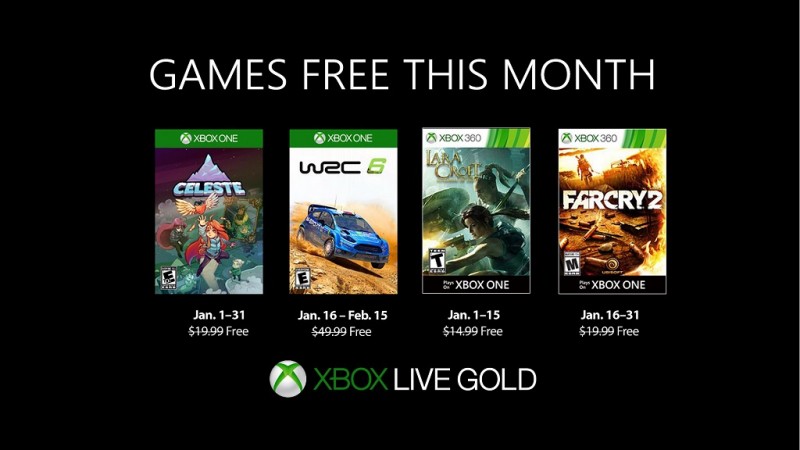 Celeste - Available January 1 to 31 on Xbox One
Help Madeline survive her inner demons and scale to the top of Celeste mountain in this tight, narrative-driven platformer. You'll uncover a multitude of devious secrets and side chapters in 700+ screens of hardcore challenges, built into a touching story of self-discovery.
WRC 6 - Available January 16 to February 15 on Xbox One
Take your driving skills to the limit in World Rally Championship 6. Whether fog, mud, or punctured tires, you'll deal with it all, in 11 Super Special Stages including local split-screen multiplayer.
Lara Croft: Guardian of Light - Available January 1 to 15 on Xbox One and Xbox 360
Team up with a friend or go it alone in Lara Croft: Guardian of Light. In this co-op action-adventure title, traverse and solve deadly traps, fight hordes of the undead and collect over 60 artifacts and relics with the help a 2,000-year-old Mayan warrior. Retrieve the ancient Mirror of Smoke and stop the forces of evil.
Far Cry 2: Available January 16 to 31 on Xbox One and Xbox 360
Survive war-torn Africa and eliminate the mysterious Jackal in Far Cry 2. The first sequel in the franchise features real-time storytelling, where every decision you make will affect the final outcome of the game. Use cunning, subversion and brute force to exploit your enemies and fulfill your deadly mission.
So, there you have it folks. 2019 starts off the Games with Gold program with some really decent games.


Source: Xbox News Wire