NEWS - Tuesday, February 11, 2020

TT Isle of Man 2 gets new gameplay trailer
FEEL THE THRILL OF TT ISLE OF MAN – RIDE ON THE EDGE 2 WITH A NEW GAMEPLAY VIDEO

Classic bikes are also back on track with the Ducati 900


We finally get a glimpse of a new gameplay video for TT Isle of Man – Ride on the Edge 2. More immersive and realistic than ever, the motorcycle racing simulation TT Isle of Man – Ride on the Edge 2 offers fans of motorcycle racing an unprecedented experience. The bike physics have been rebuilt from the ground up to create ultra-realistic behaviour, including better balance around bends. TT Isle of Man – Ride on the Edge 2 also introduces an improved first-person view for complete immersion.

The latest in the TT Isle of Man series also features classic bikes: the MV Agusta 500 Three, Norton NRS 588, Suzuki XR69, Yamaha TZ 750 and the Ducati 900, a legendary bike ridden by Mike Hailwood®.

In 1978, "Mike the Bike®" came back on the Isle of Man, 11 years after his previous participation, and grabbed the victory with his Ducati 900! Pre-order a retail version of the game on any platform to reenact this glorious moment and handle a historical bike with a particular and demanding gameplay.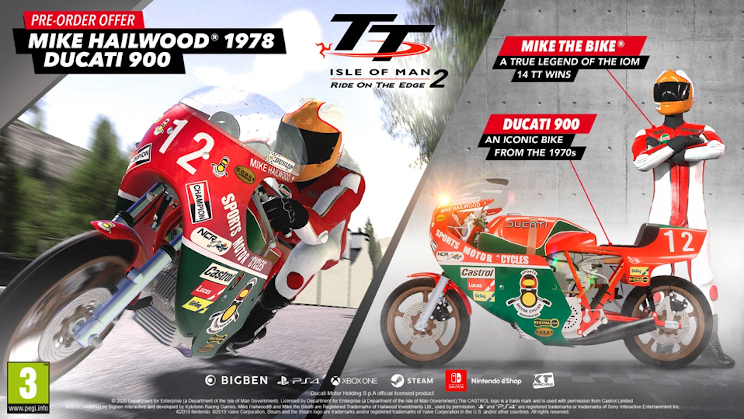 Pre-order the game and get the Ducati 900 as a bonus

Created in 1907, the TT is the world's most famous motorcycle race. The 61km course with 260 bends is the most iconic circuit for road-racing riders. With officially licensed riders, bikes and tracks, TT Isle of Man – Ride on the Edge 2 boasts new physics and a new career mode for players to improve their riding skills.

TT Isle of Man - Ride on the Edge 2 will be available March 19, 2020 on PlayStation 4, Xbox One, PC and later on Nintendo Switch.


Source: Press Release/YouTube