NEWS - Sunday, May 24, 2020

Bartlow's Dread Machine, an arcade shooter coming to Xbox One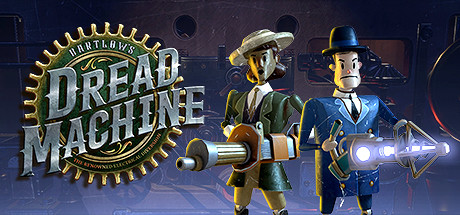 President Teddy Roosevelt has been kidnapped! Only you -- a Secret Service agent made of tin -- can save him from the Anarcho-Satanists intent on ruining the American way of life.

This is the premise of Bartlow's Dread Machine, an arcade shooter coming to Xbox One and PC this fall. Set inside a mechanical arcade cabinet circa 1907, Bartlow's Dread Machine is a fast-paced arcade shooter that gives new meaning to the phrase "old school." Shoot down tin zombies, mechanical bad guys, and clockwork bosses in a rapid-fire chase across the United States to rescue the President and preserve the American Dream. Future generations are counting on you!


Single-player and couch co-op modes, so you can play solo or team up with a trusted friend
Whimsical visual style that pits tin toys against taxing enemies across a side-scrolling, penny arcade-inspired landscape
Fun storyline set in a bizarre version of early twentieth century United States
Upgrades galore: tons of guns, hats, and items to level up your character
So much variety! Travel through six era-appropriate locales; customize your character's gender and skin tone; unlock and play as famous historical figures like Marie Curie, Nikola Tesla, and Zombie General Custer
More than meets the eye? There are rumors that A. H. Bartlow, the original inventor of this incredible device, went mad while he was building it...

Source: Press Release/YouTube