NEWS - Saturday, June 27, 2020

Deeper Than Hell for Zombie Army 4 Adds Tons Of New Content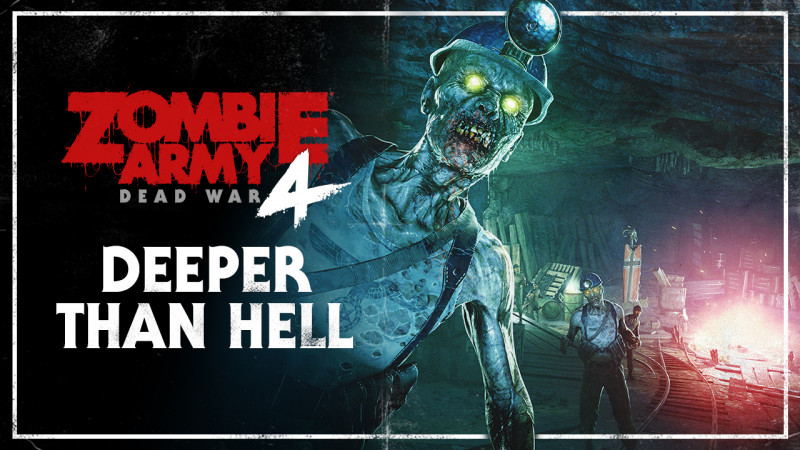 ZOMBIE ARMY 4 GOES 'DEEPER THAN HELL!'
The concluding mission to the 'Hell Cult' campaign is out today. New BRUTAL difficulty mode also available FREE!
What lies beyond the abyss?
Welcome to DEEPER THAN HELL, the third and concluding chapter in Zombie Army 4's 'Hell Cult' campaign. Deeper Than Hell launches TODAY and it's out right now!
Having uncovered the cultists' plan to drill miles beneath the surface, you and your fellow Deadhunters must fight your way through a long-forgotten city, creeping with ancient, raging terror. Allies will become enemies as you discover the source of the horrifying occult power – but will you make it out alive?
HUNGRY FOR MORE?
As well as Deeper Than Hell, there's plenty of other brand new content out today for Zombie Army 4 fans to bite into, including:
Luger Pistol Bundle
Shotgun Pistol Bundle
French Resistance Fighter Character
Paratrooper Zombie Character
Wrapping Weapon Skins

The Zombie Army 4 Season 1 Pass offers access to ALL Season 1 content including Deeper Than Hell. It's available to purchase on all platforms and it's also included in the Zombie Army 4: Super Deluxe Edition. Content can also be bought individually.

THE BRUTAL DEAD

Finally, for Zombie Army 4 fans who laugh in the face of death, Rebellion has added a brand new, monstrously challenging BRUTAL difficulty mode. And it's free!

In Brutal difficulty, enemies deal loads more damage and are much, MUCH harder to take down. There are numerous other changes designed to push you to your limits; the HUD is severely limited, the dead resurrect with greater frequency, reviving your comrades will now require a medkit, and more!


Brutal difficulty mode will unlock upon completing the main campaign.


Source: Press Release/YouTube