NEWS - Friday, March 5, 2021

NBA 2K21 is now on Xbox Game Pass
NBA 2K21 is now on Xbox Game Pass!
With exciting improvements to its best-in-class gameplay, competitive and community online features, and deep, varied game modes, NBA 2K21 offers a one-of-a-kind immersion into all facets of NBA basketball and basketball culture on Xbox Series X|S and Xbox One. Today, we're excited to announce that starting on March 4, Xbox Game Pass members can enjoy NBA 2K21 on console and on the cloud with Xbox Game Pass Ultimate!
Players new to NBA 2K21 can enjoy a wide variety of new features and game modes, including MyTEAM mode, MyCareer mode, and the new-look Neighborhood. Ball with friends on the court or rock your swag off it.
All-New MyTEAM Seasons
The MyTEAM mode is always evolving, whether it be through new cards that change the meta or new content that provides exciting rewards. Xbox Game Pass members who join MyTEAM today will find that Season 5 – Age of Heroes is underway, where your team of superstars from the modern age or the golden age of the NBA await. Assemble your squad and unleash their powers.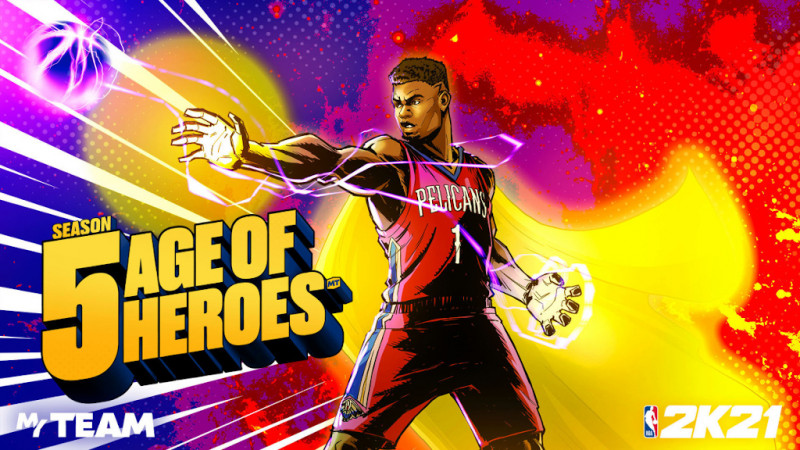 Season 5: Age of Heroes is full of brand-new heroic players, epic challenges, legendary rewards. You can start by building your own hero in LeBron James by redeeming his Sapphire Evo card. Put in the work by completing unique challenges and help him evolve into a Diamond card. Go ahead and unlock, collect, and compete with all MyTEAM's brand-new, hero-themed cards. Earn a super reward by completing sets from the modern age of the NBA with future superstars like Luka Doncic and Mitchell Robinson and the golden age of the NBA with the likes of Shaq and Manu Ginobili.
Of course, heroes require heroics, and every legend deserves a signature challenge. In this case, it's none other than 6-time NBA Champion, his Airness, Michael Jordan. Play through one of Jordan's most iconic moments, "The Last Shot," a game-winning shot that gave MJ 45 points and the Chicago Bulls a second 3-peat and their 6th NBA Championship in the '90s. Complete the challenge to earn a Diamond Jordan shoe and Hall of Fame badge! If you don't own a Michael Jordan card, redeem this locker code for your free MJ MyTEAM card: JORDAN-LAST-SHOT
We hope Xbox Game Pass and Xbox Game Pass Ultimate members will love playing this authentic, realistic basketball video game experience and join millions of fans as NBA 2K21 continues to push boundaries with its best-in-class gameplay and one-of-a-kind immersion into all facets of NBA basketball and basketball culture.


Source: https://news.xbox.com/