NEWS - Wednesday, May 19, 2021

Warhammer Age of Sigmar: Storm Ground Will Feature Full Crossplay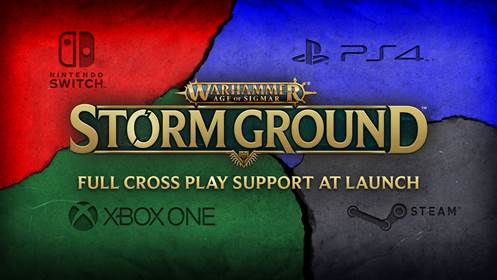 Warhammer Age of Sigmar: Storm Ground Will Feature Full Crossplay on PlayStation®4, Xbox One, Nintendo Switch & PC at Launch on May 27
Developer Gasket Games and publisher Focus Home Interactive have announced that Warhammer Age of Sigmar: Storm Ground, the action-packed, turn-based strategy game based on Games Workshop's iconic "Age of Sigmar" dark fantasy IP, will feature full crossplay support on PS4, Xbox One, Nintendo Switch and PC when it launches on May 27, letting you battle your friends no matter where they try to hide!
When you're not playing in one of Storm Ground's non-linear, procedurally generated, single-player campaigns, crossplay multiplayer will have you gaining a collection over time as you fight other players online, improving your army and earning more rewards. Jump in a PvP match through the common matchmaking pool, or send a code-based invitation to your rivals on PS4, Xbox One, Nintendo Switch or PC to meet them on the battlefield.
You'll clash in intense, tactical combat across a wide variety of battlefields in the realms of Life, Death, and Metal. Every tile has strategic relevance, from valuable high ground to aethyr pools brimming with energy and ancient chests filled with secrets and rewards. Use the strengths of your army to gain the upper hand, and slay the opponent's hero or totem, securing the win.
Lead one of Storm Ground's three highly customizable factions — the stalwart Stormcast Eternals, ghoulish Nighthaunt and putrescent Maggotkin — in fast-paced, dynamic, turn-based warfare. Build your army your way, and upgrade your forces with new heroes, units, skills, weapons and more to claim victory.
Pre-order Warhammer Age of Sigmar: Storm Ground now to get a special discount and receive the "Spoils of War Weapon Pack," featuring an exclusive weapon for each of the game's three armies. Visit the official store for more information.