NEWS - Tuesday, August 31, 2021

The Big Con Launches Today on Xbox Series X|S, Xbox One and PC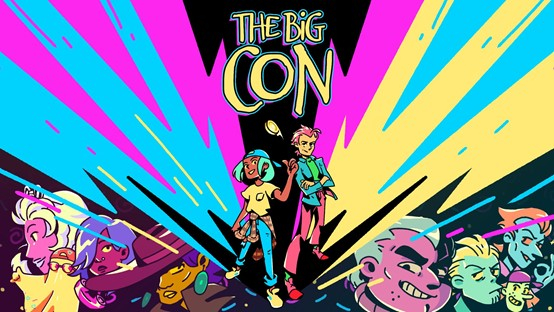 Whatever! The Big Con Launches Today on Xbox Series X|S, Xbox One & PC
Steal, swindle and smooth-talk for a righteous cause in the new '90s cross-country comedy crime adventure from Mighty Yell and Skybound Games
Alright, so, my uncle who works at indie developer Mighty Yell and Skybound Games told me that The Big Con, the '90s cross-country adventure game where you can do crimes and stuff, is out T O D A Y on Xbox Series X|S, Xbox One, and PC via Steam and the Epic Games Store for $14.99 / €12.49 / £10.99.
You can totally jump into this comical trip of a game, like, right now, and live out a life of petty theft, sneaking around, and other silly mischief. I mean, would you normally run away from home to pick pockets, steal from a child, bribe a cop, and commit some "light" bank fraud just to save your family's video store? You sure can try now, get out scot-free and save some precious VHS tapes in the process!
Inspired by classic '90s culture, The Big Con is all about Ali, a teenage con artist trying to save her mom's video store from unscrupulous loan sharks any way she can. In this colorful adventure with punchy puzzles and dialogue, how you make that money is up to you: travel across the country picking pockets and locks, persuading marks, sneaking around in disguises, and even profiting off the latest plushie fad.
The Big Con Features:
An irreverent comic adventure game with open-ended situations, puzzles, and exploration.
Crime is cool now -- sneak, pickpocket, wear disguises, and grift and con anyone you can!
Mouth off! Talk your way into deals and out of trouble across the country.
Meet a cast of weird '90s characters and rip 'em off (or don't, if that's your deal).
T R I P L E A voice-over featuring the talents of Erika Ishii (Apex Legends, Destiny 2), Dave Fennoy (The Walking Dead), and Melissa Hutchison (The Walking Dead) as Ali, Rad Ghost, and Linda!
Feast your ears on The Big Con's original theme song, performed by Where in the World Is Carmen Sandiego? house band Rockapella!
Call home and argue with your mom!
And guess what? Members of the Mighty Yell Discord server can prank call a well-trained Discord bot to gain special access to a bonus quest in The Big Con! Check out Mighty Yell's Discord for more intel, okay?