NEWS - Tuesday, October 5, 2021

Tandem: A Tale of Shadows Gets New Gameplay Trailer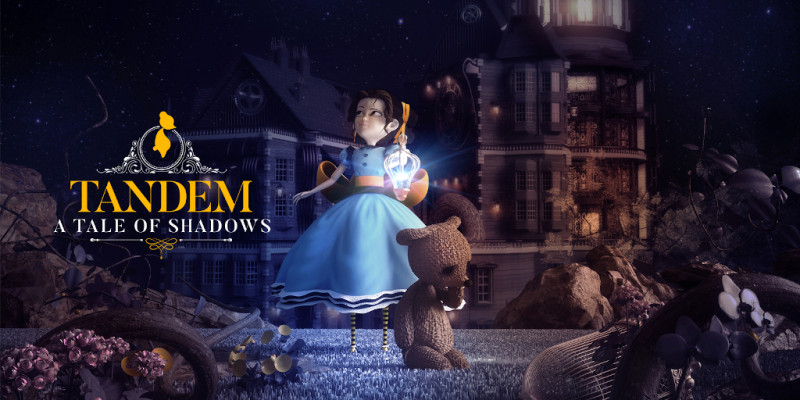 THE MISTERY OF THOMAS KANE'S DISAPPEARANCE.
The disappearance of Thomas Kane, the only son of the famous Kane illusionists, still hasn't been solved by Scotland Yard. 10 years old Emma, intrigued, is determined to investigate!
As Emma walks the streets of London towards the mansion, a carriage passes her at full speed and a teddy bear falls out the window. Unexpectedly, Fenton the teddy bear jumps on his feet and sets off in pursuit of the vehicle. Without thinking twice, Emma joins the race, launching after him. After crossing the Manor's entrance gate and gardens, they finally reach the heavy entrance door.
She will need all her courage, and the help of Fenton to reach the heart of the menacing Manor. They must use Fenton's gravity-bending perspective to solve intricate puzzles in Tandem.
Each new universe has its own set of unique challenges, and is guarded by an ominous final Boss. But with Fenton at her side, nothing will divert Emma from her quest… Will she finally find Thomas?

This new gameplay video shows off more of the Tandem's jaw-dropping visuals and the chiaroscuro dimensions inspired by Jules Vernes, Conan Doyle and Tim Burton that fans can expect to traverse soon.
A BRAND NEW & UNIQUE PUZZLE-PLATFORMER GAME OF 45 LEVELS
A unique gameplay
Play and switch between two characters Emma and Fenton in two dimensions (top down & side scroller).
Use light and shadows to solve puzzles and platform challenges in this beautifully accurate Victorian era setting!
Explore five luxurious worlds
Whithin the old 19th victorian Manor, Emma and Fenton will explore and progress through five dazzling and creepy worlds.
Dozen of mechanics
Enjoy a great variation of the gameplay mixing puzzles and platform fun actions sequences during 48 levels.
Face ennemies and bosses
Emma and Fenton will face many ennemies and bosses throughout the game. Be fast and smart!