NEWS - Friday, December 14, 2007

Assassin's Creed Sells 2.5 million
Ubisoft expects Assassin's Creed to continue its sales chart rampage, projecting 5 million in unit sell-through in fiscal 2007-2008, which ends in March. Originally, Ubisoft projected 3 million units for the fiscal year.
Ubisoft said the title is the fastest-selling new videogame intellectual property ever in the US.

The game, released on November 13, is available on Xbox 360 and PS3.

The strong sales of Assassin's Creed and solid showing from Ubisoft's casual games lineup led the Paris, France-based publisher to up its 2007-2008 fiscal year forecast to €840 million ($1.2 billion), with around €410 million for the third quarter. Previous forecasts projected €825 million and €330 million, respectively.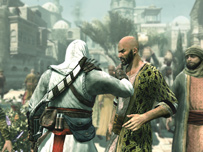 The fiscal year target for operating income has been raised to 12 percent of sales versus the previous guidance of 9 percent. Ubisoft attributed the rise in operating income to the performance of Assassin's Creed, and lower-than-expected research and development expenses due to the delay of Tom Clancy's End War, Brothers in Arms and Far Cry 2 into next fiscal year.

Ubisoft also announced initial 2008-2009 fiscal year sales forecasts of €975 million and current operating income representing at least 11 percent of sales. The forecasts are based on the launch of four new brands, seven franchises and new casual titles.


Source: http://www.next-gen.biz