NEWS - Tuesday, February 17, 2009

E3 ready to welcome back the "glamour and sizzle"
But there are no plans to return to the "over-the-top excess" of years past, with exhibitors working under caps on booth space in order to prevent another "arms race" from taking hold and causing cost issues such as those that prompted the post-2006 changes.
"In response to the glamour and sizzle of 2005 and 2006, there are certainly going to be components of that show," Dan Hewitt, senior director of communications at the ESA.
"But is it going to be the over-the-top excess that you've seen in years past? No - but that goes back to learning what is manageable and what is sustainable, and hearing from attendees what it is they want, and creating something that meets their needs.
"It goes back to taking what was the best of the 2006 event, and what was good about 2007 and 2008, and creating something that has constituent elements."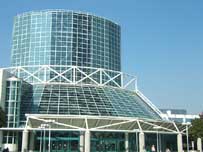 He was clear about the challenge that the organisation faces this year in light of a barrage of public criticism of last year's event, with the likes of EA CEO John Riccitiello and Ubisoft executive director Alain Corre making their feelings known.

"The E3 Expo is iconic, and everybody who's anybody in this industry attends the event. It's the one time when everyone's eyes in North America - and really, those who shape computer games around the world - are on the newest and hottest titles that are going to be on the store shelves come the Holiday season," he said.

"At the end of the day it's the one place that showcases the innovation and excitement of the industry, and the passion that people show about E3 is a reflection of the passion that they feel about the videogames. We know we have a high bar to clear, and we're going to do that."

And on the subject of that criticism, Hewitt was nonplussed: "I think that one of things we always want is to hear feedback no matter where it comes from," he said. "The feedback we received both publicly and privately helped to create what's going to be a great event this year.

"I think that without positive and negative feedback we really aren't going to continue to have a show that's relevant and meets the needs of the attendees. Events will change, as people change, and that's a good thing as well because it helps the show to be relevant, that there's news being made, and that attendees will come to hear that news being made by the exhibitors.

"In retrospect it's a positive thing that happened," he added.


Source: http://www.gamesindustry.biz/