NEWS - Wednesday, August 26, 2009

Invincible Tiger Released This Week on XBLA
NAMCO BANDAI Games today announced that their hand-to-hand action game Invincible Tiger: The Legend of Han Tao™ will be available this week for Xbox LIVE Arcade for the Xbox 360 video game and entertainment system from Microsoft and the PLAYSTATION 3 computer entertainment system's PlayStation Network. Invincible Tiger: The Legend of Han Tao updates the classic beat-'em-up genre with highly interactive 2D stages and stunningly beautiful graphics.

Han Tao, General of a Thousand Victories, has pledged his life to protect the legendary Star of Destiny, a mysterious artifact recently stolen by the Evil Overlord. In his quest to recover the sacred Star, Han Tao will face a cavalcade of enemies ranging from standard grunts to undead horrors.

Offering a variety of online and local multiplayer modes, Invincible Tiger: The Legend of Han Tao allows players to team up with a friend to take on the Evil Overlord's diabolical schemes in Story mode or battle an endless stream of enemies in Endurance mode and share your score online.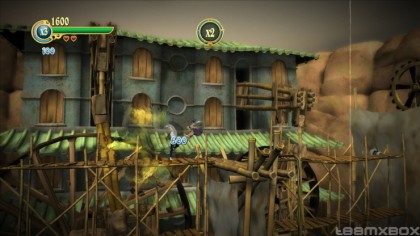 Players can also experience a whole new dimension of gaming with Invincible Tiger: The Legend of Han Tao's digital stereoscopic 3D technology. View crisp and clear 3D depth of field without sacrificing color or clarity through most high-end 3D Ready TVs. The game also includes anaglyph 3D which is compatible with any television set and a pair of standard red and cyan anaglyph glasses.

Invincible Tiger: The Legend of Han Tao will be available on August 26, 2009 for Xbox LIVE Arcade, and August 27, 2009 for the PlayStation Network.


Source: http://www.namcobandaigames.com/