NEWS - Monday, October 5, 2009

New Xbox 360 Wireless N Adapter Priced and Dated
Microsoft confirmed rumors of a new, faster network adapter late last month, but was still sketchy on details. Now, however, a new GameStop listing appears to have given away the price and release date.

Listed for $99, the Wireless N Network Adapter is scheduled for a November 3 release. If true, it would also confirm the current wireless adapter will be seeing a price drop of some kind.

We pinged Microsoft for comment on the accuracy of this listing. We'll keep you updated. Check the details below to see if this new adapter tickles your fancy:

"Designed for versatility and ease, the Xbox 360 Wireless Networking Adapter 'N' enhances your Xbox 360 experience in the digital home, seamlessly synchronizing with the Xbox 360 system with the newest Wireless N standard. Wireless N offers increased speed, coverage and reliability and can easily stream media-intensive applications such as 'Games on Demand', HD movies, videos and music to your Xbox 360 system from Xbox LIVE? or your Media Center PC."

Perfect network for media streaming (downloading HD movies)
Best solution for running media-intensive files such as video, music & photos
Offers never seen increased speed, coverage and reliability
Works with existing 802.11g and 802.11b wireless routers and access points (backwards-compatible)
Based on 802.11n draft, Wireless N enables multiple receivers and transmitters to send and receive data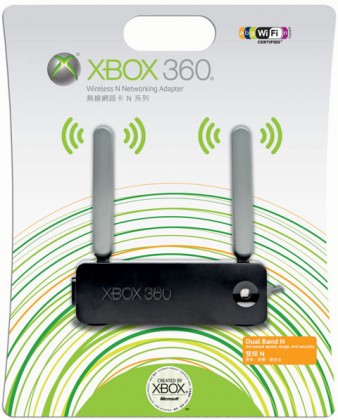 Source: http://www.gamestop.com/